The mobile app development industry is continuously evolving. There are already more than 5 million mobile apps available.
If you search App Store or Google Play to find an app for your particular purpose, you'll find multiple apps for a single purpose.
The truth?
Users are turning away from bloated, multi-purpose apps. Users are nowadays embracing single-purpose apps and specialty retailers.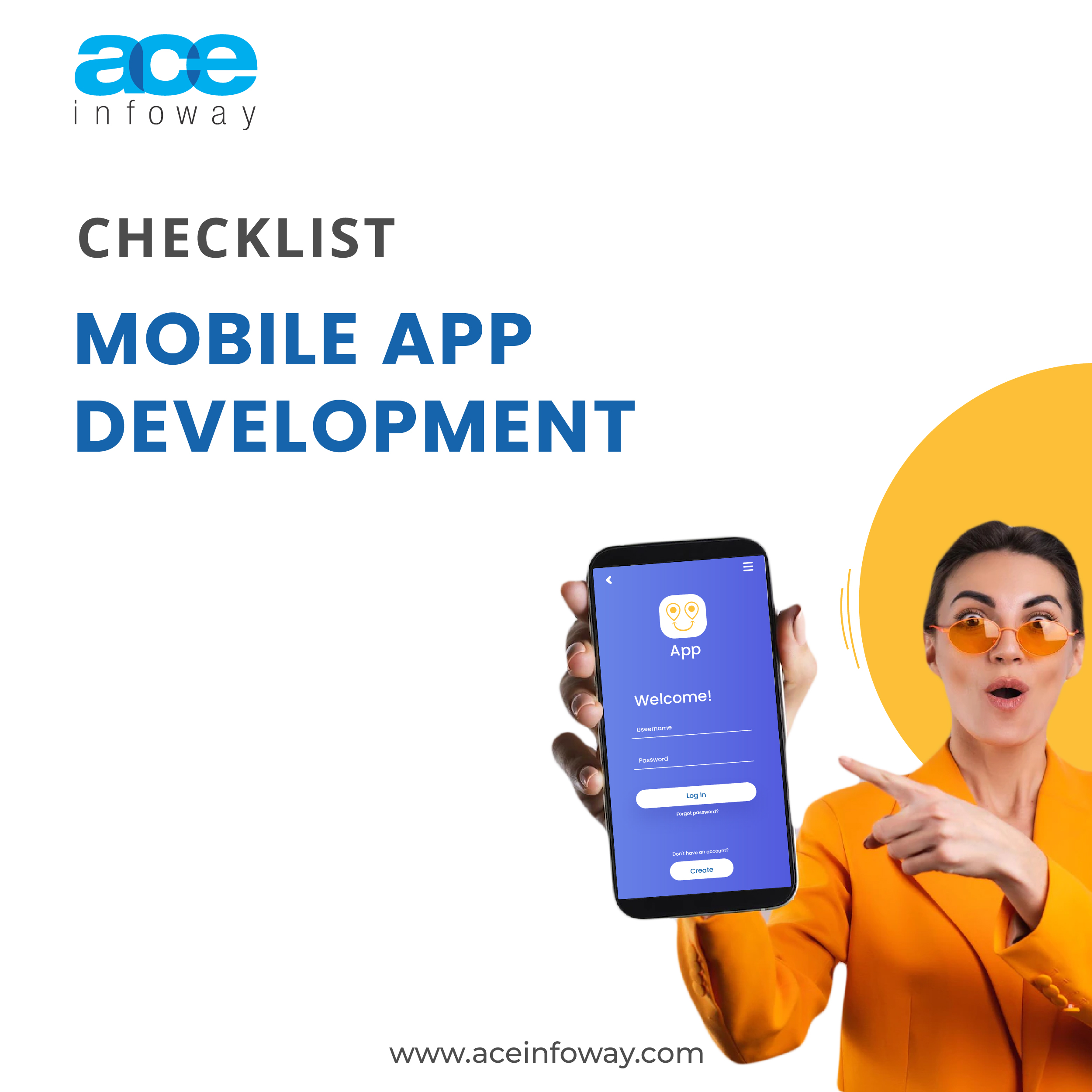 The Ultimate Checklist for Building An Incredible Mobile App
Get this checklist in a portable document format & access it offline.
As you know, Facebook has launched a brand-new app for Facebook messages. They have taken the messaging function out of their main Facebook app and created a new one separately.
The interesting thing is that Facebook now has 8, count them, 8 separate apps in the App Store. LinkedIn has surprisingly 6 apps of its own, and Foursquare has split itself into multiple apps.
And the demand for new apps is overwhelming with the rapid advancement in technology. It is predicted that the mobile app market revenue will reach $693 billion by 2022.
Mobile apps directly reflect business brand value. Thus, it becomes a top priority for businesses to stay updated with the current trends.
Top 7 Mobile App Development Trends to follow in 2022:
Augmented Reality (AR)
Artificial Intelligence (AI) & Machine Learning (ML)
Mobile eCommerce
Blockchain Technology
Rise of 5G
Use of IoT & Wearables
Cross-Platform Apps
These mobile app development trends will help you make your mobile app incredible. Follow these trends to remain relevant and maximize the success of your mobile app development project.
1. Augmented Reality (AR)
Augmented reality (AR) is an enhanced version of the real physical world. It utilizes intelligent display technology, 3D registration technology, and intelligent interaction technology. This enables the integration of computer-generated inputs into real-world surroundings.
The current generation of customers prefers interactive experience over any assumption. AR generates convenience to select the product and as a result, enhances the retail.
Augmented Reality builds a demonstrative connection with users and enhances the user experience. Thus, it affects the brand value of your company.
In many industry verticals augmented reality is already befitting the service:
Design & Modelling
Repair and Maintenance
Business Logistics
Retail
Classroom education
Medical training
Gaming
IKEA Place for Instance
IKEA Place is the home décor chain's mobile app that utilizes augmented reality. Its features allow users to place the buying order for the area that they decide to decorate.
The app provides users with a 360-degree view, wide-angle positioning, and many such features.
IKEA Place, the mobile app initiated in 2017 receives a good range of customer reviews (4.6 stars) to date. And subsequently, an increase in app downloads increases revenue for the company.
2. Artificial Intelligence (AI) & Machine Learning (ML)
Innovations across almost every industry sector have targeted AI for upcoming years. AI is the highest voted technology for 2022 in the survey by IEEE.
Let us understand, why? Any company needs to work out data analytics. AI and ML help to plan the data completely to fulfill the business objectives.
Machine Learning can help to manage the behavior of users by analyzing their previous app interactions. So, it is useful in providing customized UX. It makes app security and user authentication better by evaluating risks in advance. Also, it helps in mitigating security risks in real-time.
AI can be used in many different ways; speech recognition technology is one among many such uses.
Following are many different types of usage AI can help you with:
Real-time language translation
Facial recognition
Emotion recognition
Automated reasoning
Service recommendation
Enhanced searching
Uber for Instance
Uber has become the global tech leader in ride-sharing services. Uber uses AI and ML to understand different customer preferences and behaviors. And this is how it brings the desired result and services in the best way.
The app adds personalized destination suggestions based on the ride history of the customer. Users can communicate with the driver with just a click on the in-app messaging.
Do you also want to improve your business app performance by understanding customer preferences and behaviors? Here is a complete guide on How to Integrate AI and ML into an existing App.
3. Mobile eCommerce
Also known as m-commerce, it provides eCommerce transactions over smart mobile devices. It is estimated that in the UK alone, mCommerce sales will reach $ 134.37 billion by 2024.
The convenience of using an app over a website makes m-commerce a success story. A mobile app makes it easy for banking, shopping, food delivery/dining, and many more on the go. Some successful examples include Domino's, Starbucks, Sephora, and Nike.
mCommerce has increased during the pandemic. It has increased 3x conversion rates via apps as compared to websites.
The biggest advantage of mCommerce involves the enhancement of customer engagement. Various types of eCommerce apps with relevance to mobile app development involve:
Business to Business (B2B)
Business to Customer (B2C)
Direct to Customer (D2C)
Domino's Pizza for Instance
Domino's Pizza receives more than half of the orders from mobile devices and has generated about $4.2 billion of annual revenue in 2020. Of course, they enjoy the shift to mobile devices.
It idealizes the main goal to achieve a huge number of customers and make a great brand presence online.
Domino's mobile app itself behaves as a marketing tool with multiple payment features creating better UX.
4. Blockchain Technology
All businesses on the online platform run on data. The speed and ease of data transfer make the work convenient.
Blockchain technology is an ideal ledger for the process of recording transactions. Also, it can be useful in tracking assets for a business network.
Blockchain technology generates decentralized databases without a single service provider as a gatekeeper.
If you are in a dilemma of whether to have a centralized or decentralized app, learn the difference in detail and then go for mobile app development.
A mobile app brings a customer into direct contact with the company. The information shared by the customer via the app is to be secured from other malicious activities.
Hence, working with critical communications, it becomes important to look after security. Blockchain helps in a way that there is no misuse of any information.
Blockchain Technology supports many major financial foundations, real estate associations, healthcare organizations, and other industries that require tracking transactions in a secured way.
Here's a list of various companies that are already using blockchain technology:
Pfizer
FDA
CDC
Walmart
Ford
Unilever
Blockchain Technology's successful collaboration with a Mobile Payment App
Telcoin is a cryptocurrency based on blockchain technology. It was launched to connect cryptos, blockchain, and telecommunication industries.
The Telcoin App helps in accessing the entire suite of user-owned Telcoin products. The features provided by the app are a fast and affordable fiat transfer portal with a digital wallet
on the Polygonal network.
The global economy has faced unparalleled challenges and historical changes after the year 2020. It suggests that mobile technology and mobile money in particular would play a significant role in connecting people and availing vital financial support for life essentials.
As it allows contactless mobile transfers, it supports convenience and user safety. Of course, you can skip the long queues to send and receive money!
As per DigitalCoin analysis, Telcoin cryptocurrency price will go up to $0.048 by the end of 2022 and continue its growth in 2023-2024.
5. Rise of 5G
5G is a new generation of telecommunication networks that enhances your app functionality. It will help you to communicate with every other trending technology with super ease.
Instead of having a worldwide launch in 2019, it is still not used widely. It will give the liberty to the developers and designers to create an intuitive app without any excruciating over, loading speed, and size.
It is expected that 660M smartphones will have a 5G connection by the end of 2022. This accounts for around 47.5% of all devices.
Along with the speed, various other advantages involve:
Connectivity
Latency
Bandwidth
Here is how you can understand it in detail.
Next Generation Movie Theatre Experience
Imagine, you have the chance to interact with your favorite Looney Tunes characters! Isn't it fascinating?
WarnerMedia Content and AT&T 5G technology collaborate to create an engaging, immersive, and innovative movie theatre experience.
5G makes it much easier to inculcate the amazing experiences of Artificial Intelligence.
The media and entertainment sector most enjoy the 5G implementations. As per a report, media, and entertainment utilizing 5G will generate up to $ 1.3 trillion in revenue by 2028.
6. Use of IoT & Wearables
When was the last time you used your smart device without the internet? It is without a doubt that the internet has now irreplaceably glided into smart device usage.
This era is about digitizing handshaking with the physical world. The Internet of Things sums up the accessibility of physical objects via the internet.
You might have come across controlling the electronic device via mobile. Whether it be regulating your air conditioner or drawing down the curtains of your window. IoT is utilized everywhere to take the human experience to the next level of convenience.
Sensors and IoT technology have complimented humans with wearables for the customized experience. It has been used in medical and military applications for a long time. Nowadays we can see some potential applications with IoT and wearables that includes:
Smart Glasses
Smart Watches
Smart Clothing
Smart Jewellery
Redefine what a watch can do!
In the times of the Covid pandemic, keeping track of your blood oxygen level became very important. The smart wearables from Apple involved new features that can measure your blood oxygen level.
They redesigned the optical heart sensor to add blood oxygen measurement capability for their customers.
The user can also determine the measurements during the sleep hours. This feature can be utilized by activating background measurements in the Blood Oxygen App on the Apple watch.
Along with the blood oxygen app, various other apps like ECG, cycle tracking prediction with heart rate, and irregular rhythm notification, can precisely provide the important self-information to the user.
All the bodily measurements whether on-demand or in the background can be accessed by the health app on your Apple mobile device.
7. Cross-Platform Apps
Cross-platform development of your mobile device makes it compatible with multiple operating systems. This helps in creating your online presence more adaptable.
Along with this, cross-platform app development provides other advantages like:
It is much easier to maintain the app and bring in updates.
It requires lesser time to market
It is broadly reachable.
It also makes it easy for a developer to write the code once, which ultimately saves time as well as money over writing natively for either OS.
The various popular framework that helps in the cross-platform app include:
React Native
Xamarin
PhoneGap
Flutter
Instagram – Social photo-sharing app
The Instagram app was initiated by its release for iOS (2010) and Android (2012). By 2016 it succeeded to deliver the app for both IOS using React Native.
Instagram providing creative features for its users makes popular users dubbed 'influencers'. 57% of companies in the fashion and beauty sectors use influencers as part of their marketing strategy.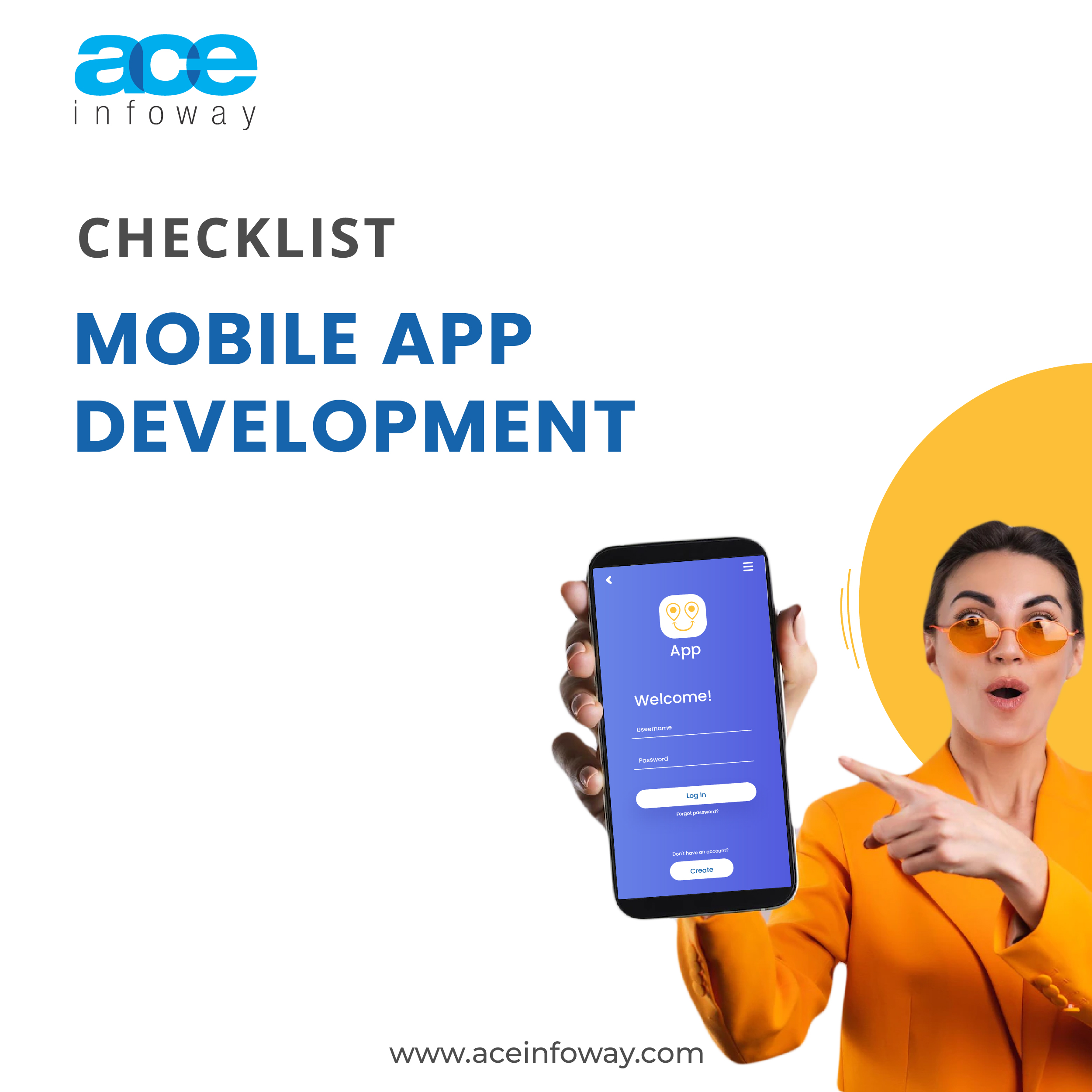 The Ultimate Checklist for Building An Incredible Mobile App
Get this checklist in a portable document format & access it offline.
Final words
It's always a good idea to stay on top of the latest app trends in order to stay updated and gain an advantage over your competitors. If you were to use old-school app development strategies and trends, your apps would not stand out.
It is critical to keep up with the latest mobile app development trends to create useful apps for businesses with better user experience and performance.
Customer value, user experience, security, flexibility, legality, design consideration, and scalability are the top concerns that businesses look into while starting building a mobile app for their business. As you know the first impression of your application matters a lot, hire the best custom mobile app development companies to help you apply the best suitable mobile app trends.
How can Ace Infoway help with custom Mobile App development?
Ace Infoway is a leading Mobile app development company that helps companies and businesses develop mobile apps to provide a magnitude of iOS and Android app development benefits. Ace Infoway works on Mobile app development projects to build businesses on multi-platforms. Connect with us to discuss your project goals and allow us to be a part of your success journey.