Welcome to "Arturo", the WordPress 6.0 version inspired by a Grammy-winning Spanish jazz musician Arturo O'Farrill.
The release involves approximately 1000 fixes and improvements in wide areas of the WordPress platform.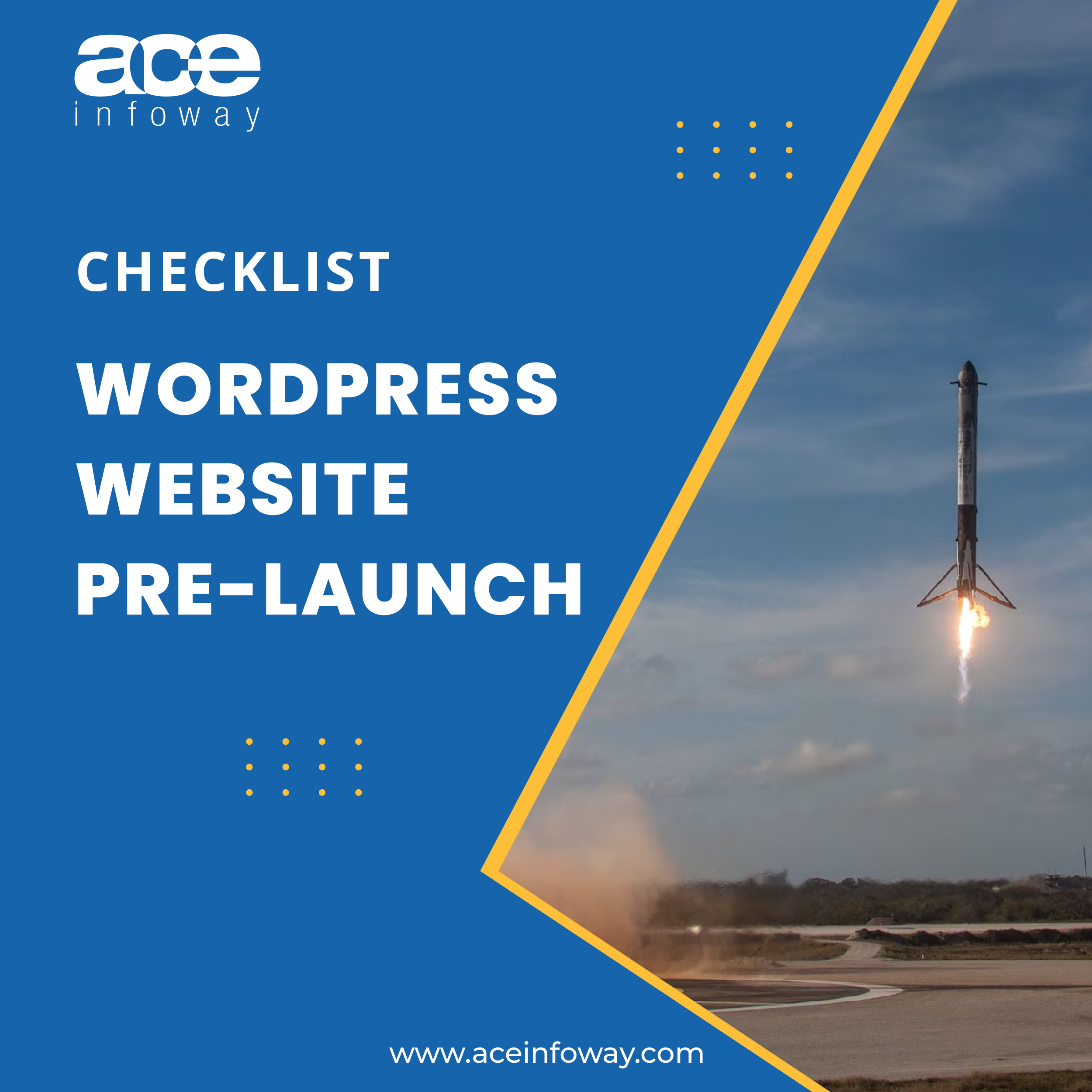 WordPress Website Pre-launch Checklist
Get this checklist in a portable document format & access it offline.
What's New In WordPress 6.0 "Arturo"?
If you're wondering what's more to come with it, you've come to the right place. Here is the list of major enhancements that we will discuss in this post.
More templates with new blocks
Style variations
Various writing improvements
List view enhancements
Block locking UI
More design and layout tools
More patterns in more places
Block theme workflow improvement
Let's dig in to understand the details.
1) More templates with more blocks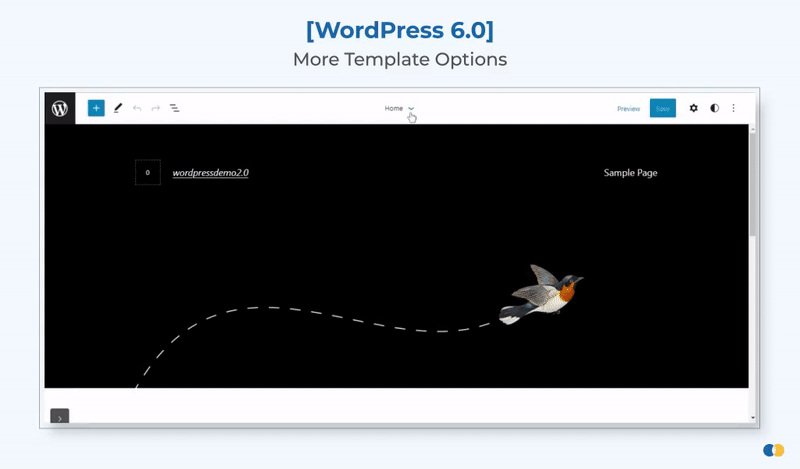 a) New template options
The WordPress latest version will provide more options in template creation like Author, Category, Date, Tag, and Taxonomy
b) Query loop block advancements
WordPress 6.0 provides switching over the products category with full-site editing. It also allows to filter by multiple authors.
c) Read more
Read more will come as a separate block in the latest version of WordPress.
In the previous version, it allowed only to add the text for 'Read more, but now you can make it more striking by selecting different text, background, and borders for the link.
d) No results in query loop
This allows you to customize the no results view whenever you use the query loop block.
For example, if you have a query loop where you do not have any post for a specific author then, you can customize the visual you will see there.
e) Post author biography
As the name suggests, post-author biography can now be used to include the author's biography.
f) Avatar block
The latest version of WordPress provides to choose the user's Avatar as a profile display image. If it is not selected it will use the post/page author automatically.
g) Comments block
Comments block is a suite of child blocks that enables you to customize the layout and styles of the section directly from the editor.
It is a group from within there you have other things like pagination and comment date.
2) Style variations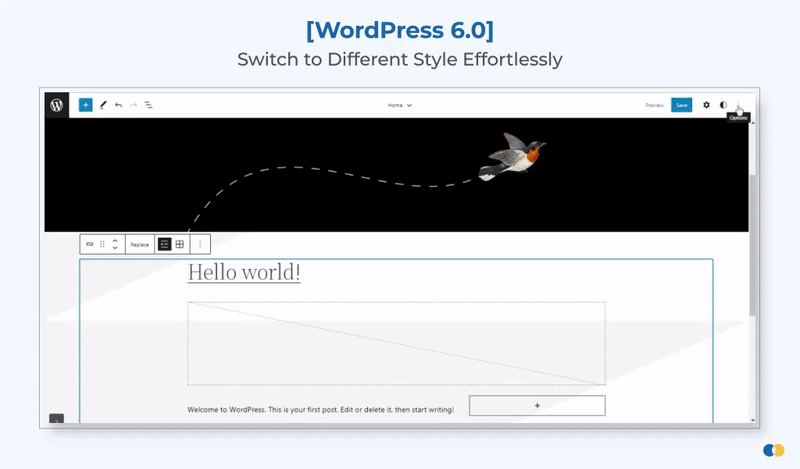 a) Block theme feature
In WordPress 6.0, block themes will now be able to include the option to contain multiple style presets provided by multiple block theme authors. This allows you to have style shortcuts to switch the look of your site within a single theme.
It allows you to have multiple themes in one.
b) Available in theme with support
It is required to add the theme that supports the feature to switch between variations.
c) Switch between variations
The different style presets can change different settings like turning on and off font-weight and also the style options like changing the default color palate. It allows the theme to switch in different color modes like dark & light.
3) Various writing improvements
a) Easily select text across blocks
In the current version of WordPress, it is quite difficult to select the text across different blocks. You select all instead of the required portion.
The latest WordPress version will allow you to select the desired text across the blocks.
b) Use a new link completer shortcut [[
The [[ allows you to add links from the list of internal items to select from.
c) Keep styles during transforms
The latest version of WordPress will allow style transformations like a paragraph to code, tag cloud to categories, and group to row.
d) Enjoy new styles preview
The block style options in the design tool will show the live preview of the content area by just hovering over the options.
e) Quickly customize and create new buttons
It is now easier with WordPress 6, to create new buttons and also retain the style customization as the existing ones.
f) Apply a featured image in a cover block
You can also now add a featured image for a cover block. This change will automatically change the current page's featured image. Also, you can use the page/post featured image as the background image of the block.
4) List view enhancements
a) Collapsed at default to display structure
This new feature with WordPress 6.0 will allow collapsing to the top level of items in the display structure. This will make the display view less overwhelming, where you could previously see 'everything' in the list.
b) Opens to exact location upon selection
Even though the list view is collapsed, it will open to the exact block that you select.
c) Keyboard shortcuts to select multiple
By using SHIFT+Up/Down key or SHIFT+Click, you will be able to select the multiple adjacent blocks in the list view. You can drag and drop and even delete it all in one go.
d) Lock status visible
The block that is locked will be preeminently seen in the list view.
e) Accessibility improvements
WordPress 6.0 will provide various improvements in accessibility like Alt Text, tabbing into a placeholder, screen reader-related improvements, Aria-related accessibility fixes, and handling navigation blocks and media.
5) Block locking UI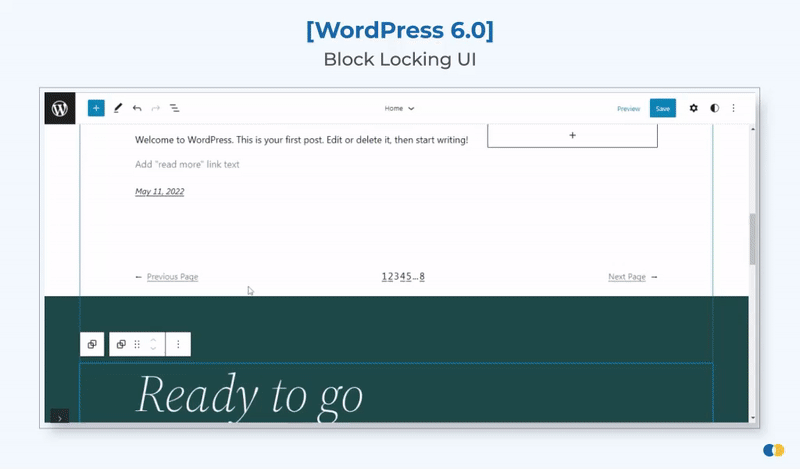 a) Limit ability to move & remove
The feature allows you to lock various aspects of the block like its removal and movement. The locking of blocks is expected to be the WordPress core update, to prevent it from direct editing.
b) Makes visible prior technical work
In the previous version of WordPress, the block could be locked programmatically. WordPress 6.0 will now make it much easier by adding UI.
6) More design and layout tools
a) New color panel
This new color panel will occupy less space and give you more options available.
b) New border control
The border control is redesigned to make it more convenient to use.
c) Transparency options
You can now change the transparency of the colors you choose to make it more precise for color-coded layouts.
d) Gap support, margin, and typography options added to group block
Group blocks will now contain gap support, margin, and typography options.
e) Stack, Row, and Group variations
The current version of WordPress allows the blocks in row layout or column grid. WordPress 6 will bring easy switching between stack row and group variations to position groups of blocks wherever they are needed.
f) Gap support in the gallery block
You can now add gaps between the images as per your requirement and make it more look more appealing.
7) More patterns in more places
a) Quicker inserter prioritizing patterns
The inserter in WordPress 6.0 will show pattern options rather than block options.
b) Pattern selection upon new page creation
You can now select page patterns appropriate for any type of new page as a contact page, about us page, and so on.
c) Pattern directory open for submissions
If you come up with any pattern that you like and want to share with the world, you can now submit it to the pattern directory for anyone to use.
8) Block theme workflow improvements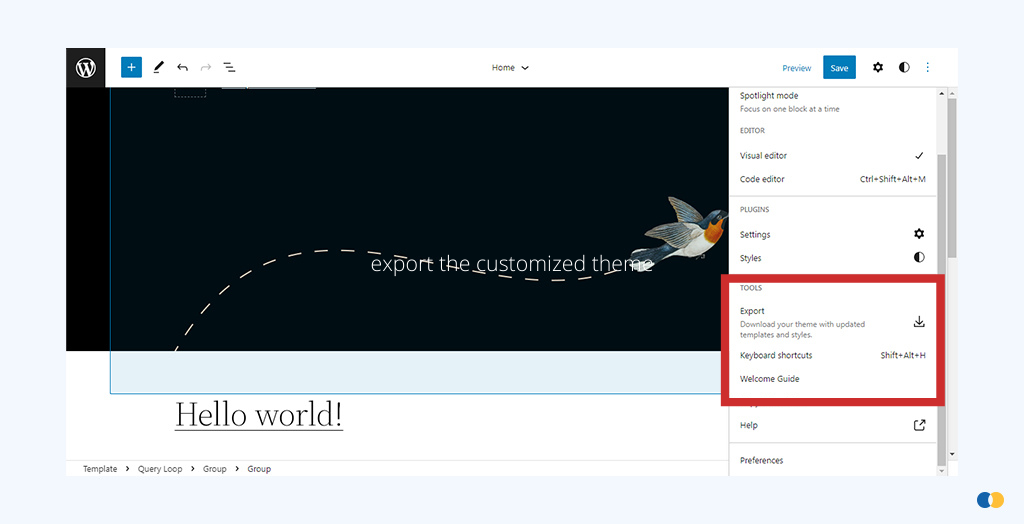 a) All theme files included on export
WordPress 6.0 will now allow you to export the customized theme for your new project.
b) Support for patterns folder
Pattern themes can define block patterns in a specific pattern folder.
c) Register patterns from the directory with theme.json
Some specific block patterns could be featured in the pattern directory using theme.json
d) Register post content patterns for inclusion in new flow in page creation & query loop
The latest version of WordPress will allow registering post content patterns to include some specific ones in new flows for surfing while creating a new page.
The above listed are just some of the major upgrades that will be seen in WordPress 6.0. Overall, we can expect more suppleness and customization in handling the various areas in WordPress.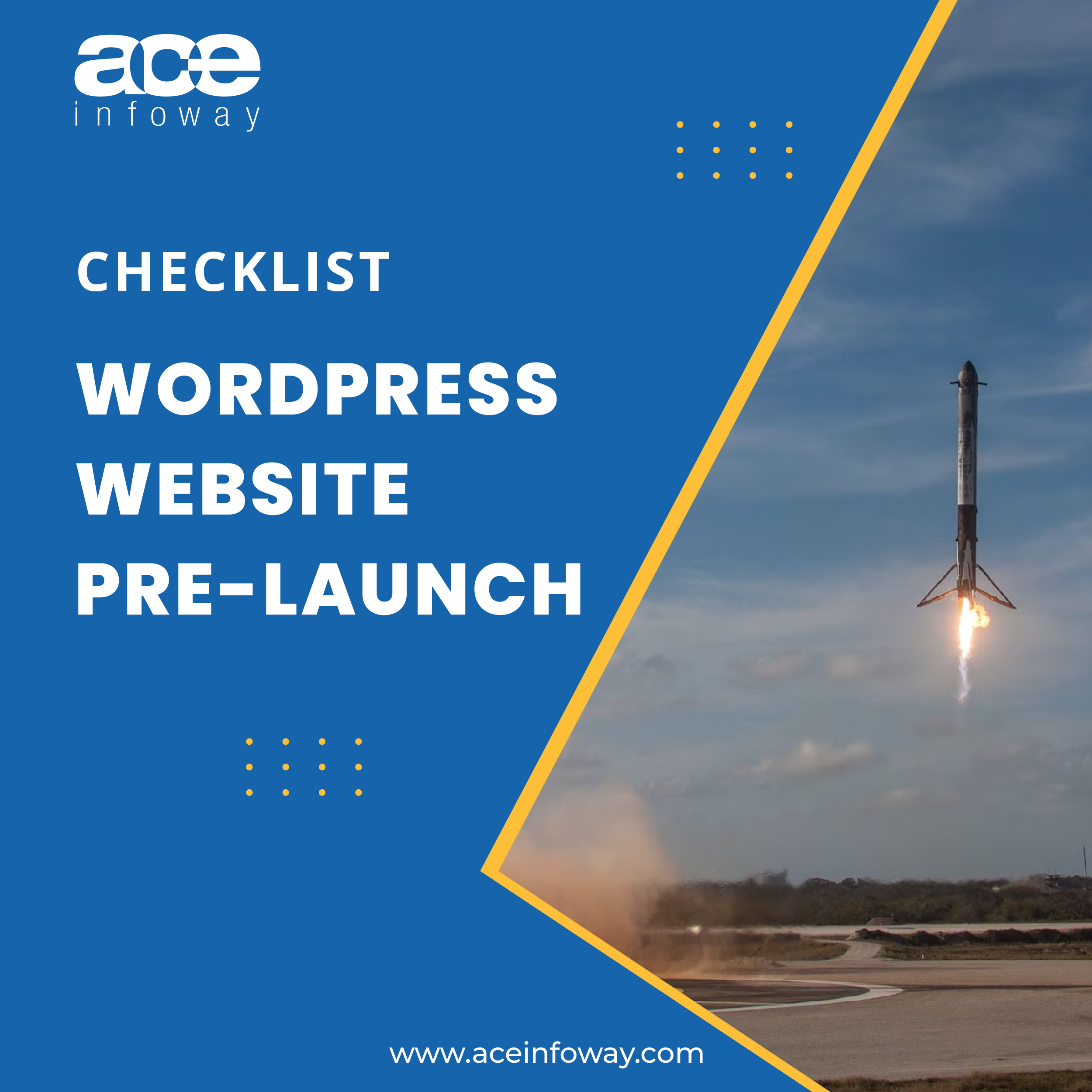 WordPress Website Pre-launch Checklist
Get this checklist in a portable document format & access it offline.
Updating to WordPress 6.0
One easy way to update your WordPress to 6.0 is a one-click update. Once you are on the 'Update WordPress' page, click the button 'Update Now', to start the process right away. If it is not feasible, you can also opt for a manual update.
It is always a good idea to have a backup of your site. Do not forget to backup your website before updating, to avoid any issues.
Steps for a Manual Update:
Take a backup of your website database.
Back up all your WordPress files in your WordPress directory and don't forget your .htaccess file.
Download and extract the WordPress package from https://wordpress.org/download/
Only delete the file and folders that are being overwritten by the new files on your site, but DO NOT DELETE
– wp-config.php file;
– wp-content folder; Special Exception: the wp-content/cache and the wp-content/plugins/widgets folders should be deleted.
– wp-images folder;
– .htaccess file–if you have added custom rules to your .htaccess, do not delete it;
– robots.txt file–if your blog lives at the root of your site (ie. the blog is the site) and you have created such a file, do not delete it.
If the manual upgrade is being done after the failure of auto-upgrade, make sure you delete the file. maintenance from your WordPress directory using FTP. This will remove the 'Failed Update' message.
Update the installation by visiting the WordPress admin page and do not forget to reactivate plugins.
Update your cache to allow the changes to go live immediately. In case you miss this, your website visitors including will be able to see the older version of your site.
Review and enjoy the new avatar of WordPress.
Ace Infoway with its custom WordPress Development Services has excelled in the field for 20+ years. If you are looking for any WordPress web design services or want to hire a dedicated WordPress developer, we are just a click away to help you!