Looking to scale your existing WooCommerce website, however, concerned about its performance, as well as security?
If yes, migration to Magento 2 is the sure-shot way that could help you here. Offering incredible technological capabilities to meet and exceed consumer demands, Magento Commerce 2 empowers you to create remarkable digital storefronts, amplify online performance, and expedite marketplace extension.
WooCommerce is a top-ranked eCommerce website development technology in the market, having a 23.43% market share. Being an easy-to-use and open-source WordPress plugin, WooCommerce is the choice of many small-scale business owners for the online presence of their business.
However, now as the world is speeding up its digitization process, considering digital marketing as the new normal, the merchants are looking forward to scaling up their eCommerce website to address a larger customer base and serve them better. For scenarios like this, the enterprise platforms like Magento 2 can be of great help.
Why should you migrate from WooCommerce to Magento 2?
Magento 2, being an exceptionally adaptable, and secure eCommerce platform, helps you with making your website more scalable, appealing, functionally efficient, and powerful. It does not only assist you with expanding your business income through the different available extensions, themes, and tools but also improves your consumer loyalty.
Here are some potential reasons to switch to the Magento-
Magento surpasses WooCommerce in terms of performance, speed, add-ons, and security.
Magento empowers you to manage multiple product categories from various stores for the customers located in different places.
It allows you to track your customer's activities, helping you to serve them appropriately.
Magento also enables you to integrate the website with other systems such as accounting, inventory, and customer relationship management (CRM) systems.
It empowers you to handle the high traffic demands.
Though migrating an eCommerce website is a complicated as well as a time-consuming errand, if you carry out the process carefully you can reap the most out of it. Hence, to help you with the same, we have listed here some of the most crucial steps that you can follow to migrate your website impeccably.
7 Steps to Migrate From WooCommerce to Magento
Step1: Install Magento
The foremost step is to install Magento in your system. To do this you can download the Magento setup from its website itself, in a format that you require for your store. Once the setup is downloaded you can install it for further process.
Note that you need a database to install Magento, for hosting your server.  Hence, before installing Magento, create a database with the name that matches the Magento folder name.
Once the database is set up, you can run the Magento installation. Here are some important steps to the completion of the installation.
1. Readiness Check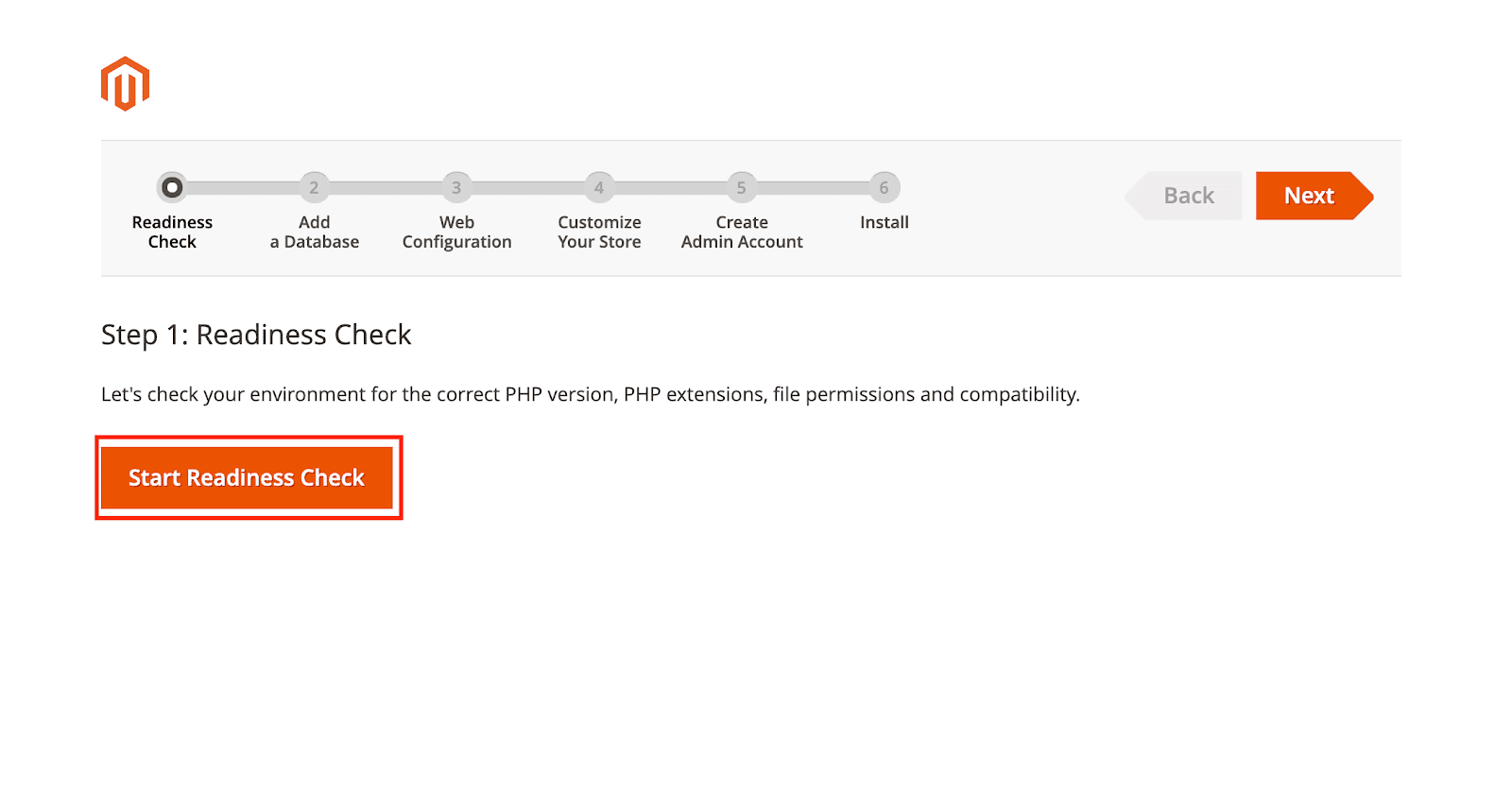 Source: Magento
2. Add a Database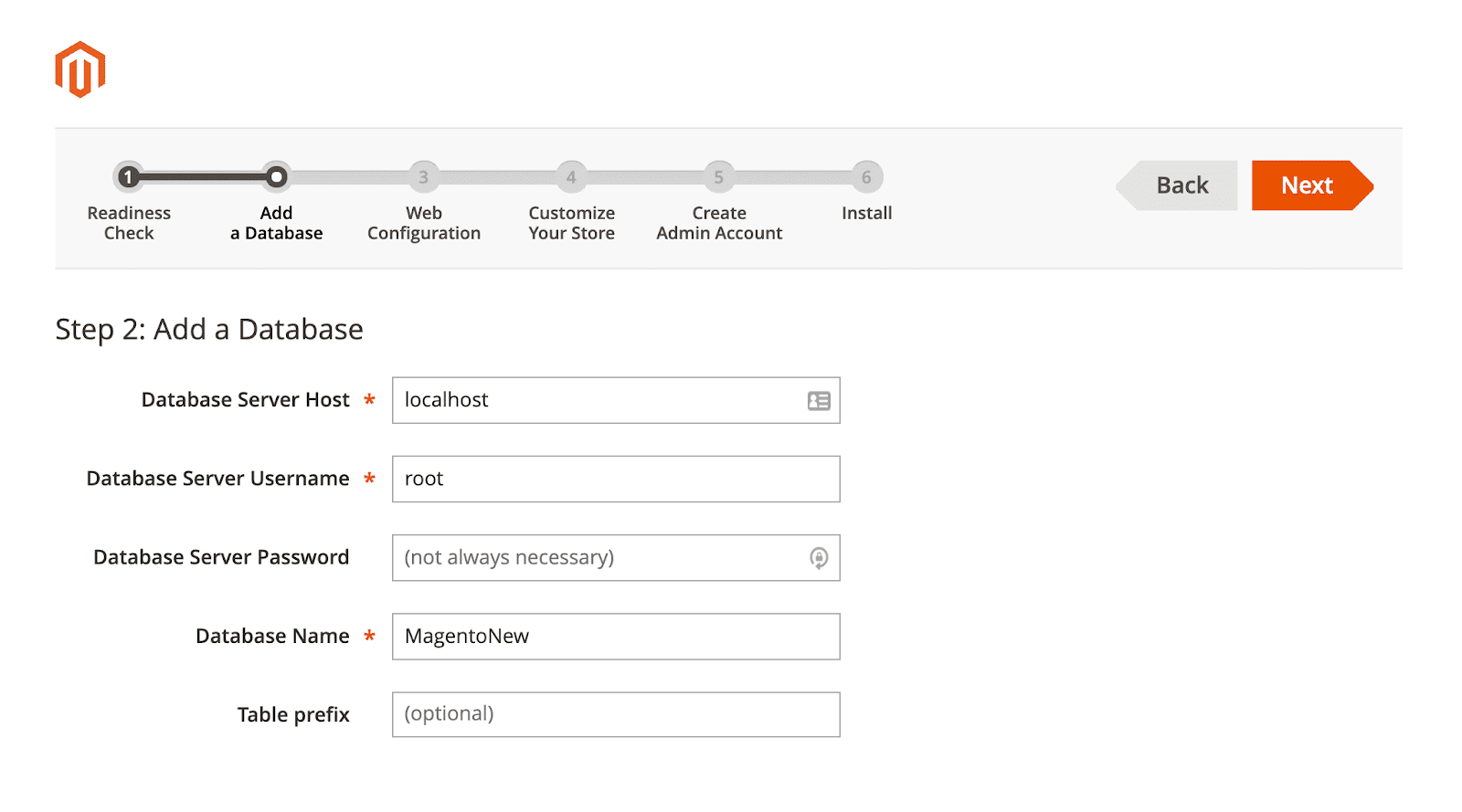 Source: DevOps
3. Magento Web Configuration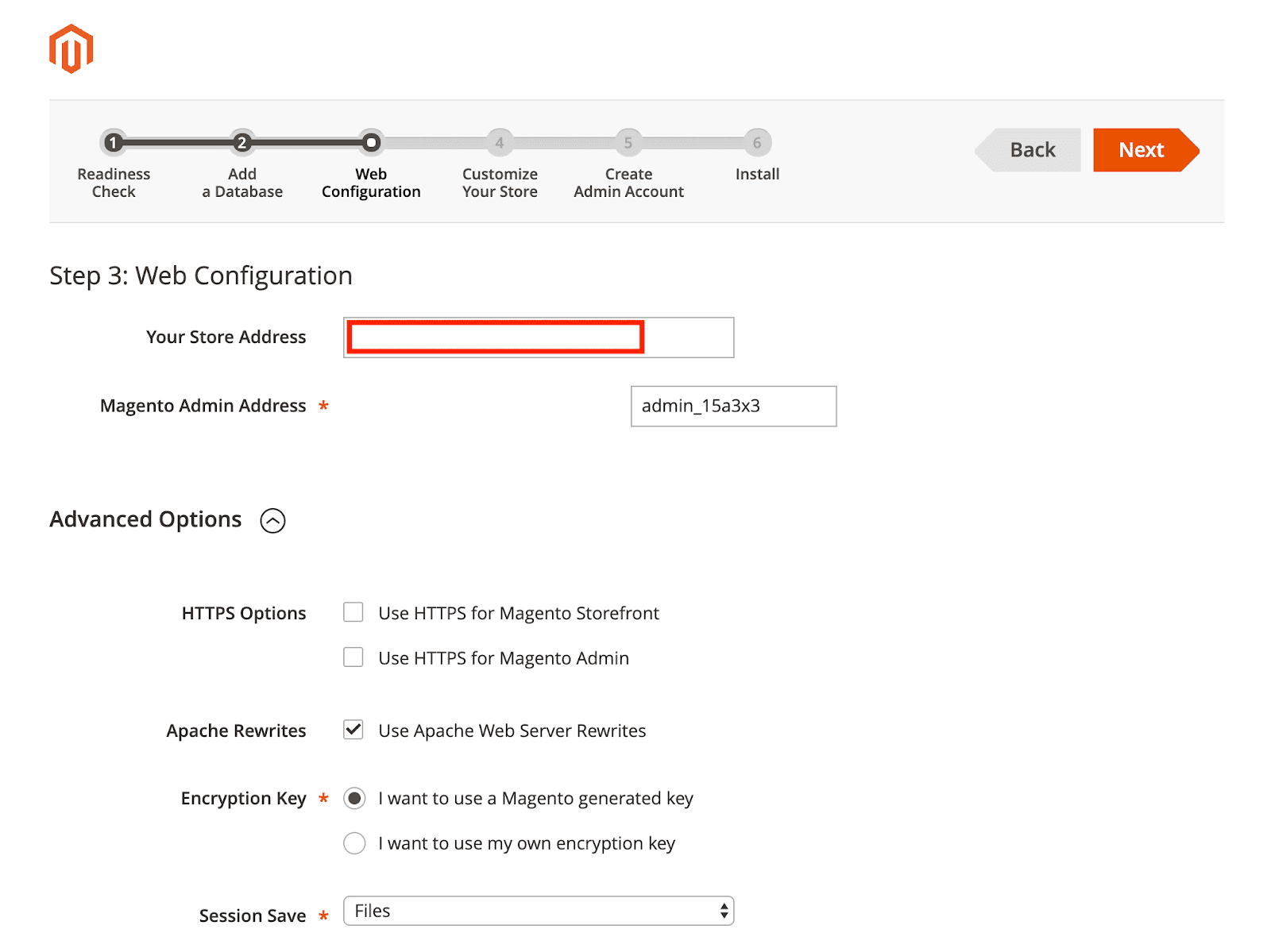 Source: Magento
4. Customize your store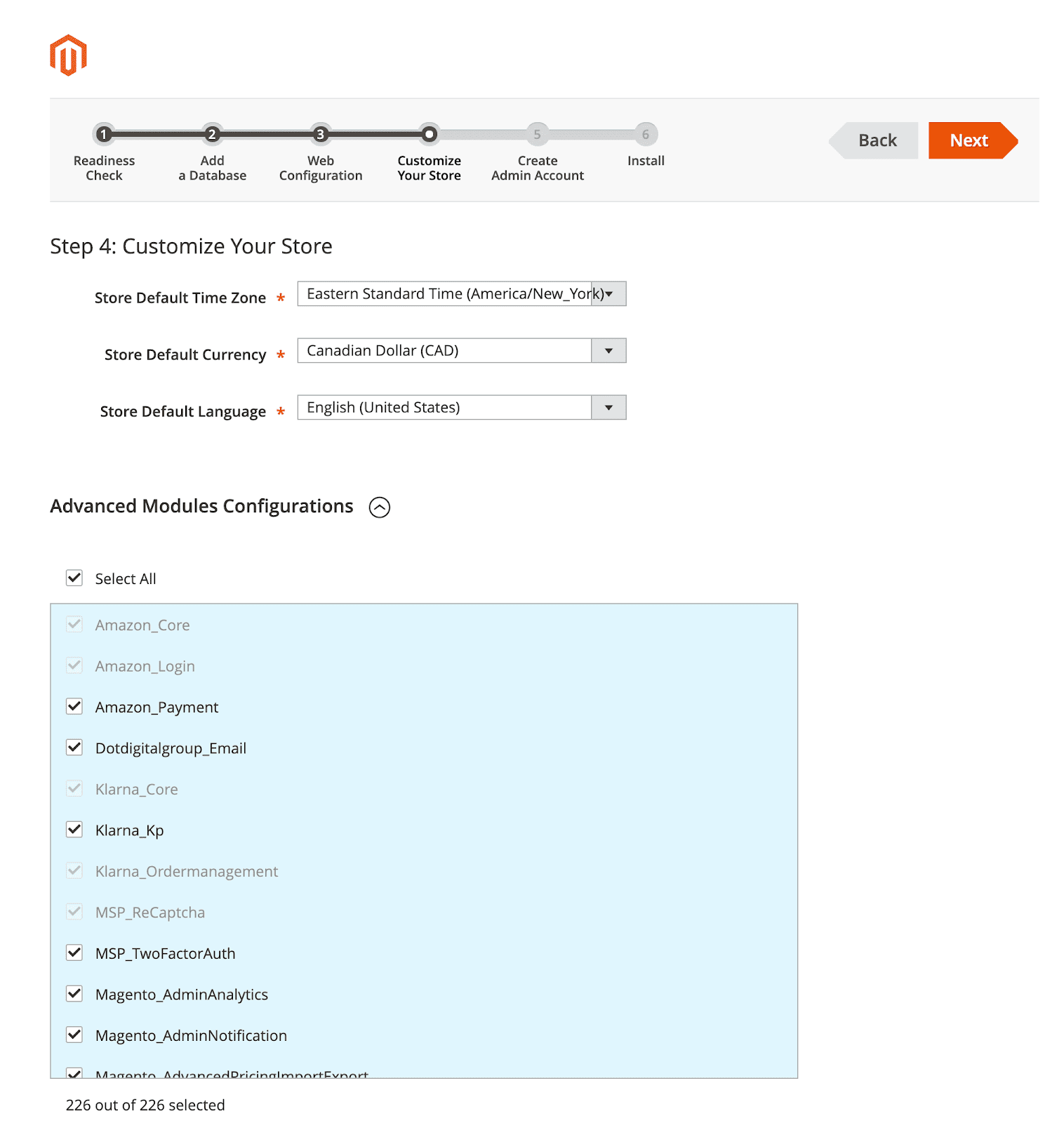 5. Create Admin Account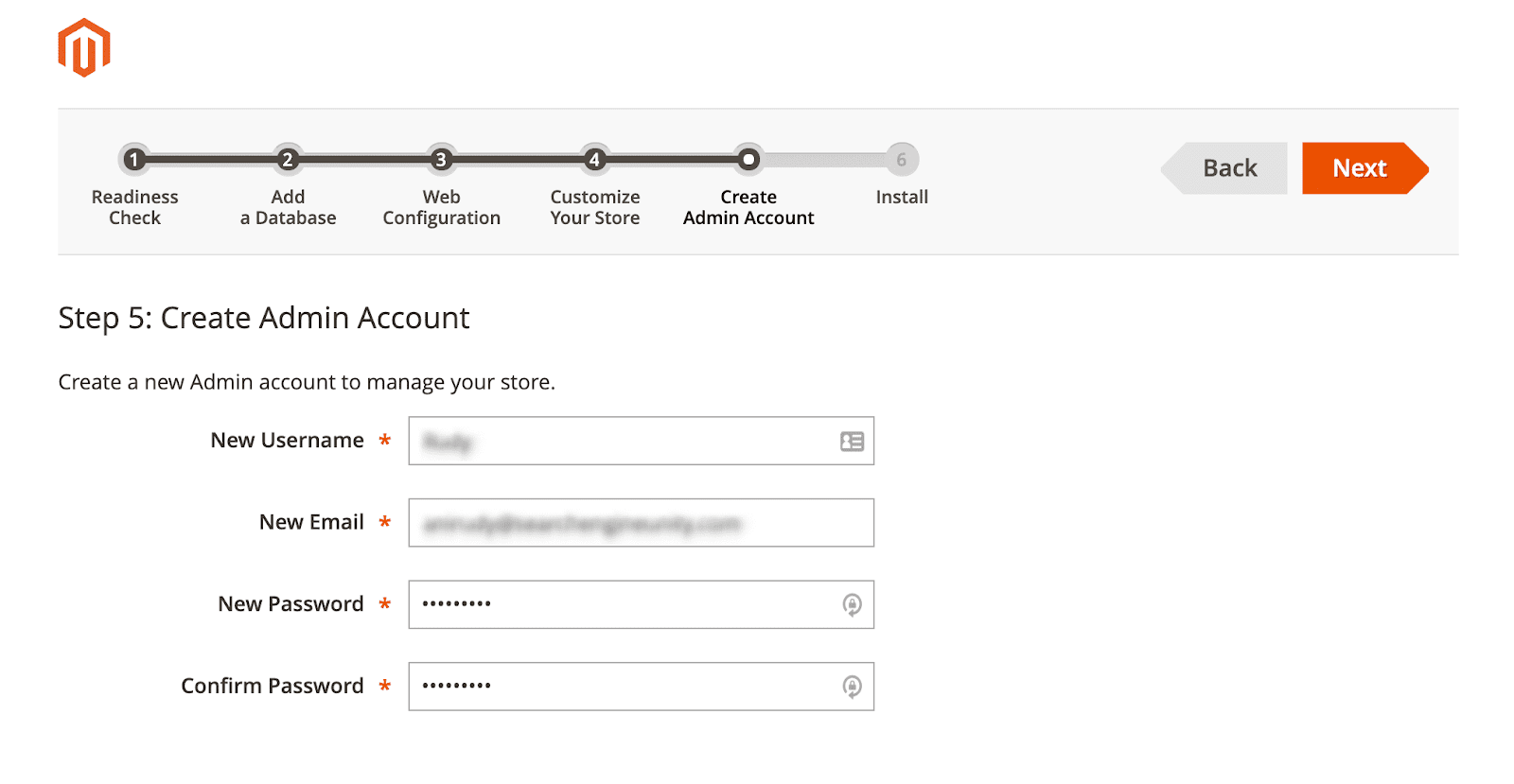 6. Complete the Installation Process

Once you have completed the installation process, you can launch the Magento admin and log in to its page.
Step 2: Back up Your WooCommerce Store Data
Data is the most essential part of your eCommerce business. There are various forms of data that are used to run the eCommerce business smoothly. Hence, whether it is the data related to your product, customer's purchase history, profile details, or login details, you should have a backup of all before migrating to Magento.
Backup not only empowers your customer to resume from the point where they left but also works as a backup for your migration process as well. In case the migration does not run as expected or any error occurs during the process you can roll back to the working stage without losing data.
For this, you can use an extension called Jetpack which allows you to backup your data easily and securely. The extension offers you 3 ways to backup your data, which you can choose based on your needs-
Daily and real-time Backups
Off-site storage
Automatic Backup
Step-3: Customize Your Store Design
Once you have prepared your system for the migration process now you can think about the design of your new Magento store. Customize the design of the elements of your store as per your choice. With Magento, you can control the look and feel of your website, as it allows you to create your unique themes instead of compelling you to use the default ones. You can also group the related themes in design packages,  which can be assigned on both the website level or store view level.
Step-4: Product Data Migration
Migrate the information related to your products, including the product specification such as the product name, product description, features, and product category. If you want to recreate the exact ecosystem of your product like it used to be in your existing WooCommerce Store, you should migrate the buttons, checkboxes, and radio buttons as well. Having to migrate a huge number of product data, the product migration process proves to be a voluminous one.
Step-5: Customers Data Migration
One of the most important phases of the migration process happens to be the migration of the customers' data, owing to its critical nature. The customer appreciates if their data is properly and securely handled. The customer data can be anything like the customer's name, password, contact number, purchase history, shopping behavior as well as shipping address. Hence, as a merchant, you need to be extremely cautious about your customer data migration. Make sure the data does not get missed and the integrity, as well as consistency of the data, are properly maintained.
Step-6: Migration of Merchant Data
Along with migrating the product and customer data you need to migrate the merchant data as well. The Merchant data includes the data related to the order such as the order status as well as its detail and the URL related to the products. Make sure the URLs are properly aligned to the product page to prevent any kind of 404 errors.
This will help you to optimize your product page and maintain its rank on the search engines. Magento allows the vendor to create customized URLs or use the existing product page URLs on the new product page. Hence, if in the case the customer has saved some link to your product page, he can access it without any interruption.
Step-7: Payment Gateways
Last but not the least, the most critical part of the eCommerce business- Payment Gateways. To allow your customer to make payments whether direct or through credit cards, you should migrate the payment gateway details like  API keys, and signature and secret keys to the new platform. Magento, supporting the payment gateways, allows you to do the same seamlessly.
Before starting with the migration process, do not forget to consider the latest Magento eCommerce development trends, to make the most out of your Magento store. For more insights, read more:
Are you ready to migrate your WooCommerce website to Magento?
By now you might have understood the entire migration process. There are a few migration tools that can help you with the same, such as LitExtension, and Cart2Cart. These tools automate the migration process, making it easier to migrate your WooCommerce website to Magento in just a matter of clicks. All you need to do is just download the tool, set up the connector bridge to the source of your store. Select the data to migrate and start the migration.
However, if the process seems strenuous and you want to go for expert assistance to diminish the probability of errors and risks, reach out to our Magento experts. Our experts will not only help you migrate your WooCommerce website flawlessly but can also create a brand new Magento or WooCommerce website based on your needs.