Over the last few years especially in the pandemic, eCommerce has become an essential part of the global retail landscape. As per Statista, over 2.14 billion individuals throughout the world did online purchasing of products and services in 2021, up from 1.92 billion in 2019.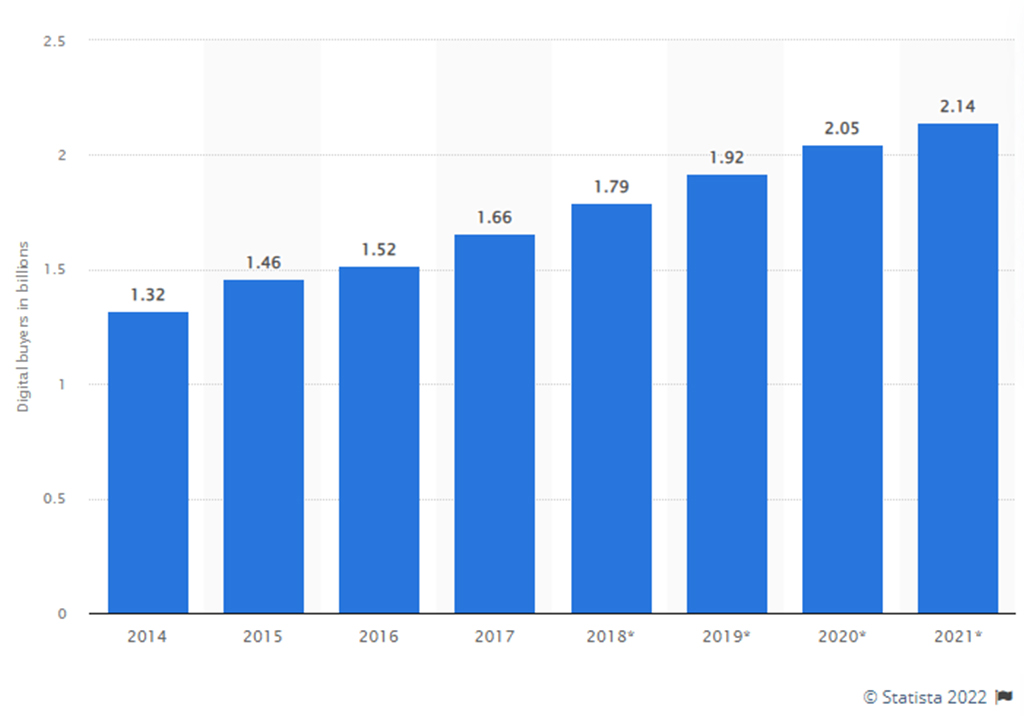 The demand for eCommerce development is growing in tandem with the rise in online purchases. Thousands of new eCommerce businesses are launched every year with multiple platforms available in the market to build an eCommerce website. With a staggering market share of 23.43%, WooCommerce is the most extensively used eCommerce platform.

WooCommerce is a WordPress plugin that seamlessly connects with your existing WordPress site, transforming it into a fully functional WordPress e-commerce site. Compared to other multiple platforms available in the market, WooCommerce is the leading eCommerce platform with 5+ million active installations.
Also, you can read here: What makes WordPress a Champion and the Market Leader
What Skillset to look for when hiring a WooCommerce developer?
Let's find out more about  the skill-set you should look in when hiring a WooCommerce Developer:
Great Portfolio:

Examining the developer's portfolio provides extra information about his or her work as well as the areas in which he or she has worked. 

Examine the various projects, assess their relevance, examine their websites, look for reviews, and finally examine how they do jobs to find which one best matches your development needs.

A company or a developer that has worked on WordPress projects before would be extremely efficient and would be able to assist you in constructing a website with greater ease and a superior approach.
Technical Competence:

The technological stack is the next aspect you should look into. Check out what technology they've incorporated into the platform. Do they have enough experience with the platform to build WooCommerce stores? Is it possible for them to integrate plugins and themes into a WordPress website?

Hire a WooCommerce development company that can help you in entire technical tasks and gives you support whenever you need it. Choose one that can improve the website's functionality and assist you in scaling your business.
Migration:

In today's technologically competitive world companies are moving to new platforms and upgrading with the latest tech stacks. The developer should be an expert in migrating from one platform to another and he/she should be updated to newer technologies. 

Migrating can be daunting but if done effectively with an expert developer it can be done easily without any hassle.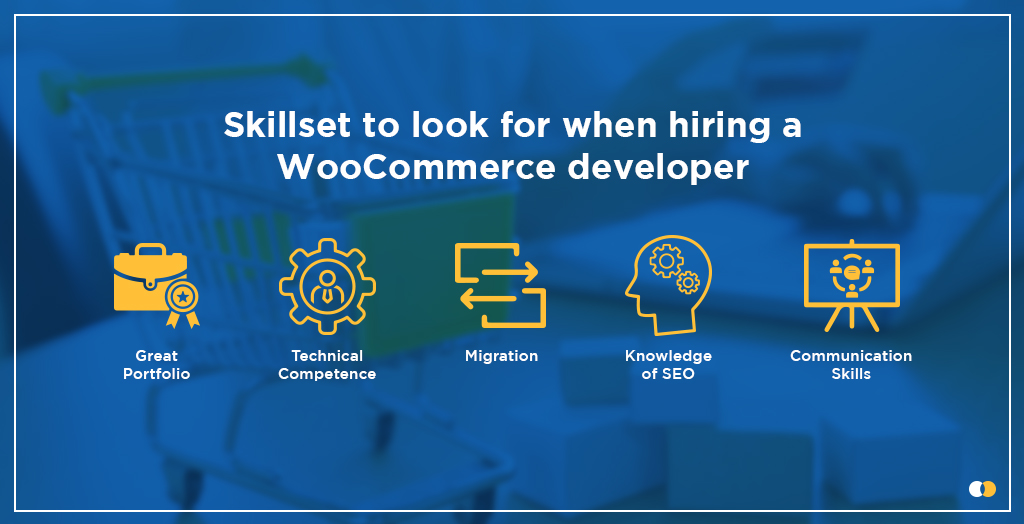 Knowledge of SEO:

The SEO-related settings should be implemented from the beginning of the development process. 

By building an eCommerce website for your business, you want to increase your visibility, monitor more users, and extend your customer base. You have undoubtedly utilized the best-in-industry products and services to offer your customers but these must be delivered to the correct audience.

That's why an experienced WooCommerce service comes in handy to deliver an SEO-optimized and ready-to-launch online store.
Communication Skills:

Communication is very essential whether you hire a WooCommerce developer or a WooCommerce agency. Understanding what the client wants and delivering it on time is the key to success. However, if a developer fails to communicate it can cause misunderstanding and thus affect the quality of work. 

Check to see if the WooCommerce developer has a track record of responding quickly and efficiently. Also, make sure they can be reached through various channels rather than just one.
Checklist for hiring the best WooCommerce developer?
Outline your Requirements:

Before you move ahead in selecting the developer, outline or sketch your requirements. To better understand the developer's efficiency, write a detailed description of your requirements, prerequisites, and needs. 

It's a good idea to outline what you already know before truly launching off the project and gathering needs in the planning stage. What are the business, client, and user requirements for the product you're developing? This assists you in having a comprehensive knowledge of the project's context.

Resources:

You may require multiple resources to complete your development and it is critical to allocate tasks to team members based on skillset and the best fit for the job.
It helps you maximize efficiency, keep projects on budget and work on track.

Budget:

Most projects fail due to financial concerns, so pay attention to the budget of your project and make sure you have enough money to cover the costs.

If you have a limited budget and want to build a WooCommerce store on a shoestring budget, you can outsource the work to WooCommerce development companies. Because your extended remote team is less expensive than hiring in-house developers.
Constraints of the project:

Three constraints affect the projects that are scope, budget, and timeline. And all these three are interdependent. If one of them changes, the other two will almost certainly need to adjust as well.

Keep track of your project restrictions throughout the project life cycle. When you need to alter one project constraint, such as the project timetable, think about how it will affect other project aspects, such as cost and scope, and balance your constraints as needed.
Risk management plan:

Before you begin, try and work out the major pitfalls of the project. List down the factors that will go wrong, after listing them down you can also try and limit the impact of the problems that might arise when you reach the final stage. 

It is important to do this exercise because at the final stage you can't afford to take any risk. A detailed risk management plan will save you from the failure of the project.

Now that you have noted the task you need to look into before hiring a WooCommerce developer, the next task would be deciding whether to outsource or hire in-house WooCommerce developers.
Hire In-house WooCommerce Developer or Outsource it.
Having decided to build a WooCommerce store, it is necessary to figure out how to organize the development process. As a result, the question of whether to hire an in-house or outsourced development team emerges.
If you aren't an expert in developing a stunning WooCommerce store and you don't have anyone in your team to work on this project, it's best to outsource the task to a reputable WooCommerce development service provider that will work on your project exclusively. So, you can focus on other aspects of your business.
All companies from small to large are looking for outsourcing companies or remote teams for their development needs. Because of its low cost and scalability, outsourced development is popular. According to Deloitte's research, about 59% of organizations outsource to cut or control costs. Some well-known organizations like Google and Slack also outsourced their IT development. 
Simply said, in-house development refers to developing a website or a store using the experts you have at your company rather than outsourcing it. 
In-house developers, on the other hand, may be expensive and time-consuming because they require a complete process of recruiting, onboarding, and training. In-house development is not a bad deal if the process is followed effectively, the team is given your undivided attention, and performs well.
So, choosing between in-house and outsource development is challenging. However, you can go for both options, if your team is strong in marketing, you can outsource IT services, and vice versa. Select the option that best meets your needs.
Get the Best WooCommerce Developer with A Minimal Budget!
Remote teams or in-house development are the two options available however the cost-benefit analysis is covered below: 
In the United States, the cost of WooCommerce developers ranges from $35-$60 per hour. Whereas in India the cost ranges from $15-$25 per hour. 
For in-house developers, you need to pay a monthly salary, provide them training and other on-boarding costs. In contrast, you only pay for productive hours when you outsource. 
Hiring in-house seems to be expensive and time-consuming. However, completing the task yourself comes with a lot of overhead expenditures like: 
Expenses such as a larger office space

Training to new employees for a single task

Long recruitment process

Lack of expertise in different areas
Why does outsourcing (Extended Remote Teams) help you save money?
Outsourcing companies and remote teams will have a pool of talented individuals, extensive industry experience, and cutting-edge technology to give you the best possible solution. It allows you to avoid major outlays and put your money into growth opportunities instead.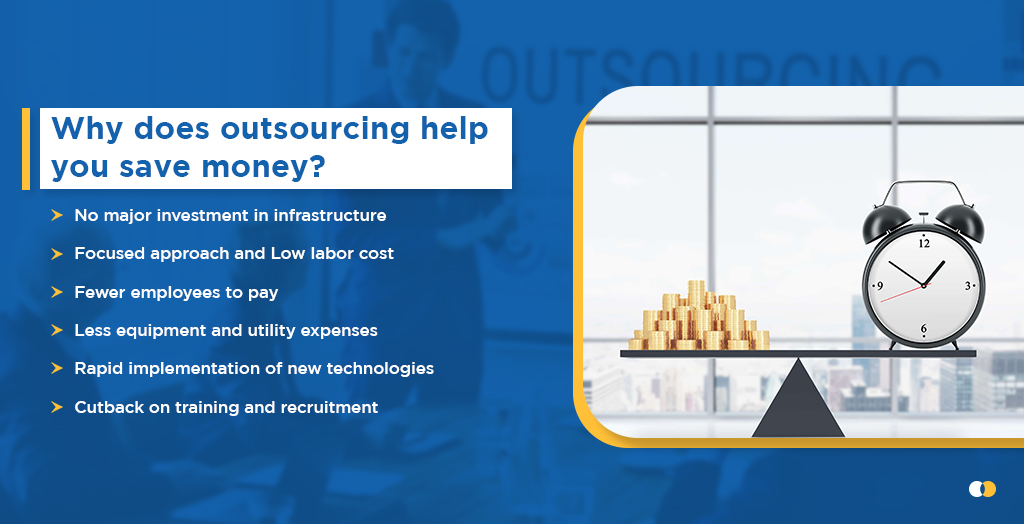 Although there are various advantages to outsourcing work, one needs to be very careful while giving work to remote teams. Measures should be made to identify the correct vendor, as well as techniques to secure the organization's database and detect any data tampering or leakage. Monitoring the data flow process and vendor staff will also necessitate strategies. It's also crucial to keep a positive, long-term relationship with your partners.
Hence, to choose the right WooCommerce developer with a minimal budget one needs to evaluate the above parameters and strategize their deliverables accordingly. 
How Much Does It Cost To Hire A WooCommerce Developer?
In the United States, the cost of WooCommerce developers ranges from $35-$60 per hour. Whereas in India the cost ranges from $15-$25 per hour. 
However, the cost can vary depending on the requirements of your project and the source you select.
The Latest Version of WooCommerce
WooCommerce latest version WooCommerce 6.1 was released in January 2022. So, what's new in 6.1 you need to know? 
WooCommerce blocks 6.5.1

WooCommerce admin 

Action scheduler 
Remember to backup before updating to a newer version. Always consult your developer or remote teams when you plan to update your store so that you do not lose your important data, themes, and plugins. 
Conclusion
Are you planning to build a WooCommerce store? The preceding information will greatly aid you in determining how to find the best WooCommerce developer with a minimal budget and what to look for before hiring a WooCommerce developer. Want to hire a brilliant WooCommerce developer for your eCommerce project? Team up with us to build your online store.
---
FAQs
1) Why use WooCommerce?
Well, WooCommerce is an open-source platform built on WordPress, one can customize as per their needs. Here are the other top reasons to choose WooCommerce as your preferred choice for your online store development:
WooCommerce is cost-effective

Lots of built-in features and plugins

Search -engine friendly

WooCommerce is best to achieve your marketing goals

Excellent customer support

WooCommerce is responsive in all devices

WooCommerce is secure. 
As per W3 tech's usage statistics, WordPress powers 43.3% of all the websites, and before WooCommerce is used by 8.9% of all the eCommerce websites. Thus, WooCommerce is gaining a larger share of the market from its competitors.
2) Is WooCommerce development worth it in 2022?
Yes, it is one of the leading eCommerce Development Platform for online store. During the projection period of 2020 to 2027, the eCommerce market is predicted to grow at a CAGR of 22.9% to USD 16,215.6 billion by 2027. eCommerce is booming, and it shows no signs of slowing down any time soon.
Having an eCommerce store is becoming a popular way for more people to generate money online and thus people are looking for the best development services to build their eCommerce store. So, if you want to build an online store with an eCommerce platform that gives high-quality service at a low cost, WooCommerce should be your first pick.
WooCommerce has many benefits and it's worth the time and effort you put in. New eCommerce companies and businesses are looking for low-cost, lightweight platforms like WooCommerce to power their stores. For many of these businesses, WooCommerce is an obvious choice. 
WooCommerce is one of the most popular eCommerce platforms worldwide with more than 4.4 million websites worldwide, and the number is continually growing. That's enormous! This demonstrates that the graph is trending upwards with no signs of slowing down.
Don't miss out on the development of WooCommerce. Hire a WooCommerce developer now to build an astounding eCommerce store.
You can also read about the detailed comparison of Top 10 Subscription eCommerce Platforms