Managing a successful website requires a lot of time, skills, and resources.
Many companies suffer the struggle to transit from an under-performing website into a website that can boost credibility and client procurement.
Around 97% of consumers use the internet to find a local business. That's why having an online presence is significantly important.
Moreover, people always look for an easy and efficient way to manage their online presence, especially a website that can be easily updated and can effectively build the digital presence for their business.
When it comes to creating a website for your business or purpose, there is no other better option than WordPress.
Why WordPress?
WordPress is the 'GO-TO' option for most businesses looking to build a website. The number of WordPress websites in 2022 is expected to reach a staggering 708 million, which is almost 45% of the entire web.
Sounds pretty amazing, right?
The leading CMS platform can be used in many ways, from a simple website to an eCommerce marketplace and anything in between. WordPress has been the fastest-growing content management system for 12 years in a row.
Also, 14.7% of the world's top sites are powered by WordPress. Giants like The New York Times, The White House Website, BBC America, TechCrunch, Spotify, and Facebook Newsroom, all take care of their online presence with a WordPress website.
Here are other reasons to use WordPress in 2022 as your preferred website development platform:
WordPress is easy to use
WordPress powers 43% of all websites on the internet
WordPress is completely customizable
WordPress is the best Content Management System (CMS) for SEO
WordPress is safe and secure
Read our blog to know what makes "WordPress – The Website Champion and Market Leader."
Today businesses need to critically focus on the performance of the website by the vital factors that affect it. Once your website speed and security are optimized for users, it is easier to gain a solid online presence and traffic.
The WordPress website provides a great lot of plugins with a variety of functionality to set your website for better performance. WordPress plugins are miniatured software that enhances the way your website works. They are the prerequisite for any functional implementation of your WordPress site.
There are almost 60,000 free plugins in the official WordPress plugin directory. It includes some of the most popular and widely adopted WP plugins i.e., Elementor, Askimet, and Jetpack.
Elementor: The world's best site builder allows WordPress users to create and edit websites by simply drag and drop style, with a built-in responsive mode.
Askimet: A useful plugin to check your comments and contact form submissions for spam to prevent your site from publishing malicious content.
Jetpack:  A plugin just about everything is made by WordPress experts to make WP sites safer and faster.
Furthermore, we have explained the smart tips to optimize your WordPress website for better speed and performance:
Speed Optimization for WordPress
Your website speed makes the first impression about your business. Therefore, it is essential to get a fast-loading website. Otherwise, your website won't be able to attract and retain users for a long time. Eventually, this will lead to a slow website with poor performance.
As published in the journal Behaviour and Information Technology, "It takes about 50 milliseconds for users to form an opinion about your website that determines whether they like your site or not, whether they will stay or leave." The book sometimes is judged by its cover!

As defined by Jakob Neilsen, human perceptual abilities suggest 3-response time limits:
0.1 second – Delivers users with a feeling of instant response, supporting the feeling of direct manipulation.
1.0 second – Although noticing the slight delay, the user still feels in control of participation.
10 seconds – Count this as the limit for the user. Immediate leaving off the webpage is expected.
High-performance websites result in high returning visitors, low bounce rates, higher conversions, higher ranks in organic search, better engagement, and user experience. Slow websites will cost you money and damaged your reputation.

You'll always want to be monitoring your load times, so having a number in mind is key.
Now, the question is how quickly should a website load for optimal experience?
"As quick as possible" is the short answer.
The ideal website loading speed should be less than 3 seconds. This means you need to optimize your WordPress website speed to under 3 seconds for creating a better impression among your users.
What affects your WordPress Site Speed?
We have listed down the critical factors that when worked upon will show a great impact on your site UX.
Cached Data
Many websites use caches to generally store the static objects on the site like images, some dynamic content, or even HTML pages. Caching this storage could be a relief that reflects in your website speed performance.
Smart Tip 1: Install a WordPress Caching Plugin
W3 Total Cache: It is the most widely used caching WP plugin being active on over one million sites. The functionality of the plugin is overruled by most other options in caching plugin available at WP.

It is well claimed to have a 10x improvement in overall site performance when configured completely.
In major functionalities, it enables page caching along with database, object, and browser caching. It is rightly important to know what data and objects need caching.
It improves your web server performance and thus can mediate sustaining high traffic periods.
W3TC even functions for minification that reduces page load time which in connection increases visitor time on your site.
The WordPress experts at Ace Infoway have years of experience with performance optimization and data management. You can hire WordPress development companies to get your website optimized for better performance.
Image Size
Pictures with larger sizes can take up a lot more space, making your site slow for your viewers. It is always preferable to compress images to a minimum size for a fast-loading website.
Smart Tip 2: Optimize Images for Speed
Smush: Smush is one of the favorite image optimization and compression plugin in WordPress. It has consecutively topped the other plugins in the same functional area.

Smush can even process bulk optimization without affecting the quality of images. The automated optimization asynchronously resizes attachments with super-fast compression on its upload.
It detects large-size images and resizes them to counter the consequence. Smush can process any type of image file (PNG, JPEG, GIF) to provide you with optimum results.
Smush is compatible with working with a variety of different themes and plugins which makes it more convenient to be looked upon by any type of website.
The lazy load feature will drastically speed up your page by showing only the viewed images over the stacked bundle of images on the page.
Tips: To organize and manage your media files unlimitedly fast, flexibly, and professionally, use WordPress media folders.
Keep Your WordPress Website Updated
Always keep your WordPress website updated to latest version and make your website updated. Also, you might have a bunch of good plugins that run your website, but it takes the addition of a poorly coded plugin that will immensely affect the speed of your website. Here is where an expert hand could work better to identify the one that harms the performance.
Smart Tip 3: Removal of Extra and Unwanted Plugins
Once you complete the development of your WordPress website, you'll need some plugins to activate certain desired functionalities. But, as the number of installed plugins increases, it decreases the website loading speed!
Before considering the plugin removal, make sure you are technically sound enough to know the consequence.
In case, you don't want to take the risk for yourself, we can help you optimize your WordPress website. Our WordPress development services can help you lift the burden of choosing suitable WP plugins and remove all the unwanted plugins for ultimate performance.
Check your website speed for free!

There are website speed-checking tools like Google's PageSpeed Insights, Pingdom, and GTMetrix that let you check your site's performance. It is desirable to go through the base reality of your site's performance.
Security Optimization
As per the Cyber Security Statistics, globally 30,000 websites are hacked daily. This is such a devastating stat to bring our attention to much-needed security practices to make a website safe and secure.
However, it is a common misconception that only big brands and companies' sites get hacked! Even if you have a small business website, automated hacks can still get to you. This means any website can be prone to hackers and there is an equal risk in exposing your website's vulnerability towards malicious attacks.
As the serious aftermath of a security attack, search engines can blacklist your website, traffic on your site could suffer and it could even cost you your valuable clients.
Smart Tip 4: Use a security plugin to protect your website
Sucuri: A free to install from the WordPress plugin repository, the Sucuri security has a worldwide recognized expertise in WordPress website security.
It offers websites with its security activity audit that maintains the logging of all activities to the Sucuri cloud. This allows website owners to keep it all safe after the compromise.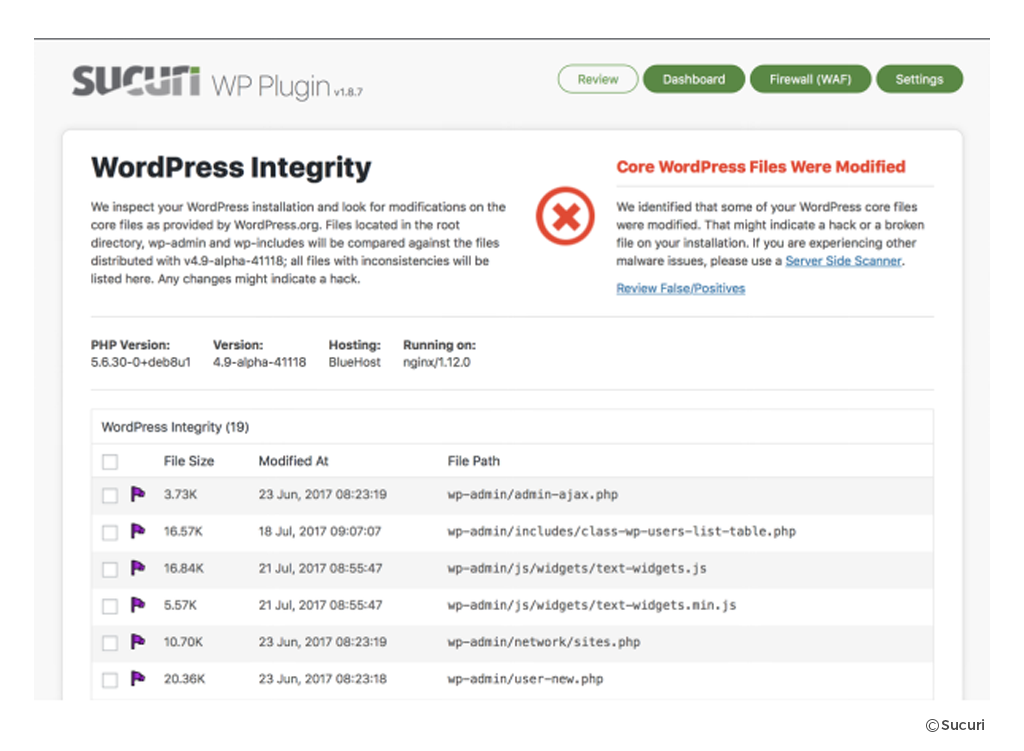 Sucuri Security also performs effective security hardening, remote malware scanning and provides post-hack security actions. The file integrity monitoring serves as the basis in host intrusion detection.
There are a variety of blacklist engines that it uses for your site verification like Google Safe Browsing, Sucuri Labs, and Norton.
Never compromise on your site security, as it is directly affecting your business or site's reputation.
Our dedicated WordPress developers believe the same, and you can hire a team of dedicated WordPress developers to fine-tune your website security. The expert WordPress developers are pro in making website security bullet-proof.
SEO for WordPress
Search Engine Traffic (SEO) is all about making sure your website gets the traffic from search engines i.e., Google, Yahoo, Bing, etc. To get search traffic you need to optimize your website for these search engines using SEO techniques.
Optimizing your website for SEO can take a lot of time and it can be an uphill battle for many.
But WordPress offers the most convenient SEO solution with a plethora of SEO plugins for WordPress. You need to choose the most suitable and easy-to-use SEO plugin for your website.
Smart Tip 5: Install Yoast for compelete SEO optimization 
Yoast SEO: With a mission of 'SEO for everyone, Yoast SEO is the number one WP SEO plugin that has helped more than a million websites to rank higher.

This makes it easier for Google to understand your site structure with advanced XML sitemaps. It becomes easy to create customized metadata for a blog post or web pages as described in the tool's snippet below: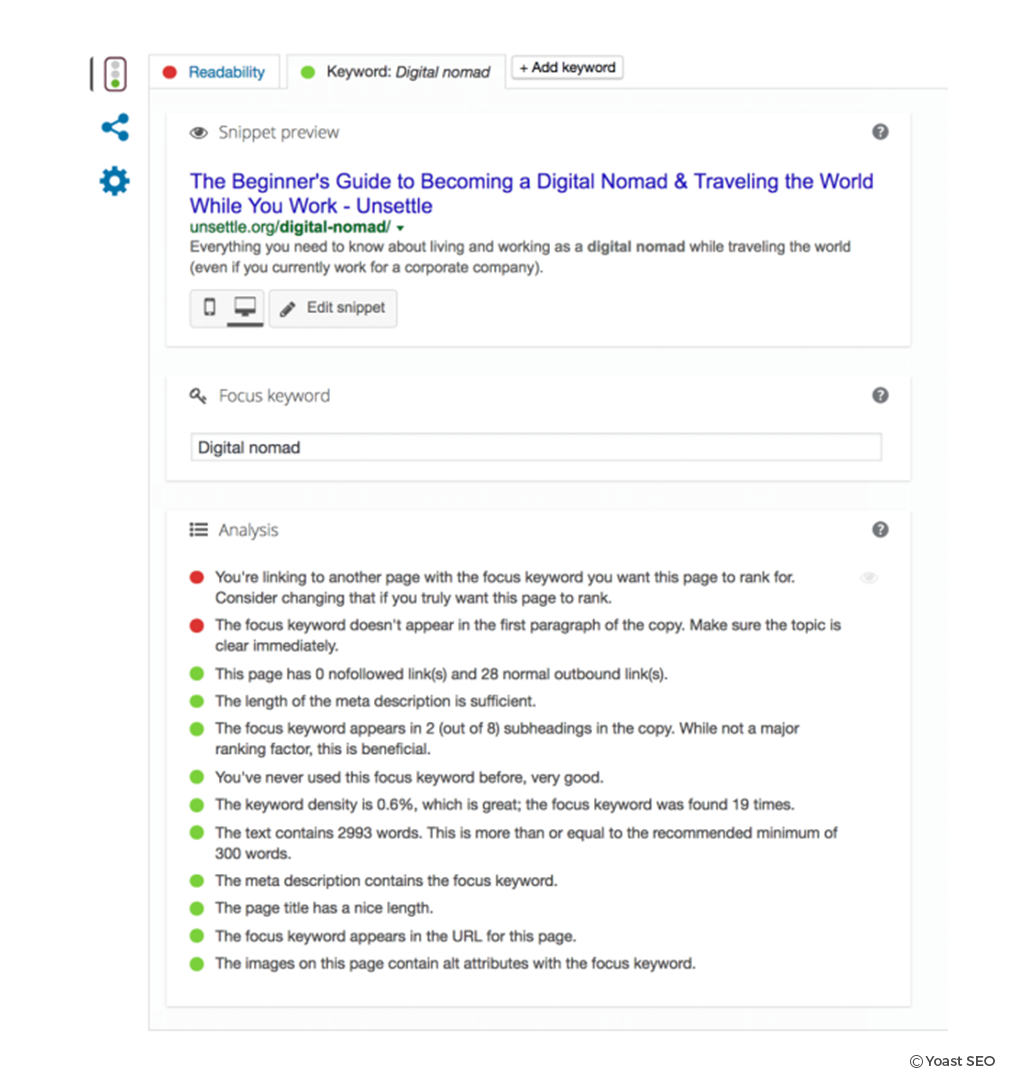 It allows convenient page redirects. Redirecting your old but mostly visited content to the new version indirectly helps your SEO.
Yoast gives you the authority to enable breadcrumbs under the internal linking options. It is always a headache to edit things manually one by one and usually takes a lot of time.
Making it easier and fast, editing the titles and descriptions in bulk is provided by Yoast SEO in the form of SEO Snippet. It provides you with lot more such possibilities that make it easier for your site to climb up the search ranking.
Conclusion
WordPress is the number one Content Management System (CMS) and the first choice of all website owners to create awesome websites. With WordPress, it becomes easy and efficient to manage all required activities to promote your business. By installing and activating suitable plugins you can easily activate desired functionality to make your website search engine and user friendly. Once you'll be able to optimize speed, security, and performance, no one can stop you to achieve the desired conversion.
Our WordPress development services manage everything for you so that you can focus on the other important areas of business. We have dedicated teams who can assist you by becoming your extended remote team partners.
Team up with us to hire a team of expert WordPress developers to monitor your website performance, effectively.