No-brainer Thing!
The 21st century is a paradise for businesses that went online- undoubtedly the domination of mobile apps is at its peak. As per the data released by Statista, in 2023 mobile applications are predicted to generate a revenue of 935.2 billion USD. And referring to other data, 255 billion mobile apps have been downloaded in 2022.
Mobile applications are either native or hybrid. It is crucial to understand the difference between a hybrid app and a native app as it will broadly impact the performance, and user experience of the users. The idea to develop an app for the business or service you are rendering is a no-brain thing. Don't waste time-just go for it. But before that have a clear mind if you are confused- out of the native app and hybrid which app is best suitable for you?
Before we delve into understanding the difference between a hybrid app and a native app let's understand what is a hybrid app and what is a native app.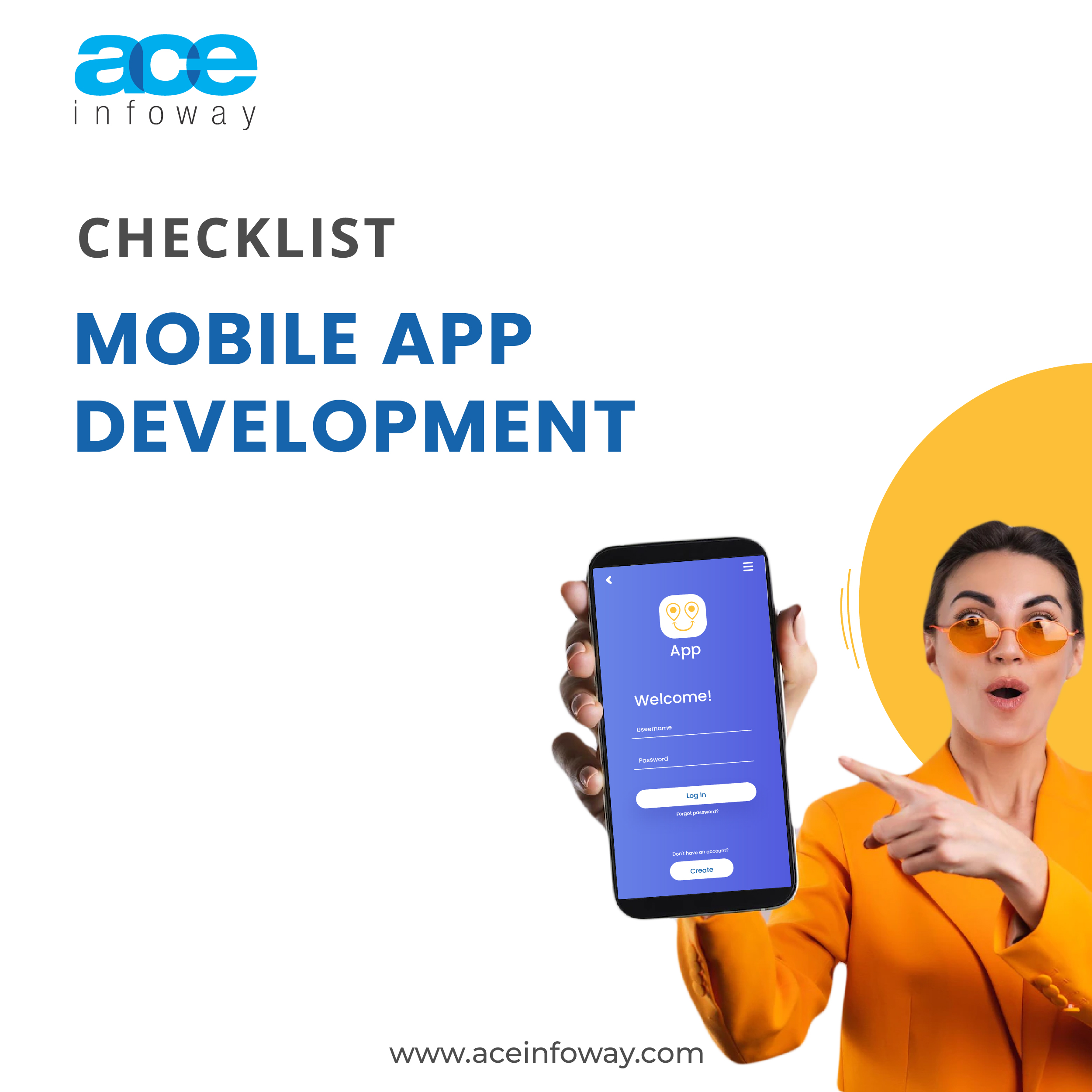 The Ultimate Checklist for Building An Incredible Mobile App
Get this checklist in a portable document format & access it offline.
What is a Hybrid App?
A hybrid app is compatible with multiple operating systems like Android, iOS, Microsoft, and others. Built with cross-platform frameworks like Flutter, React Native, Ionic, Xamarin, and fewer codes, Hybrid apps can be accessed through a web browser and can be downloaded from app stores.
What is a Native App?
A native app can be defined as a mobile app that is dedicated to one platform or mobile operating system. Native apps are developed and specifically written for one OS only, which means native apps developed for Android won't work for iOS and vice versa.
Additionally, native apps don't work on browsers and can be downloaded from the related app stores only.
The native apps are developed to work within a particular environment compatible with the specified mobile operating system and platform.
Native app's code is written exclusively for the specific OS. In general, Java Development Kit is used for developing a native app for android while a tool like iOS SDK or Swift is used for developing a native app for iOS.
Native Apps vs Hybrid Apps
The key difference between the hybrid and native app is that a hybrid app can be used for multiple platforms like iOS, Android, Microsoft, and others while the native app can be used for any one operating system only specifically.
To make you understand the difference between a native app and a hybrid app, we have designed the table below depicting the difference between both app types.
Difference Between Hybrid App and Native App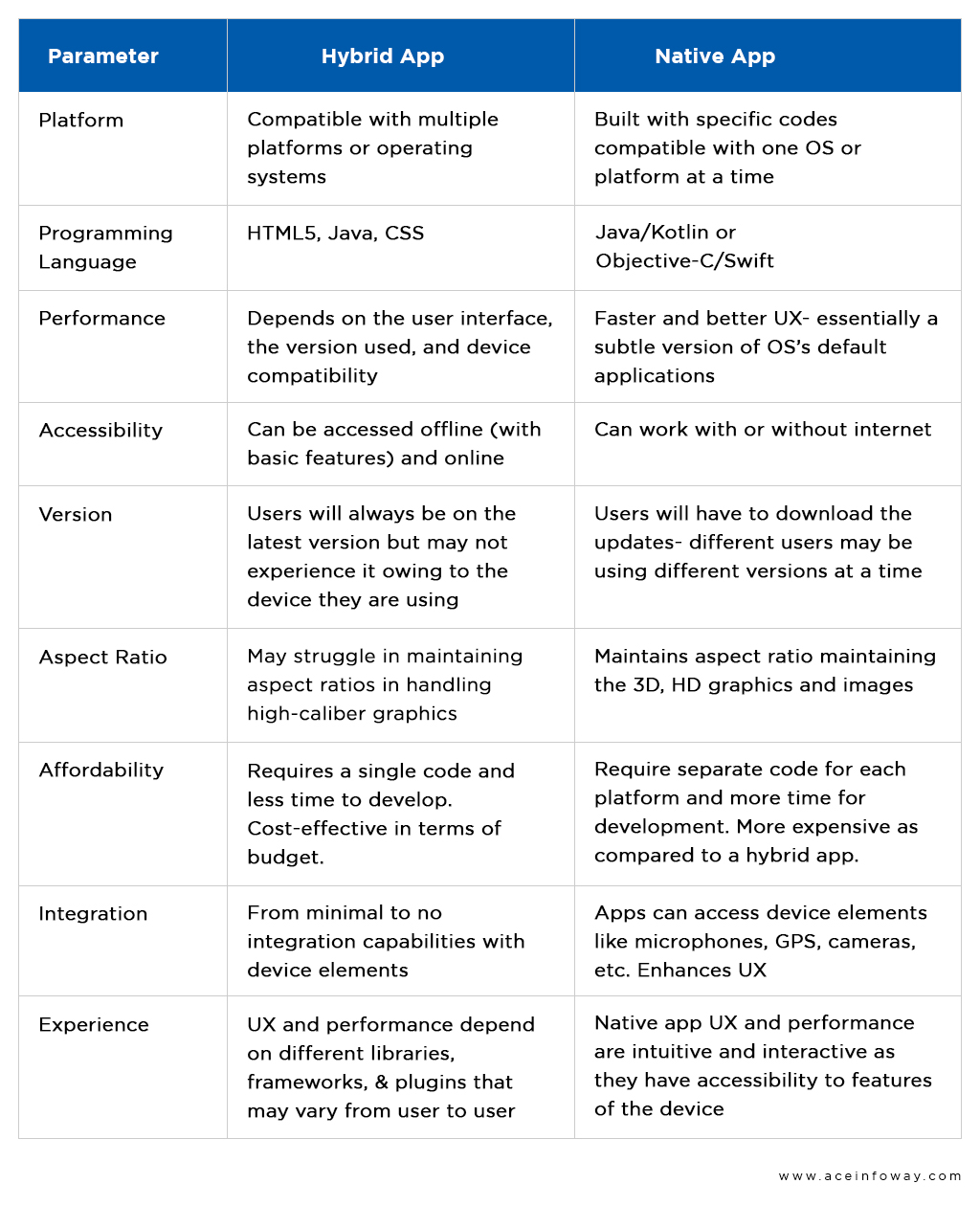 Hybrid Apps vs Native Apps: Which App is Better?
In terms of features, technology, and performance we can't say that one app can overdo another. Because the difference between a hybrid and a native app is almost blurred.
The superiority of hybrid apps and native can be judged by the business stakeholder depending upon the goal, objectivity, and nature of the business or service.
For example, if your app is going to have perpetual updates in versions, tools, or features then a hybrid app is best as it will be easy for the developer, and coder as they have to write single code for all platforms. In a way it is cost-effective but it will also be comfortable for users who don't want to make the app update again and again.
In another instance, if you want your users to have a powerful performing app experience, want to create a niche user community with exclusivity, and if your budget is not constrained then a native app can be proven best for you.
So, while making your decision between a native app and a hybrid app along with the budget, functionality, and performance consult with your developer team about which app can actually meet your business goals and objectives.
Native vs Hybrid app: How to Make Decisions?
After having a clear understanding of the differences between the hybrid app and the native and keeping business goals, objectives, and target audience at the center of the idea, you should make your decision depending upon the below factors.
Market trends and user expectations.
Nature of the business and user behavior of your target audience.
Your business goal and objective.
What do you want to achieve with this app?
The type of user experience you want to give.
Speed and performance you are expecting from the app.
The budget designated for the development of an app.
Whether you will be able to meet the maintenance cost and effort.
Summing it Up!
On average 21% of users abandon an app if they don't find it accessible, user-friendly, and appealing- so creating an engaging and responsive app is more than just crucial.
The difference between native and hybrid is not just about the budget or cost for development, but it is also about the performance of the app and the user experience you want to deliver.
The decision to either go with the hybrid or native app depends upon what you expect from your app- whether performance, the larger community, a pocket-friendly app, or user experience comprising the latest features, versions, and tools.
If you want to have more in-depth information about the difference between the hybrid app and the native one and make a responsive, accessible, secure, and engaging app feel free to contact our team of experienced developers. We will assist you to understand the process of app development and all your queries will get answered with a practical approach by the experts that sums up our two-decade-long experience as an IT service provider.