Technology advancements and the expansion of digital marketplaces have made buying and selling online easier than ever before. Between 2021 and 2025, the eCommerce market is predicted to increase by about $11 trillion. 
The global trend toward digitalization accelerated at a breakneck pace as firms went online during the COVID-19 pandemic. Even when certain areas reopen, eCommerce sales continue to rise. 
As per Statista, global retail eCommerce sales amounted to around 4.9 trillion dollars in 2021. Over the next four years, this value is expected to increase by 50%, reaching $7.4 trillion by 2025. These statistics testify for themselves when it comes to the worldwide eCommerce boom.
All of this buzz over the eCommerce industry has motivated brick-and-mortar retailers to set up their online stores.  It's an exciting time to be in online retail sales, but to compete in 2022, you'll need to adapt and include some of these eCommerce trends. 
Top eCommerce Trends for 2022
The year 2021 was a game-changer for the eCommerce industry. The backbone of eCommerce is technology, which is currently growing and preparing e-commerce for a better experience than ever before. It has placed its flags everywhere, whether it's through the latest eCommerce trends like artificial intelligence or voice search commands, making it easier for customers to make purchases.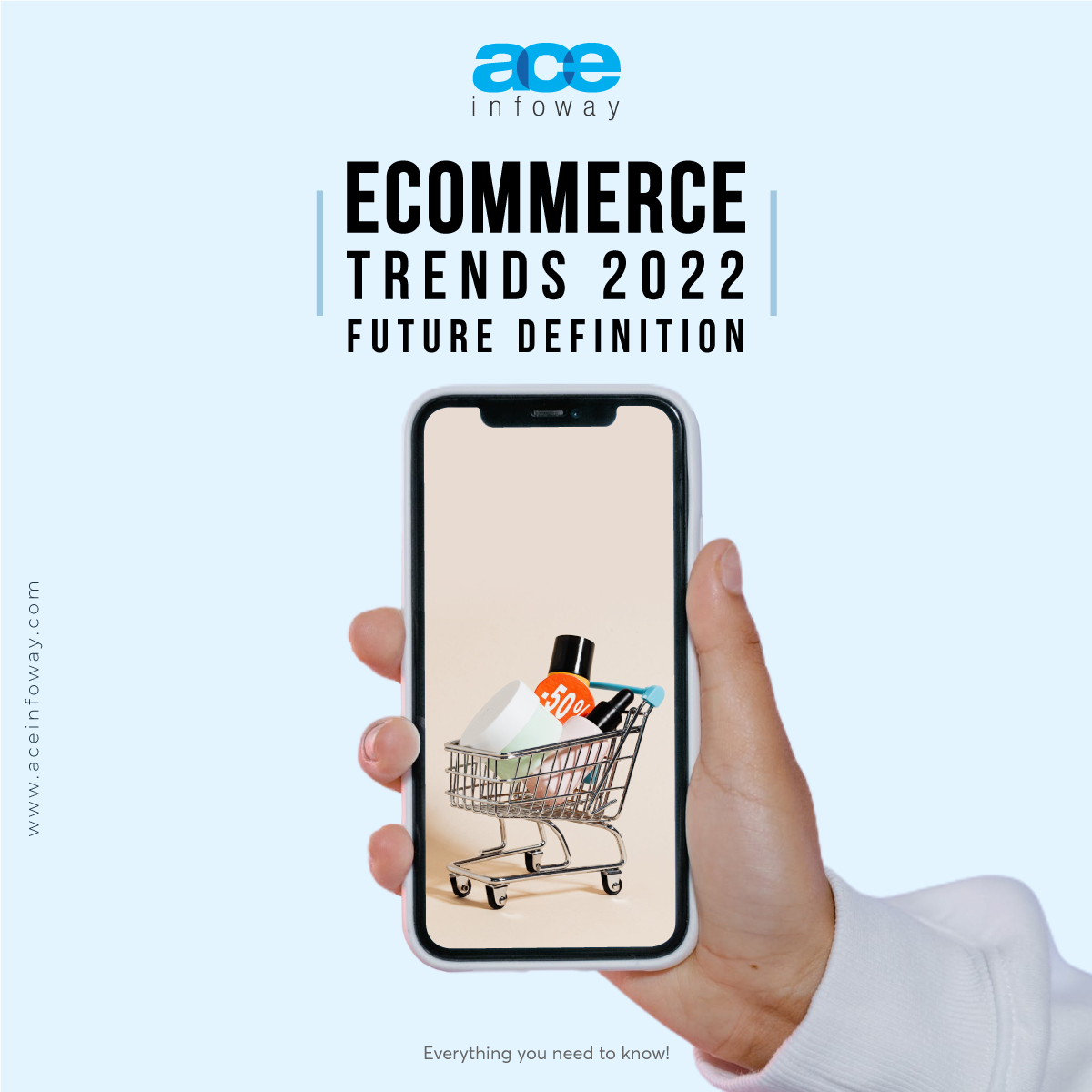 eBook: eCommerce Trends 2022 [Future Definition]
Get this eBook in a portable document format & access it offline.
Now, let's understand 4 Trends that will Define eCommerce in 2022: 
1) The importance of social media will continue to rise:
Though social media's growing influence is not new; it is expected to play a significant role in eCommerce in the coming years.

Facebook, Instagram, etc. all play an important role in their users' life, and most of these sites allow buyers to buy directly from the social media platforms.
These platforms not only allow businesses to deliver relatable, valuable textual, audio, and video content, but the ability to shop through these social platforms also simplifies the online purchasing process.
Furthermore, businesses can gain incredibly important consumer information about user behavior and interests by using social media sites as sales channels.
2) Augmented Reality for a Better Customer Experience:
The way consumers interact with retail brands is changing because of augmented reality (AR).
Augmented and virtual reality allow internet buyers to visualize purchases and interact with things before making a purchase using their mobile devices, tablets, and PCs. It could be as simple as an interactive 3D module or as complex as an application that "plants" products in the user's house.
The face of eCommerce is evolving as a result of improved and more engaging online purchasing experiences. The integration of AR technology into buying experiences is rapidly gaining traction: 61 percent of consumers prefer AR-powered stores, and 40% would pay more for a product they can experience through AR.
These new eCommerce trends will define the eCommerce industry in the coming years, especially in clothing, eyewear, sports, marketplace, and automotive web design.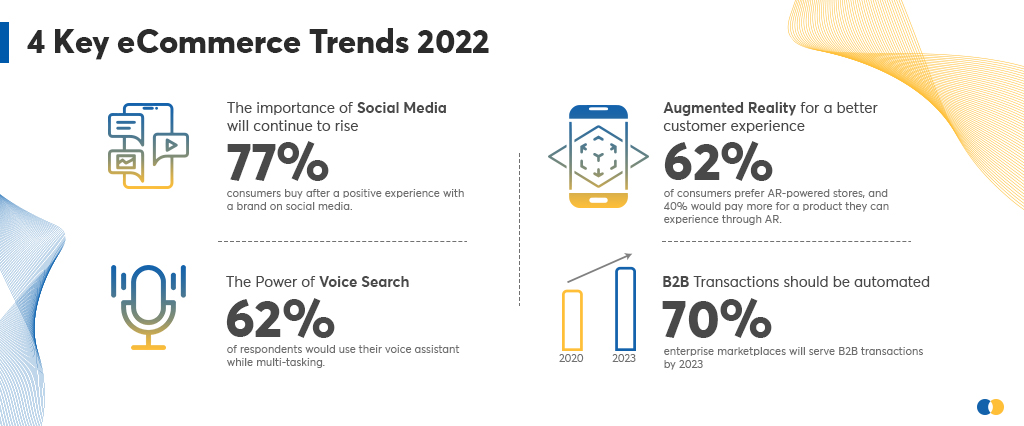 3) The Power of Voice Search:
Voice search was in its infancy back in the day, which was only a few years ago. It has significantly advanced in recent years, and it has begun to supplant traditional methods of searching, such as typing a query into a search bar.
Voice search has changed the way people purchase products and services, as well as how they find local businesses. As voice search becomes more popular, it will be critical for your company's website to be voice search optimized to stay competitive.
This entails ensuring that your website is optimized for information that customers are looking for, such as location, hours, and products and services available. It also expands the possibilities for optimizing voice search terms and long-tail search queries.
4) B2B Transactions should be Automated:
Business to business is a fascinating thing. Unlike B2C transactions, B2-B transactions frequently entail a great deal more negotiation and, in some cases, the creation of contractual agreements. Although the process of closing a purchase may take longer, business-to-business sales are frequently recurrent sales with a vast scope.
There's a strong reason to automate these activities wherever possible. The more difficult it is for large accounts to do business with you, the more likely they are to look for better opportunities elsewhere in the future. Managers of supply chains and procurement specialists do not have time to click buttons and type payment card information, they have other tasks to do. Automate such processes or set up a fulfillment timetable for big clientele.
Invest in software that develops a fulfillment plan, analyzes inventory levels, and, where possible, auto-orders for your B2B clients. This B2B eCommerce trend will save the buyer time, money, and resources while also satisfying both the buyer and the seller.
To keep up with these trends, you'll need the best eCommerce development platform to boost online sales. Here are the best platforms you can select in 2022 for building a next-gen eCommerce store: 
Best eCommerce Platforms to Choose in 2022
1) Shopify:

The first question most merchants have when starting an online store is which e-commerce platform they should choose. Shopify can help you achieve your goals with plug-and-play solutions that best suit your demands if you're going to launch a new online business or want to expand your brick-and-mortar store into the e-commerce market.
Shopify is an online and offline eCommerce platform for creating a website that hosts your online store. It's a subscription service, so you don't have to worry about putting together separate web development aspects like a domain name, a third-party theme, or hosting. Your Shopify subscription includes the great majority of the tools you'll need to run an online store.
When we mention online stores, we're referring to businesses that sell the products and accept payments online, similar to how you may shop on Amazon. Shopify also has payment processing solutions for in-person businesses, allowing you to set up a point of sale system to accept payments at your brick-and-mortar retail shop.
Shopify is ideal for those who have a product and want to sell it online. Products like:
Furniture

Technological devices

Jewelry

Digital products such as eBooks and music tracks
What Features does Shopify Provide? 
Shopify is an all-in-one solution that includes a variety of features to assist you in creating and managing your online store.
Shopify POS: The Shopify POS app is a simple point-of-sale system that allows you to sell your goods in person. It may be set up to function on both mobile phones and tablets. Shopify POS integrates with Shopify, allowing you to streamline your business operations by centralizing everything in one place. Orders and inventory may be tracked throughout all of your retail locations, online shop, and other active sales channels.
You can also use the app to manage and view your store's orders.
SEO tools: Shopify has many SEO tools that businesses can use to accomplish their goals. Shopify also supports a variety of third-party application integrations to help businesses optimize their websites more successfully. Smart SEO, for example, is a Shopify App Store that offers a variety of features, including automated metadata input, structured data submission to multiple search engines, including Google, multi-language support, and more.
Dropshipping: Dropshipping is a business concept in which an eCommerce company purchases products from a third party and gets them directly delivered to their customers. The necessity for an active warehouse to hold listed products is eliminated with this arrangement. Companies must pay suppliers the wholesale price while maintaining control over the pricing that buyers see on their websites. Shopify has many apps that allow businesses to connect with thousands of wholesale suppliers all around the world. Oberlo is one such app, which allows businesses to import products directly from AliExpress and list them on their Shopify online store. As a result, businesses do not have to be concerned about product storage space for things featured on their websites.
Shopify Analytics: Shopify Analytics is a built-in data dashboard for Shopify. It aids eCommerce store owners in gaining a better understanding of their business's performance and how to enhance it.

Shopify Analytics provides you with: 
– Last week, how many things did we sell?
– Which of our products was the most popular?
– What are the demographics of our customers?
– What is our AOV (Average Order Value)?
– Which marketing channel yields the best return on investment (ROI)?
Abandoned cart reminders: According to

Oberlo

, 60.7% of customers tend to abandon a cart before making a purchase, resulting in a significant reduction in sales. 

Shopify has an Abandoned cart checkout emails feature that helps businesses to identify consumers who have products in their baskets and send them emails to remind them of those products. Businesses can also automate this process by upgrading to Shopify's advanced subscription, which allows them to save a lot of time and generate more revenue.
Secure and Reliable: One of the most crucial considerations when selling online is security. If your site is ever hacked, your customers' account information may be exposed. Shopify takes all necessary precautions to keep you and your customers safe, as well as deal with any attempted breaches. Shopify comes with a built-in 256-bit SSL (Secure Sockets Layer) certificate. Ecommerce platform generally supports subdomains and wildcard here is necessary requirement. RapidSSL wildcard, GeoTrust wildcard, GoDaddy wildcard SSL are few suggestions if you want to secure subdomains. This secures your site from hackers, encrypts all saved data, and improves the SEO of your store.The reason for this is that Google prefers sites with an SSL certificate because it shows that the customer's data is secure, and hence ranks such sites better in search results.PCI-DSS, or Payment Card Industry Data Security Standard, compliance is required to conduct credit or debit card payments. Shopify, for example, is PCI Level 1 compliant. This allows you to provide your consumers the option of paying with their credit cards right away.
| Pros of Shopify | Cons of Shopify |
| --- | --- |
| Ease of use | Harder to customize |
| Better security | Not an easy migration |
| Fast loading speed | Apps available in Shopify are paid |
| Mobile friendly | More suitable for small businesses |
| Quick customer support | |
| User-friendly interface | |
We have developed numerous retail apps on Shopify App Stores using the Shopify App Development Guide. We work closely on Shopify development projects to achieve your desired goals and build an incredible eCommerce store for your business. Team up with us to create an incredible Shopify online store now!
2) Magento:

Magento is a PHP-based platform that aids developers to build eCommerce websites. Thousands of businesses, including major brands like Nike and Samsung, use this open-source to build their online store.
Magento has been acquired by Adobe in May, 2018 and now is an Adobe Commerce.
Magento should be a top priority for organizations and individuals looking to build a long-term professional eCommerce site. But perhaps the most important aspect is that it is really professional and the best choice for large companies & enterprises.
The platform also offers a range of plug-ins and themes to fit anything they want to do with their website and how they want it to look. These can also boost customer interactions and increase the user experience.
What Features does Magento Provide? 
Here are the top features of why Magento is such an excellent choice for your business when it comes to building an eCommerce website: 
Highly Scalable: 

Magento is highly scalable, which means it can handle a wide range of business sizes, from small startups to large enterprises. For example, you can start a small business with a limited number of products, and then Magento allows you to expand your business to a limitless number of products. 

One of the reasons why Magento is the greatest fit for every business type, from small online businesses to medium and large enterprises, is its tremendous scalability.
Catalog Management: The ability to maintain the catalog, no matter how small or large, is one of the most important parts of running a successful e-commerce store. Magento comes with several catalog management capabilities that can be useful in this situation. Simple, bundled, grouped, and customized items are supported. Limitless product qualities, dynamic pricing, social product sharing, and other features are available.
SEO-Friendly: Magento offers a variety of SEO solutions because SEO is what makes eCommerce websites visible. Its SEO features include Google sitemap generation, SEO-friendly URLs, ranking popular searches, compatibility with various search engines, popularity-based search phrases, customer sorting criteria, and more. It also speeds up loading by lowering the number of.css and.js files used.
Language Support And Multiple Stores: A large number of multinational companies have purchased Magento to run their businesses. The key reason is that Magento allows businesses to run various stores, including multiple languages and currencies, from a single installation, giving them additional options to expand their market and reach out to a vast number of prospective customers all over the world. Multiple stores not only improve the shopping experience for international customers but also help store owners increase business efficiency in each location where each store is located.
Shipping & Checkout: Magento platform also makes shipping and checkout easier, which are both necessary for running a successful e-commerce shop. Single-page checkout, payment gateway integration, Secure Socket Layer (SSL) support for orders, shipping module integration with entire order dispatch details, and more are among the features available.
Easy Multi-platform Integration: Third-party add-ons and modules can be easily integrated into your Magento store. Shop owners can also integrate Google Analytics and other third-party integrations (such as eBay, Paypal, Mail Chimp, and others) onto their site to enhance data analysis.
All you have to do now is find the greatest gadgets and "plug" them into your store right immediately!
| Pros of Magento | Cons of Magento |
| --- | --- |
| Flexible | Tough learning curve |
| Open-source | More time to launch |
| Fast page loading | Hosting and security expenses |
| Plenty of payment gateway | Basic version is free, but the premium is expensive |
| Huge community support | |
| Mobile friendly and scalable | |
|  Best choice for large companies & enterprises | |
At Ace Infoway, Our eCommerce Development experts closely work with Magento eCommerce solutions and bring out a superior user experience by building impeccable online stores. We are one of the Top eCommerce Development Companies in the US.
3) WooCommerce:

WooCommerce is a WordPress plugin that adds eCommerce functionality to a standard web application. So, if you've created a WordPress web application and want to sell things on it, all you have to do now is install the WooCommerce plugin. It will include all of the necessary features and functionality for you to sell your products online.
The best part is that it's a lightweight plugin that even WordPress developers can use to set up your online store. WooCommerce is also an open-source plugin, like WordPress. It has all of the necessary elements for an online store, including shopping carts, payment gateways, and a simple checkout process.
One of the main reasons for WooCommerce's popularity is its integration with WordPress. There are hundreds of commercial and free themes to choose from, as well as a plethora of plugins to enhance your store's functionality.
What Features does WooCommerce Provide? 
The features that WooCommerce provides set it apart from other technologies. Let's take a closer look at WooCommerce's features to have a better understanding of it:
WordPress Integration: WooCommerce's USB  is that it's built on WordPress, the world's most popular content management system. As a result, the same rules that apply to WordPress also apply to WooCommerce. And don't we all know how simple it is to use WordPress? This WordPress integration makes the job of a web host extremely easy.
Simple and Robust: Even though WooCommerce is a free platform, it is not limited to small businesses. Using WooCommerce, you can easily create a professional online store. It includes robust order monitoring and customer engagement capabilities that enable you to do everything from managing

orders to updating the delivery 

status to giving discounts and much more. In a nutshell, WooCommerce has everything that a professional e-commerce store requires.
Scalable: Scalability refers to an eCommerce company's capacity to expand quickly as it grows. Scalable eCommerce platforms provide high-quality service, respond quickly to a company's expansion, and don't overcharge clients as their businesses expand.WooCommerce checks off all three of these scalable features with its endless product variations, flexibility to manage massive amounts of orders, and flat-rate pricing.
Built-in Blogging: With WooCommerce's built-in blogging tool, you can post outstanding content and establish a strong brand. WooCommerce allows for a seamless connection with WordPress, the most popular content management system. You don't need to build a separate blog for it because it's already built into WordPress.
Multiple Shipping Options: WooCommerce allows you to offer your customers a wide range of shipping options, including local pickup, local delivery, and international shipping. You can even limit shipping options according to your preferences.
SEO Friendly: WooCommerce is SEO friendly, which means it comes with built-in tools to help you optimize your product pages for search engines. It is your responsibility to create product categories and organize your items into the appropriate categories. To optimize your product pages, use the WordPress editor to effortlessly update content, permalinks, and other page elements.
WooCommerce, on the other hand, provides many SEO plugins to help you optimize your store.
Pros of WooCommerce
Cons of WooCommerce
Customization
WordPress specific
Better security
Need to pay for extensions
Large community
Doesn't support multiple languages
Great flexibility
More suitable for S&M business,
not for large enterprises
Free and open-source
Most popular eCommerce platform
Shopify Vs Magento Vs WooCommerce [Simple Comparison]
Highlights

Shopify

Magento

WooCommerce

Launch Date
2006
2008
2011
Websites
4,000,000+
7,00,000+
4,000,000+
Site Performance
High
High
High
Scalability
Yes, but only with Shopify Plus
It is highly scalable
No, It requires developer assistance & advanced hosting
SEO
Yes
Yes
Yes
Ease Of Use
Easy
Difficult
Easy
Customer Service
24×7
Yes, available with Enterprise Edition
Yes, available through Support Forum
Security
High
High
High
Domain Name and Hosting
Yes
Premium: Yes
Community: No
No
Analytics
Google Analytics + System Analytics
Google Analytics + System Analytics
Google Analytics +
System Analytics
Cost
Starting at $29
Premium or Free
Free
Conclusion
Shopify is the best platform for small businesses
Magento is the best choice for large companies & enterprises
WooCommerce is suitable for small and medium-sized businesses.
According to eMarketer, In 2022, the worldwide eCommerce market is estimated to reach $5.55 trillion. This figure is expected to rise in the coming years, indicating that borderless eCommerce is becoming a viable business model for online businesses.
The Future of eCommerce? 
Only 17.8% of sales were made via online purchases two years ago. In 2022, that percentage is predicted to rise to 21%, representing a 17.9% gain in eCommerce market share in just two years. Growth is predicted to continue, with a target of 24.5% by 2025, a 6.7% point gain in just five years.
As per eMarketer, the national market experienced double-digit eCommerce growth. The tendency is still going strong:
eCommerce sales in Latin America reached

$85 billion in 2021

, up nearly 35% from the year before the COVID-19 epidemic. This sum is likely to reach around 160 billion dollars by 2025, according to projections.

By 2025, the Indian eCommerce market is estimated to have grown from

$46.2 billion in 2020 to $111.4 billion.

According to

eMarketer

in 2021, eCommerce sales in Russia, the United Kingdom, and the Philippines increased by more than 20%.
The eCommerce industry is growing and will continue to do so shortly. It has a significant impact on customer behavior, demands, and shopping trends.
The future of eCommerce has a significant impact on customer behavior, demands, and shopping trends. The eCommerce business is on the rise and will evolve remarkably. 
Conclusion:
As you prepare yourself and your retail business for 2022, stay up to date on industry trends, platforms, and news/data related to the eCommerce industry, so you can make informed decisions. 2022 is no longer on the horizon, it's already here. What will you do to gain a competitive advantage?
Creating a frictionless eCommerce store that enables a seamless user experience is the goal of any merchant. Hiring an eCommerce development company can help streamline your up-scaling process. We offer our eCommerce development services to help you reduce bottlenecks and build an online store to improve your overall user experience.
Contact us today, and team up with an expert eCommerce developer's team to help you build your business online.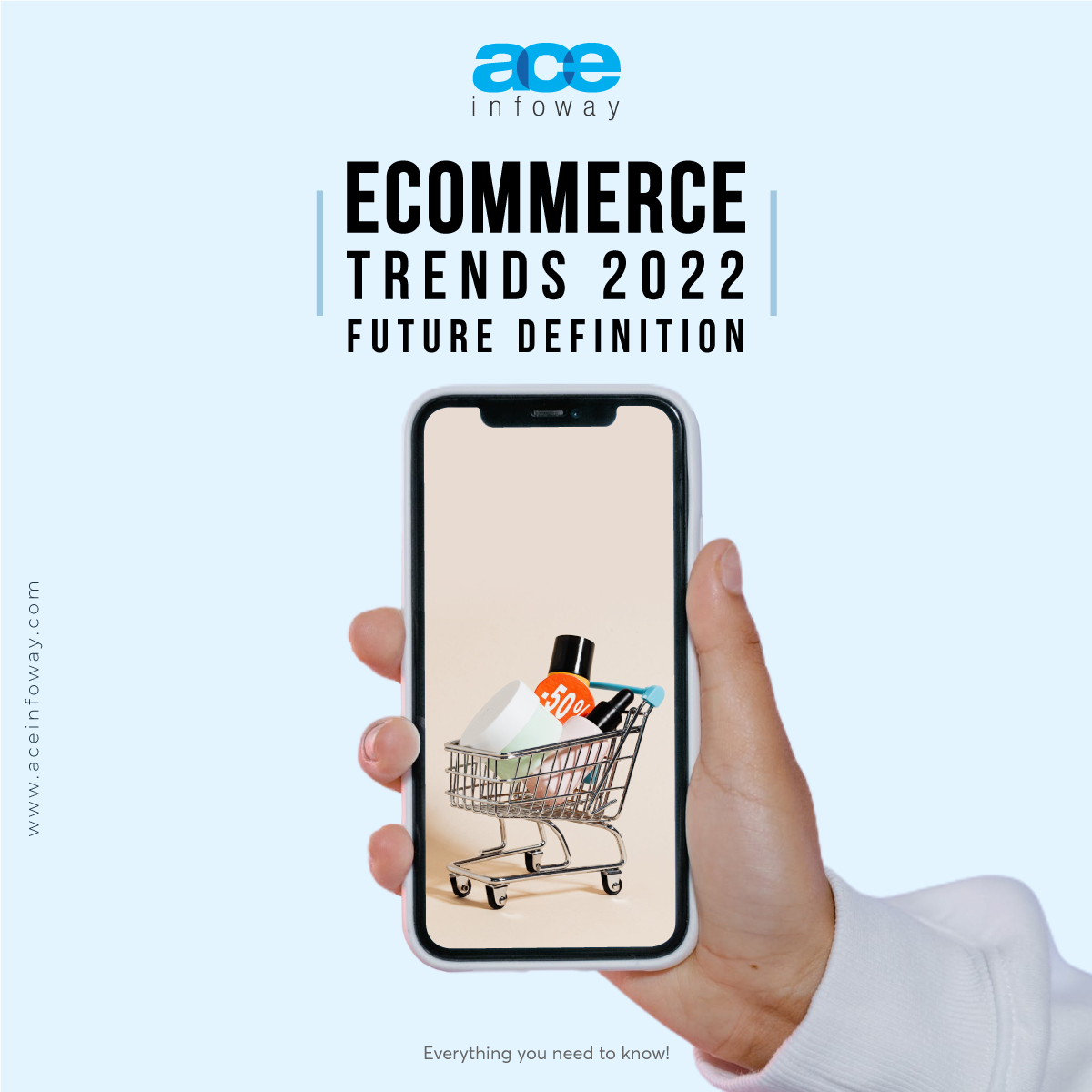 eBook: eCommerce Trends 2022 [Future Definition]
Get this eBook in a portable document format & access it offline.