Shopify has become one of the favorable choices for small & medium businesses to build a visually appealing online store. 
Shopify provides so many advantages with an easy-to-use platform, modern themes, scalability, high-speed and security, excellent customer support, mobile friendly, and a focus on dropshipping.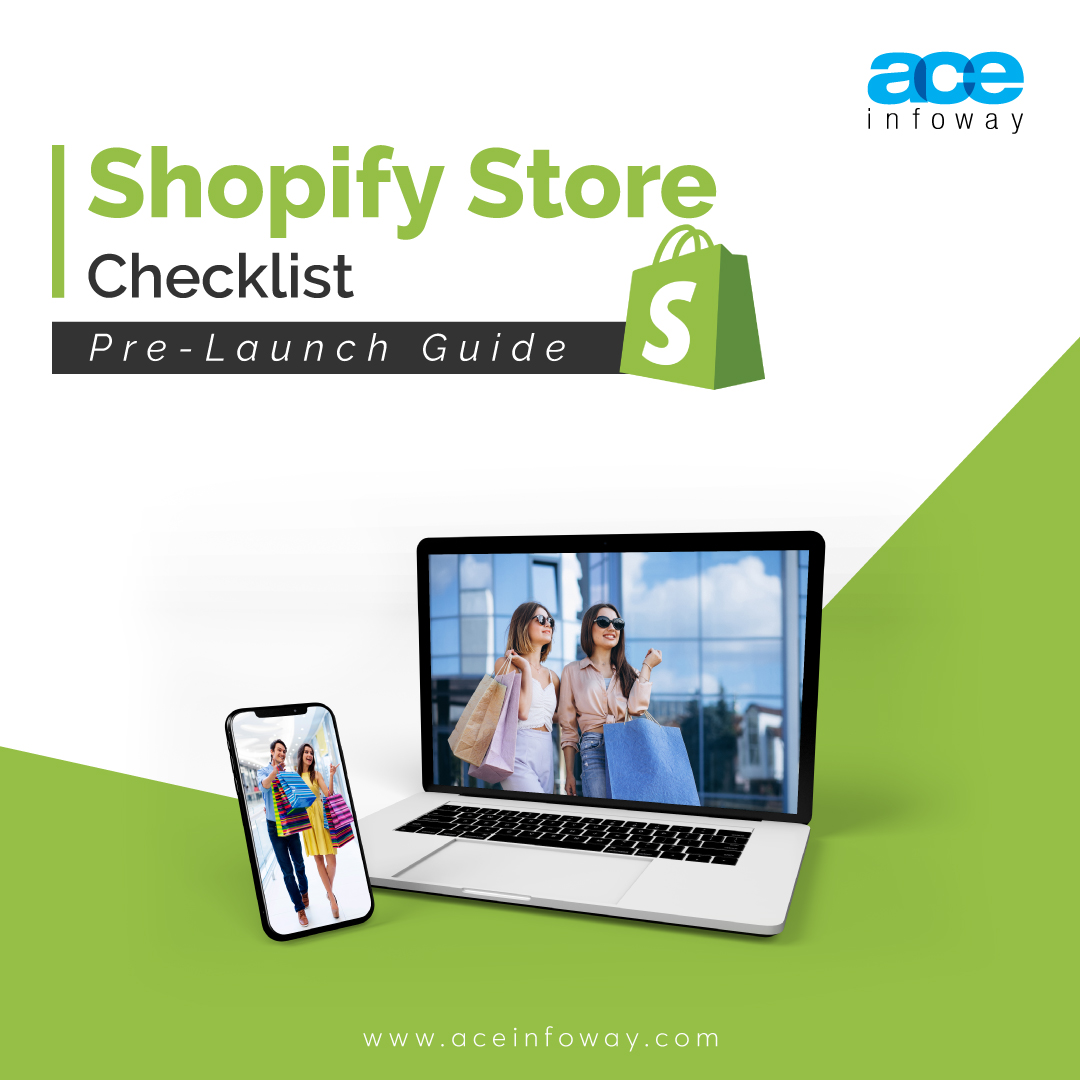 Shopify Store Checklist [Pre-Launch Guide]
Get this checklist in a portable document format & access it offline.
Now, regarding the cost of building a Shopify store, more than 1 million small business owners from more than 175 countries rely on Shopify to help them sell their products and services online and in person. Shopify is one of the affordable platforms to create an online store for your business and one of the most popular eCommerce platforms for quickly getting a store up and running online efficiently.
While planning everything out, the next question on your mind is how much Shopify development will cost. In this article, we will address the cost of building an eCommerce store with Shopify services and why you should choose Shopify for your eCommerce development. Now, let's jump right into details.
Why is Shopify Best for Your eCommerce Store Development?
Here, are the few best reasons we have listed why to choose Shopify for eCommerce store:
Hosted Solution:

Shopify is a hosted solution that runs on the cloud, so you don't have to worry about servers or databases.

Inbuild Marketing Tools:

Shopify store owners can use the platform's in-built marketing tools to build, manage, and track their marketing campaigns.

24/7 Technical Support:

Shopify offers technical assistance 24/7 and you can reach out to their customer service team whenever any glitches arise. 

Errors and data duplication are reduced:

When manually entering data into various fields and forms, there is a risk of errors and duplication. Furthermore, problems arise when errors are not properly tracked. Shopify

includes automated data input solutions to reduce data duplication and streamline the data entry process.

Payment Options:

When it comes to payment processing, Shopify supports all of the most popular methods. Shopify offers its payment methods, including no transaction fees and lower credit card rates through its payment gateway. To use this gateway, you don't need a merchant account.

Secure and Reliable:

Shopify is a global hosted service, which means that their network is monitored for cyber threats 24/7 and that they can assist you with any issues that emerge.

Visually Appealing online Store:

Shopify comes with a variety of professional themes that allow you to establish one-of-a-kind and visually appealing online stores. Theme kit allows Shopify developers and designers to create Shopify themes locally.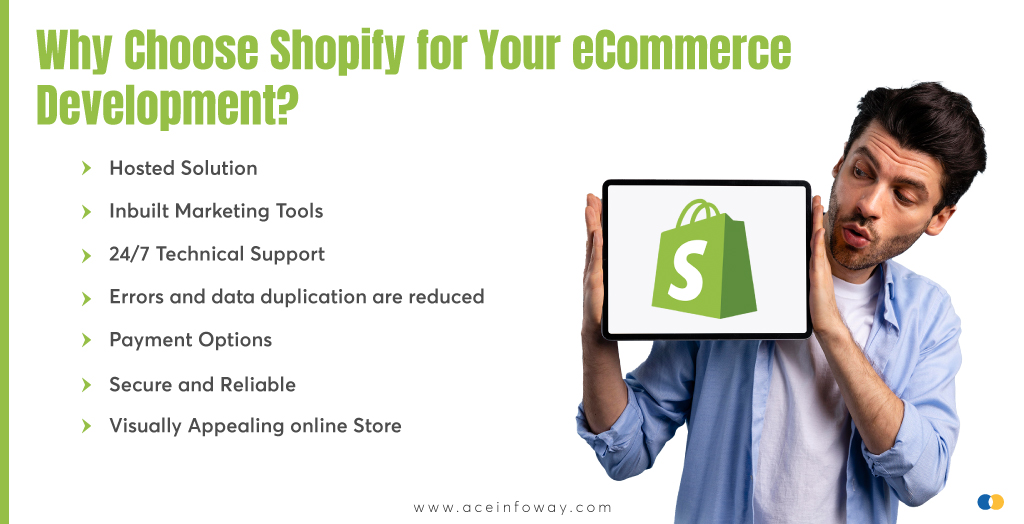 How Much Does Shopify Cost Per Month?
Shopify has three different pricing options:
Shopify Basic is $29 per month, with a 2.9% + 30¢ per online transaction. 

The standard Shopify plan costs $79 per month, with 2.6% + 30¢ per transaction.

Advanced Shopify costs $299 per month, with 2.4% + 30¢ per transaction. 
Additionally, there are two more options available i.e. Shopify Plus, which is fully hosted, costs $2,000 per month, whereas Shopify Lite is $9 per month.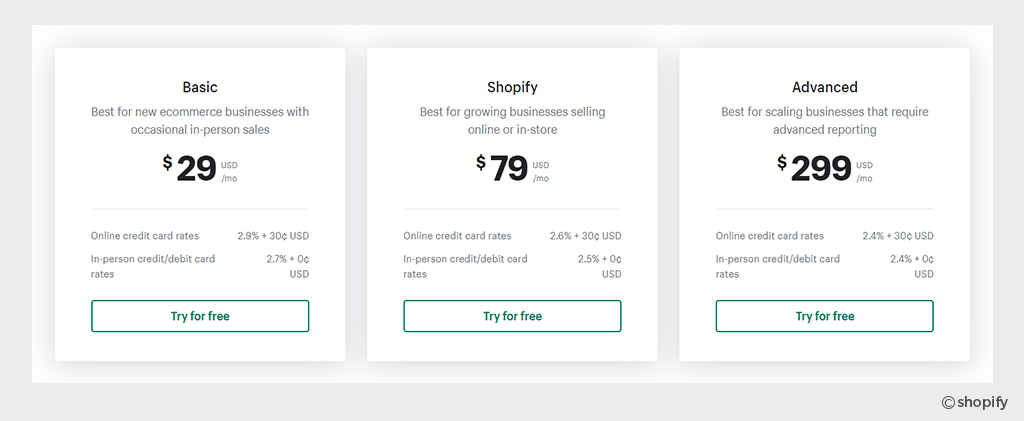 A. Shopify Basic Plan ($29 Per Month)
Basic Shopify costs $29 per month and provides you with an eCommerce store and a blog. You will be able to sell an unlimited amount of products and can create two staff accounts.
With a monthly subscription charge of $29, the Basic Shopify plan is ideal for small or newly-established businesses. It's the most affordable way to get a fully functional eCommerce store.
B. Shopify Standard Plan ($79 Per Month)
You'll have to pay $79 per month for the Shopify plan. In comparison to the Basic Shopify plan, you will be able to create up to 5 staff accounts with this pricing choice.
The Shopify plan is best for those businesses that are expanding eCommerce firms searching for a way to expand their operations. This plan includes all of the features of Basic Shopify as well as a few additional features. 
C. Advanced Shopify Plan ($299 Per Month)
This Shopify pricing plan, which costs $299 per month, is the most expensive. As a result, you can create up to 15 staff accounts.
Large businesses and organizations will benefit from the Advanced Shopify plan. As your company grows, you may need to invest in more advanced features to deal with increased in-store traffic. When it comes to improving store maintenance, the Advanced Shopify plan is the crème of the crop.
D. Shopify Lite Plan ($9 Per Month)
Shopify Lite is the most cost-effective way to sell things. It costs $9 per month, with a 30-day billing cycle. You'll also have to pay for credit card processing in person, which starts at 2.4 percent each transaction.
When deciding between Shopify Lite and Shopify Basic, Shopify Lite is a great way to start your online business if you already have a website or social media presence. By integrating certain things to sell on these sites, you can make a lot of money with this solution.
E. Shopify Plus Plan ($2000 Per Month)
Shopify Plus is a robust eCommerce enterprise solution designed for high-growth online stores. When it comes to Shopify Plus pricing, it costs $2000 per month.
The complexity of everything increases as your business grows with more clients, more returns, more inventory, and more things to remember to perform every day! Shopify Plus gives you access to Shopify's exclusive features, such as Shopify Flow and Launchpad.
How Much Does Shopify Store Development Costs? [Additional Costs]
The costs which we mentioned above are mandatory costs that must be paid for the store to go live. Below are the Shopify additional costs that are more flexible, meaning that businesses can spend distinct amounts of money as per their business requirements with no fixed price.
1) Shopify Domain:
To begin with, business owners are not obligated to use Shopify to set up or host their domains. All of its services include domain names, and store owners can choose from any of the free myshopify.com domains offered.
Having a distinctive domain name, on the other hand, is vital because it significantly boosts the visibility of your products. Furthermore, having a unique domain name offers a strong basis for your brand authority and exposure, which is extremely vital when wanting to grow your online business reach. 
As a result, you can purchase a custom domain name. Depending on the type of domain you choose, this will cost around $11 per year and can cost as much as $81. The top-level domain extension you select will determine the ultimate price.
If your store's domain ends in ".com," for example, you'll have to pay a $14 yearly fee. You may check the pricing and availability of your domain with the Shopify domain generator.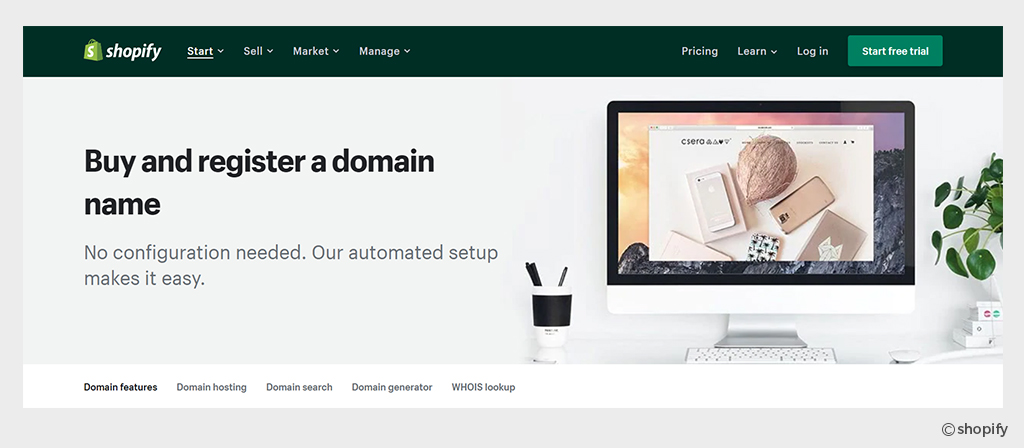 2) Shopify Theme:
The look and feel of your store are key to increasing conversion rates, which is why you should choose a visually appealing theme for your website.
Fortunately, Shopify themes include choices for changing the colors, design, and layout of your store. Shopify's website also has a wide range of free and paid themes. 
If you go for paid themes it ranges around $150-$350 depending on your requirements.  It covers a wide range of themes, including apparel, fashion, electronics, art, and photography and so forth.

Alternatively, you can use Shopify theme development services to help you create the perfect theme for your store.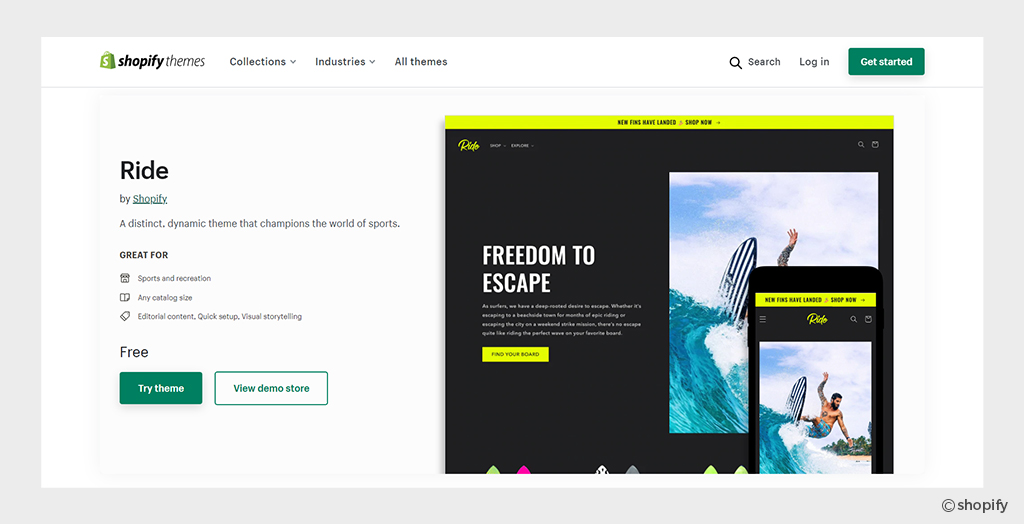 3) Third-Party Apps:
Shopify, like nearly all platforms, can't always meet every business's needs, which is where add-ons and apps come in.
Add-ons and applications are essential for increasing the functionality of your online store. Recognizing this need, Shopify App Store has a massive range of free & paid apps that allow you to customize your business with additional features. 
For example, check out this awesome tool i.e. Cart & Button Animator. This great app grabs the attention of visitors with QeCartAnimator, it helps businesses to make their static product pages more engaging. Also, QeCartAnimator allows you to add animation to the "Add to Cart" button on product pages and drive your visitors' focus toward taking an action.
There are currently over 3200 free and paid apps available to assist new businesses in getting started. The cost of paid apps ranges from $9- to $49, with some exceeding $350. Depending on your requirement you can choose the one.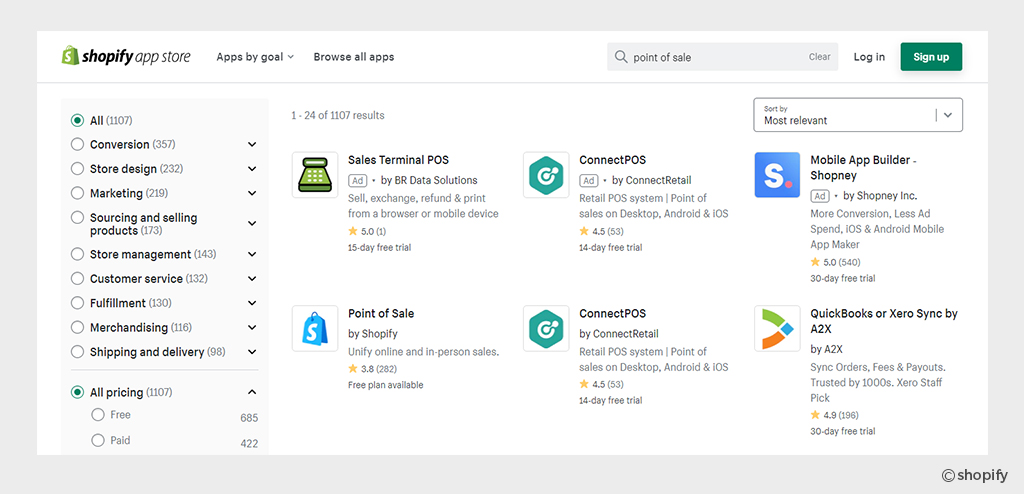 4) Custom Shopify Development Services:
Now, we have included mandatory and additional costs to start a Shopify eCommerce store. You are now at a stage where you have to manage all things single handedly with this tough competition where almost every product-selling business has an online store. 
Don't worry, we're not here to scare you after discussing all the above key points. But only to make you aware of the situation to prevent you from making a long-term mistake. 
Hire Shopify experts or Shopify eCommerce development companies to build and personalize your storefront because they have extensive experience with almost all types of businesses and thus know what customers want in a store, allowing you to grow your customer base.
When you hire Shopify experts the cost depends on two things: 
Shopify experts experience

The complexity and ease of the project
How Much Does Shopify Developers Cost? [+ Dedicated Developers Costs]
Usually, Shopify developers charge on an hourly basis. Hourly rates can vary greatly since numerous factors influence the total cost. However, one can hire Shopify developers or as low as $20/hour and as high as $95/hour, the price range exclusively depends on complexity and customization you'll require with your shopify development project. However, if you opt to build your own team through outsourcing, you can minimize your overall development cost up to $20 to $35 per hour. Contact us today for information.
Depending on your requirements and needs you can select the Shopify developers. If you want someone with a lot of experience to run your store from beginning to end, or if you just want them to start it and leave the rest to you.
The level of experience will determine the costs they charge. The less experience that a Shopify developer has the less you should pay and vice versa. That's why you must take the time to figure out exactly what you want from your store and how much assistance you'll need to develop a perfect store.
The Cost Depending on Complexity and Ease of the Project
 Depending on the complexity and ease of the project, the developers charge. 
For a startup, you may need only to develop a Shopify store with customized themes which could cost you around

$1500-$2000. 

For a medium-size Shopify store, you may need

custom Shopify development

and it can cost you around

$2500-$5000

The cost of developing a large-scale Shopify store or an enterprise-level tailor-made store starts at $7000-$35000 and goes up depending on the features set.
Which Shopify Plan is Best for Your Business?
Pricing plans on Shopify are similar to stores. They are available in a wide variety of sizes. Selecting the best plan for your business means figuring out exactly what you require from your online store. 
This may entail considering the types of products you intend to sell, the number of customers with whom you'll be working, and so on.
Shopify Basic
Shopify basic is the most affordable entry-level solution for those looking to start with something small. You gain support for an unlimited number of products with this plan of Shopify. You'll need that flexibility if you have a wide range of products.
Shopify Basic doesn't limit your file storage or selling options, which is why it's so much more appealing to businesses with a growing online presence. 
Shopify
Standard
This is the standard plan for those looking for a cost-effective approach to expand their current Shopify store. Although the price difference between Basic and Shopify is huge, it's well worth the extra money if your company wants to grow.
The Shopify plan includes everything you'll need to sell online in today's digital world. You will get professional reports, and analytics to see where you need to focus to increase your revenue. 
Advanced Shopify
In comparison to the above two Shopify plans, the advanced Shopify plan is more expensive. This plan has the lowest credit card payment rate and the best shipping terms in the United States. If you have accounts with third-party shipping carriers then this plan is for you. 
This plan is also best for international selling as it allows you to set different prices per country/region. It also includes an advanced report builder that allows you to create your own customized professional reports.
Shopify Lite 
Shopify Lite is for businesses who already have a website and want to start selling on it quickly. Using Shopify Lite's Buy Buttons, businesses can directly integrate individual products, product collections, and a shopping cart on your website. However, unlike the Basic, Shopify, and Advanced plans, you won't get a full storefront.
Shopify Plus
Shopify Plus is an enterprise-level plan for organizations looking for scalability. Shopify Plus costs around $2000 per month which is a massive amount in comparison to the above plans. But what will gain by investing a huge amount into this plan? 
A professional support team will assist you with the launch and provide priority support 24 hours a day, 7 days a week. Your developers will get broader customization access to the Shopify system (cart scripting, dedicated API etc.). For internationalization, you have two additional clone storefronts. As a result, you can develop a unique store as per your business requirements. 
Finally, don't get distressed about picking the best Shopify plan for you; you can always modify your Shopify plan later.
Why Choose Ace Infoway for Shopify Store Development Services?
Ace Infoway is a passionate 'go-to' technology partner for web/software agencies and businesses in various industry verticals with over 20+ years of experience. We are also one of the leading Shopify development companies that help businesses to stay ahead in this competitive eCommerce world with a scalable, feature-packed, and responsive online store. 
Our experienced Shopify developers have built several Retail apps for Shopify App stores. We work closely with Shopify Development to achieve your desired goal to build an incredible eCommerce store for your business.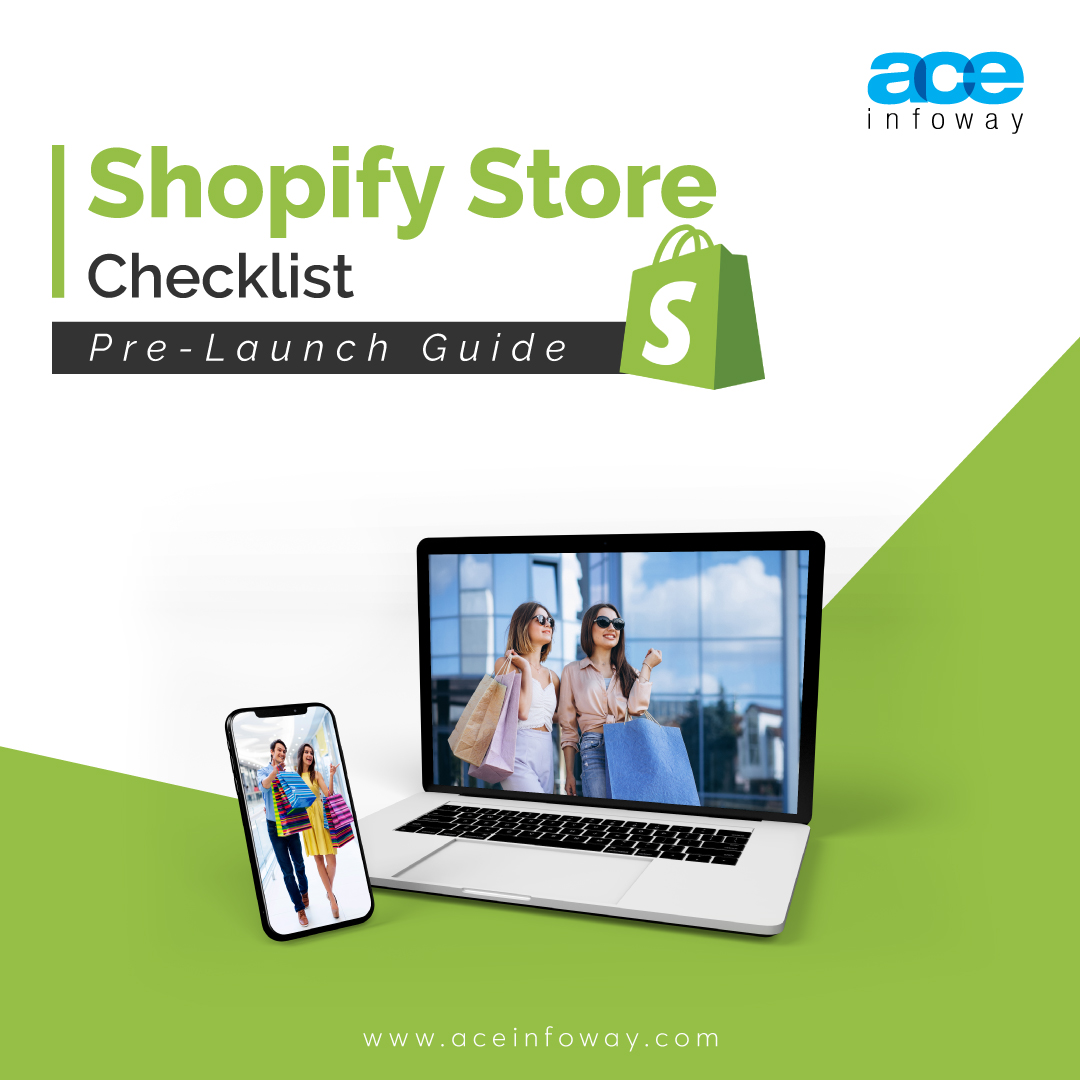 Shopify Store Checklist [Pre-Launch Guide]
Get this checklist in a portable document format & access it offline.
Check out the following Shopify Development Services that we offer:
Shopify Store Development Setup:

We assist clients in properly setting up their Shopify accounts, guiding them through the process of installing themes, customizing stores, integrating themes/designs, adding products, and installing standard apps.

Shopify Theme Design & Development:

Our Shopify theme design and development experts can create highly responsive theme designs that are compatible with the latest browsers and devices while meeting your business's preferences and goals while maintaining your distinct brand identity.

Shopify Web Application Development:

We know the latest market trends and expectations because we've built several successful web applications. We develop applications to match your business needs and requirements. So, increase your brand reach and profit through custom web applications for your Shopify store. Check out some of the apps that we have developed

https://bit.ly/3NLafFh

 

Shopify Migration Services:

We provide seamless migration services to our clients while ensuring the security and integrity of their data. If you're a current Shopify user who wants to upgrade to the latest version. We have Shopify development professionals to help you develop a new Shopify store or migrate from other platforms like Volusion, Sitecore, Drupal, WooCommerce, or Magento to Shopify.

Shopify API and Apps Management:

Add extra functionalities to your Shopify Store by customizing and upgrading it, such as pushing and pulling data into other company systems, adding social media accounts, inventory management, and so on. Our Shopify experts can assist you in finding the correct third-party plugins for your store and seamlessly integrating them.

Shopify Support & Maintenance:

We provide end-to-end support to our clients for Shopify stores, assisting them with product population fixes, campaign configuration preparation, and coordinating with the client's back-office staff for operations such as configuring newsletters or flyers on ESPs, etc. We work as a comprehensive Technology Partner whether it's a basic Shopify store or one of the apps in all of their Digital Assets, such as CRM systems like Salesforce, HubSpot, or online SaaS products.
Team up with us to create an incredible Shopify custom development store now!
Conclusion
We hope that this article has given you useful information on:
 a). How much does it cost to build a Shopify website 
 b). Which of the Shopify pricing plans is best for the type of store you want to start
 c). Why choose Shopify for eCommerce development? 
Remember, starting with the free trial and then upgrading to Shopify Basic monthly plan is always a good idea. If you require more capabilities, such as international sales, advanced reports, or third-party carrier rates – or if you want to save money on credit card fees – you may upgrade to the Shopify or Advance plans.
Once you are sure and you like the platform, you can change the Shopify monthly plan to an Annual plan or 2-year subscription to save your overall costs.  And, of course, using Shopify Payments to avoid paying Shopify transaction fees.
So, are you ready to give Shopify a try for eCommerce development? Use Shopify 14-day free trial (no credit/debit card required for trial)