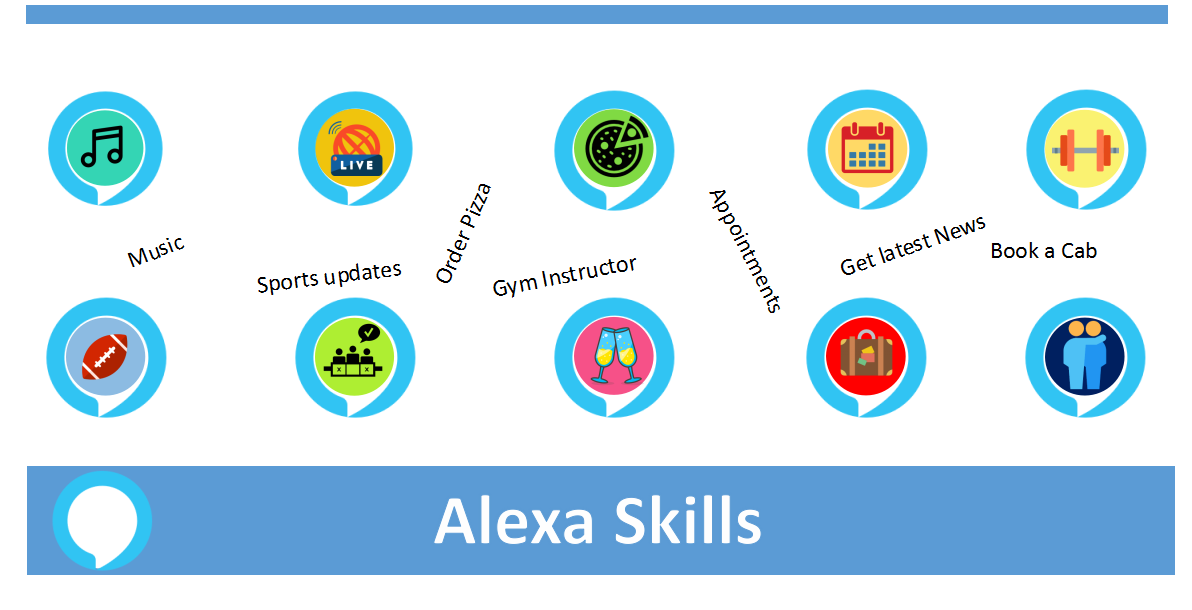 Amazon's Virtual Assistant, Alexa, is loaded with great features and functions. However, the best part is that you have the power to customize your experience and enable it to perform tasks to your expectations. There are several 'Skills' that are available for users to download from Amazon's portal.
Most 'skills' are designed keeping in mind the devices (Amazon or third-party) Alexa interfaces with like remotes, lights, thermostats, Smart Plugs.
Expand your Alexa horizons with simple 'Skills' and get more out of your day.
Here are 10 'Skills' that are bound to make your daily life easy:
1) Search and Play Music according to your mood
You can enable Alexa to play search and play music from global playlists depending on your mood. Be it a soft romantic evening or a crazy dance-off against your office buddy, Alexa has got you covered.
2) Get the latest News bites
You can ask Alexa to play the latest news headlines from around the globe or your city. You can also set it to relay news according to your preference -world politics, sports, business.
3) Want to cook a Gordon Ramsay recipe? Alexa knows it. Want Gordon to critic it as well..
You probably might not have the culinary skills or the temperament of the 'chef' but you can create his recipes at your own leisure (without him breathing down your neck). Alexa can share the best recipes and also it also tells you the ingredients you would need to buy before cooking.
4) Need to book a cab for an early appointment..
Alexa can not only book an appointment, it can also set up the alarm, turn on the coffee machine, and then book a Uber or Lyft for you. All that you need to do is – wake up when the alarm goes off and don't hit the sack again.
5) Listen to your favorite sports schedules and scores
Alexa has this 'Skill' available as default right out of the box. However, you can customize it further and add your favorite sports to get quick updates and game schedules.
6) Alexa is a great Gameshow host
Want to liven-up the house party while waiting for the pizza delivery guy? There are plenty of Alexa Skills that can help you play fun trivia games. Knowledge and fun what more do you want.. Wait, yes the pizza you ordered! (that pizza order was made by Alexa too… isn't she great!)
7) Want to pop the 'question' over a bottle of champagne.. Gotta Book a table for two!
You can depend on Alexa to reserve a table at the finest restaurant in town while you focus on choosing a diamond ring for her. If all the tables are booked then Alexa will find and share a list of alternative options. Alexa can be your wingman or wingwoman!
8) Need help navigating the NYC subway?
Want to know the best way to reach a destination in town, Alexa is your personal transportation guide! There are many skills available on Amazon that you can download to help you with the public transport system. From NYC subway, bus routes to taxi hubs, it has it all. It can also tell you the approximate travel time and the best routes to choose.
9) Want a personal gym Instructor for those washboard abs?
Finding a personal trainer and a gym can be heavy on your pocket. You definetly want to burn those calories without having to burn through your cash. You voice assistant Alexa can guide you with a workout plan and also keep a record of your progress. Watch those pecs-grow!
10) A Friend in Need is a …
If you have an emergency like a flat tyre or let's say something more serious which requires immediate medical attention and you can't access your phone, Alexa can call or text the 'assigned' contact for help. Alexa is your Friend indeed.
Ace has created various 'bridges' for our business partners/ clients who want to leverage their processes through virtual assistants and their business tools. Ace can help them collect the commands given to Alexa and then create a corresponding actionable command that can be integrated with their native systems or end-points for setting up flags or tickets for further actions. We have proven expertise for specially helping MSPs implement robust processes when dealing with virtual assistants.