In the process of developing new software, it's easy to incur unplanned costs. It is estimated that software development projects can cost between the mid-five figures to seven figures, as revealed by Forbes. And 1 in 6 projects experiences a cost overrun of 200%, according to Adeva. The failure to manage projects properly can be one of the most costly mistakes software developers make.
A business's ability to make a profit depends heavily on technology, but many companies struggle to manage their software project and cut the unnecessary expenses that take a big bite out of their budget. Often, mid-size companies and enterprises have complex and long-running projects that make them susceptible to this problem.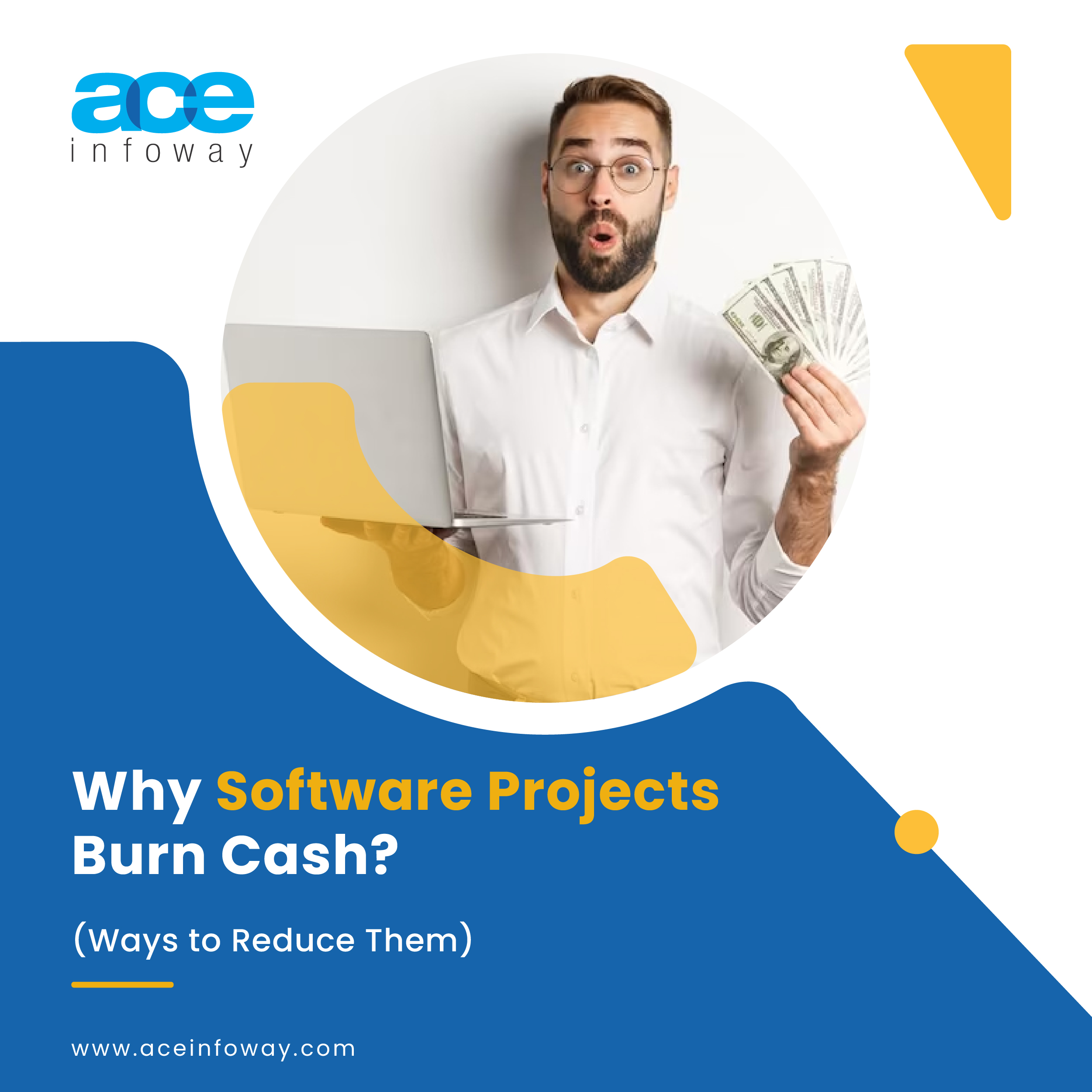 Reasons Why Software Projects Burn Cash [Whitepaper]
Get this whitepaper in a portable document format & access it offline.
Software development projects can burn through cash unnecessarily in several ways. Below are 9 industry experts weigh on why new software projects lose money and how to avoid them.
Failing to Verify The Needs of Users

Taking Longer Than Expected to Complete

Ignoring Scope Creep

Outsourcing Projects 

Seeking Funding Before Clients

Not Establishing a Customer Support Portal

Hiring Inexperienced Developers

Poor Planning, Resource Management, and Communication

Cutting Corners During the Planning Stage
1. Failing to Verify The Needs of Users
An experienced product analyst can aid in capturing valuable user feedback, says Ace Infoway COO Vipul Shah. As a result, you will be able to adjust your expectations.
It's easier to fall in love with your idea than to verify whether users need what you're building," said Shah. "I call this phenomenon 'Visionary Premises'. According to a Standish Group report, 47% of new software applications face challenges, while only 4% are successful and 49% fail. Every entrepreneur believes he/she is Steve Jobs. Nevertheless, you should hire a good product analyst to conduct small user studies and observe how people interact with prototypes when you begin developing your software. Make sure you listen to their feedback and adjust your expectations accordingly."
Vipul Shah, COO, Ace Infoway
2. Taking Longer Than Expected to Complete
This can be because of various factors, such as unexpected technical challenges, changes in project scope, or issues with project management. As a result, the project may require more resources (e.g., additional developer time, and additional hardware) and incur additional costs, leading to a higher burn rate.
To address this issue, it is important to plan and manage the project from the outset carefully. This can involve defining clear goals and objectives for the project, creating a detailed project plan with realistic timelines, and allocating sufficient resources (e.g., personnel, hardware, software) to ensure that you complete the project efficiently and on time.
Ilija Sekulov, Marketing & SEO, Mailbutler
3. Ignoring Scope Creep
In my experience, the biggest cause of software development project burnout is scope creep. When you're working with a new client, it's really important to get everything out on the table early. If there's something that's going to change during your project, you need to make sure that happens from the very beginning so that you don't end up wasting time and money later on.
The best way to do this is by creating an agreement about what will happen if things change. For example, if your client wants something added or taken away from their original specs, maybe they'll pay extra for it—or maybe they won't get anything back if they ask for changes after you're already done with most of the work.
Rengie Wisper, Marketing Manager, Check CPS
4. Outsourcing Projects
One critical point to remember is that the cost of outsourcing can be expensive. Outsourcing is often necessary for projects that require expertise beyond an internal team's capabilities or for when there is too much work for the current staff, but you should think out and budget it carefully. 
Alternatively, companies may develop their software engineering teams in-house; this long-term investment might create more value than spending cash out on all external resources. Regardless of the approach taken, it's important to recognize how quickly finances can be squeezed during software development, plan prudently, and adjust appropriately so the projects don't become cash drains!
Rosmy Barrios, Director, Health Reporter
5. Seeking Funding Before Clients
Software development projects entail a lot of trial and error, fueled by wanting to break out big time; this leads to significant blunders. One blunder is to engage in fundraising before having gained adequate traction. The fact is that without significant client numbers, the project can never be efficiently viable. 
A solution to this costly problem is to seek funding only after conversing with prospective clients and agreeing on lucrative deals. It's essential to test your ideas before seeking financing.
Yongming Song, CEO, Live Poll For Slides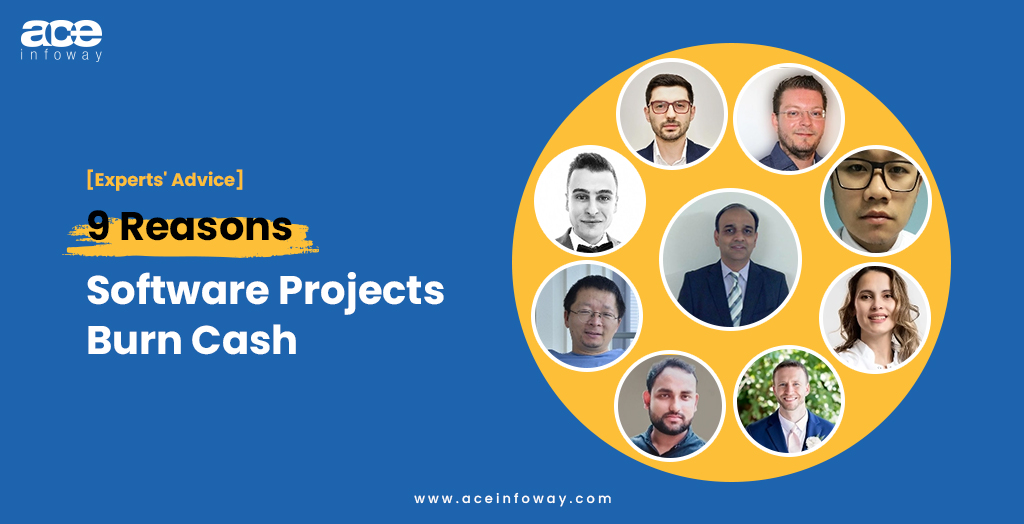 6. Not Establishing a Customer Support Portal
Failure to establish a solid customer support portal is one of the easiest ways to burn money on your innovative project. You'll discover that many users of your software have inquiries. If customers can't contact you for help, they'll remove your program and look at the alternatives.
A robust support network may lead customers through many funnels and help provide a more well-rounded user experience. It might be all too easy for a development team to incur expenses that weren't planned for when creating new software. If the project is being built for internal use or a specific customer, the ineffective scope creep can drive up expenses, and an app that is pushed into the market but doesn't function as intended can cause a lower-than-expected ROI.
John Willis, Founder, Convert Free
7. Hiring Inexperienced Developers
Software development is somewhat like building a house. If you have experience building many houses, you know what can be the distribution of costs and the final cost of the house. Similarly, if a client wants standard software, they can find experienced developers. But if they want advanced features and designs, the estimated price can be higher than you expected.
Inexperienced developers can take longer than usual software development time, and it can burn cash. They will need more time to understand your project and implement what you want in it. Often, in this situation, using the latest technologies can be a challenging task for developers. You can address this situation by following some steps:
Be clear on what you want

Keep a record of everything

Make updates regularly

Decide the financial limit for each task
If you have hired inexperienced developers, follow the above ways to address the situation.
Yogesh Kumar, Digital Marketing Manager, Technource
8. Poor Planning, Resource Management, and Communication
Software development projects often burn cash because of poor planning and resource management, or lack of clear communication between stakeholders. Wrong estimates can lead to delays and extra costs, while poor resource management can be a costly setback. Poor communication often results in discrepancies between expectations, wasteful spending, or rework at later stages.
At its core, successful software development projects follow modern methodologies like Agile from the exploration stage through testing and deployment. This way, teams can efficiently adapt to changing business requirements while keeping costs within the check. We should also set proper communication channels in place to make sure everyone is aware of progress and any roadblocks.
Finally, building a monolithic product with multiple features requires significant resources upfront. Instead, it is better to practice deploying new features bit by bit, which would speed up development and testing, and ultimately your go-to-market.
David Stellini, Co-Founder, All Front
9. Cutting Corners During the Planning Stage
The planning stage is the most important step of the software lifecycle implementation process, but it's the hardest to get right, no matter which type of software it is.
Clients must understand how business processes and the interface differ across systems if it's a migration or upgrade. It's not just the managers who work alongside the software vendor's implementation team, but end users should test scenarios to ensure the transition will be smooth.
It's easy for these projects to have extended deadlines and go over budget because of issues that were found in the middle of the project that should have been done in the planning/discovery phase. Measuring twice and cutting once, even if that means delaying the start of the project, leads to better-managed expectations and lowers the chances of "uh ohs" popping up.
Ryan Igo, Revenue Marketing Manager, Surety Systems
Conclusion
Software development involves a wide variety of outcomes that no team wants to experience, such as a bloated, delayed project that has consumed more funds and hours than initially anticipated. To set your software project up for success, it is important to keep an eye out for the above common mistakes and deal with them.
Hopefully, the above points will guide you toward completing your project on time and within budget. To provide cutting-edge solutions within the budget promised, Ace Infoway scrutinizes the landscape and identifies the culprits behind cost overruns. Because of this, we have been recognized as a top software development company. Contact us right away if you need help with software development.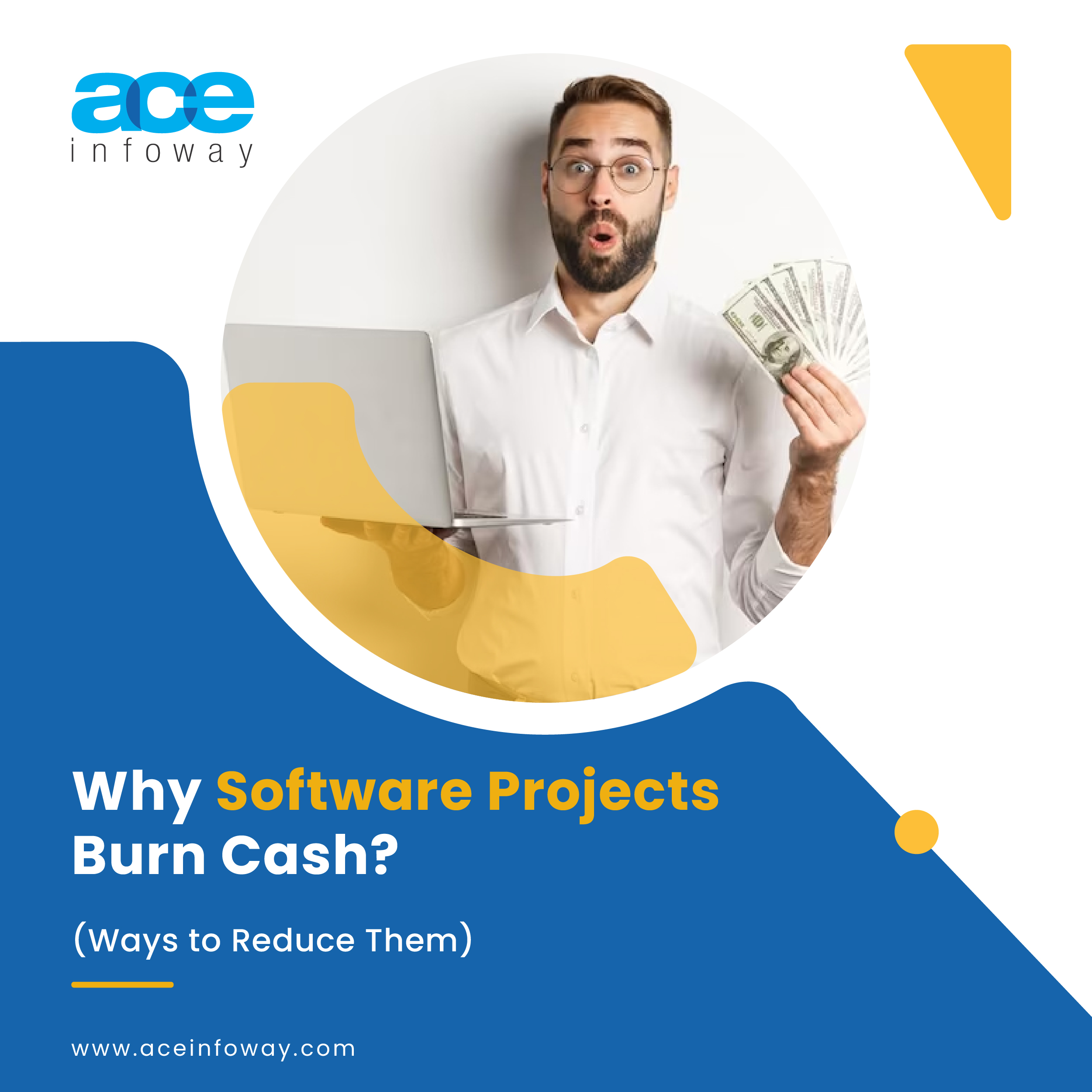 Reasons Why Software Projects Burn Cash [Whitepaper]
Get this whitepaper in a portable document format & access it offline.