Organizations across industries battle to manage archives of documentation. Gratefully, technological advancement extricates this in the form of Document Management Systems. This article will reveal the course of action required to build your go-to solution for efficiently and securely sharing, storing, accessing, and managing business files and documents.
What is a Document Management System?
In the current state of the business arena, there are multiple interpretations of the understanding of Document Management Systems. We simply classify Document Management is managing the complete content lifecycle digitally to have easy user accessibility in a highly secured approach to encourage achieving the business goal equitably. 
By implementing a Cloud-based Document Management System any organization can rule out the dependence on paper documents and organize unstructured business information effectively according to the business needs to contemporize the working style. The Document Management System is the impetus for the process from lucrative supply chains to commercial contract management.
Now let's understand how any organization can put Document Management Systems into practice. 
How does Document Management System work? 
As the amount of documentation in the corporate world is increasing rapidly, enterprises or large organizations have started considering the digital shift of their file management to make it easily accessible and avoid content chaos. 
When we talk about the enterprise document, we are including a range of details from invoices, resumes, and contracts to the media files, emails, social media posts, web content, and any such area that retains any information that involves the enterprise.
Fundamentally, any Document Management System contrives the management strategy by answering the following questions for any piece of documentation:
1⃣ What information needs to be recorded and tracked?
Capture/Record: Any format of the information is registered into a single system. This includes scanning paper documents and importing other digital pieces of information at a particular location in the system.
The Cloud-Based Document Management System utilizes a Storage API to efficiently scrape and store data for seamless document management.  
2⃣ How does this information need to be classified?
Process: A similar type of information is sorted by utilizing various tools that can search through the information to organize it accordingly. The processing is automated by predictable decisions and routes anomalies to the correct individual. 
3⃣ Who should have access to this information?
Access: Document Management System generates a personalized user interface. It also allows on-the-go access to the preferred information by the selected users with authority. This helps in improvising the UX of your employees as well as your customers.
4⃣ What other systems rely on this information?
Coordinate/ Integrate: Document Management System devises a central repository that is wisely linked to other applications. This can be used by the intended users to monitor and progress the business goals. 
5⃣ How does this information need to be monitored?
Measure: Document Management System provides real-time visibility and control of the stored information for a better understanding of the file status and process. This quality is assisted with notifications for content aging, and storage thresholds, allowing you to timely eliminate bottlenecks. 
6⃣ What is the timeframe for this information?
Store/Retrieve/Delete: Document Management System helps you in deciding the fate of your content by allowing it to either store, retrieve or even wipe out when not required anymore. Digital storage and accessibility become a boon as it protects the important information of your enterprise during the disaster time
Pragmatically, the Document Management System is a superset of strategies, methodologies, and technologies that endorse all these components in the overall content lifecycle.
Why should you have a Document Management System of your own?
Is your data secured? Do you experience lost documentation and suspension that are costing the company money?
Unstructured file management is a big challenge for companies. Larger enterprises with huge customer data, find it difficult to manage and process this huge piece of information effectively. This directly affects the productivity of the working force ultimately leading to operational inefficiency.
By 2025,

80%

of global data will be unstructured. 

82%

of employees believe that poor content management negatively impacts productivity, as 8 in 10 are obliged to recreate existing documents that are not discoverable. 

68%

of business leaders feel their cybersecurity risks are increasing.
Along with these, 74% of corporates wail over not being able to approve official documentation through mobile devices. The only solution to this is to create your customized Document Management System. 
Considering this situation, it becomes inevitable for every large enterprise to have a successful solution to cope with the content chaos. Building a customized Document Management System will not only reduce paperwork and streamline filing but will also play a much bigger role to strategize Document Management Systems at scale. 
Let us now see the factors that rightfully compel building a customized Document Management System. 
How does a Document Management System benefit your Business?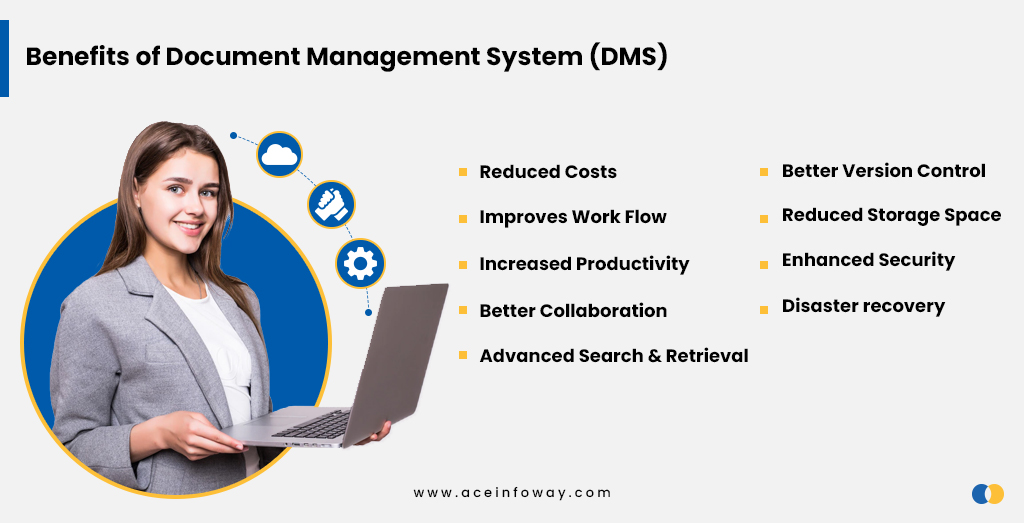 It helps you to

keep up

with all the information

It makes it easier to

streamline

the content process and consequently saves you time. 

It concedes

real-time accessibility

and problem-solving

It minimizes risk by enforcing

security

policies

It favors more impeccable

teamwork

with critical document version control

It

automates manual tasks

like photocopy, drag-and-drop, and hand delivery

It unlocks financial gains by

effectively reducing operating costs
Document Management System is the savior for companies looking to reap such benefits. But, building it is not a walk in the park. You need the right development company that comprehends your need for the right customized Document Management System product.  And for that, it is essential to envisage the right attributes before building your own Document Management System product. 
Features to consider while developing Document Management System
The fundamental features of any Document Management System will remain the same, no matter the type of enterprise. Here are such features that need to be considered as must-haves while building your custom Document Management System.  
💡 Files Management: Having a documentation management system is about more than just replacing physical files. Some keynote aspects in record management also include; capturing, document version control, security, audit tracking capabilities, search utilities, indexing, and record administration.
💡 Automation: Getting rid of the tedious manual processes of business is the crux of seeking out a custom Document Management Solution. The processes confined to automation include; automating document approvals, workflows, and metadata documentation. 
💡 Third-party Software Integrations:  At any particular time, businesses of all sizes utilize at least more than 50 different software products. It is a prerequisite for any DMS product to integrate with the most essential of such third-party software to make the export and import of documentation painless.   
💡 Secure Alliancing: It is not only the data breaches any enterprise has to be concerned about. Keeping a track of document versioning, editing, and authorization is also crucial. The Document Management Solution requires technologies including document encryption, granular access permissions, and version control to create a safe and regulated environment from any device and location.
💡 Aggregate Search: Larger enterprises have scattered content across multiple muddled systems. Effective content search capability will bridge the gap and enable users to conveniently search, access, and distribute any relevant piece of information regardless of its indigenous location. 
💡 Record Management: Some compliance regulations and legal obligations seek to retain particular documents for a specific time. Your Document Management Solution should enable the associated control of content retention and disposition schedules.   
💡 Co-opting with the current system: All the content management provisions are worked up for generating efficient and organized working conditions for any enterprise. While developing a custom Document Management Solution, it is very critical to establish the tools and technologies that help in correlating with the existing IT infrastructure.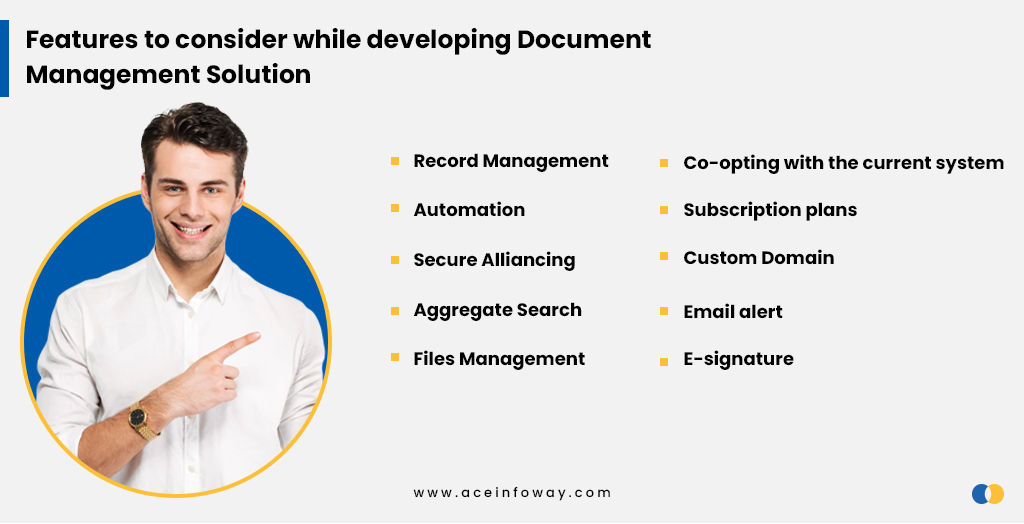 💡 Collaborative Editing: With the help of this feature, multiple users can simultaneously engage and edit the same document. Accessibility for the documents could be set to keep the reliability intact for the document. 
💡 Optical Character Reader (OCR): With OCR, still using paper documents can be easy to manage. The feature can effortlessly scan any printed or handwritten documents to be uploaded to the DMS repository.  
💡 Subscription Plans: Cloud-based systems are simpler to provide a subscription rate structure depending on the feature and services opted for. Designing a subscription plan for your Document Management Solution can serve the benefits that include: increased customer loyalty, reduced churn with better customer retention, higher customer engagement, increased lifetime value (LTV), lower customer acquisition costs (CAC), and easier financial forecasting. 
💡 Custom Domain for Branding: By using a custom domain for your Document Management System, you are promoting brand consistency. This encourages customers to trust your promotion links.  
💡 Email alert: It is one of the ways to retain control over your documents. It keeps you posted on what's happening in your document repository. This gives a big relief from constantly monitoring the documents manually. 
💡 Offline Access: The issues with an unstable internet connection, especially for the remote team, can make it difficult to cope. The accessibility to view, edit, and download the files offline shall be considered for a feature-rich DMS product.   
💡 eSignature: This feature precisely provides strong evidence of sign-off and approval as well as document authentication as it locks the document against unauthorized change. 
A platform for all the desired features of Business Document Management.
We've recently developed a Cloud-based Document Management System for a client which provides a platform to securely manage, store, access, and share Documents/files on the cloud. It provides accessibility through a web platform and mobile application. With bank-grade security this robust platform enables users to manage, access, and share documents over the cloud, to delegate customized branding. 
Features of the platform:
Securely store, share, and access documents from anywhere.

Smart search function.

Set reminders, add comments, download, lock/unlock, and delete files.

Customize folder template.

Online file preview.

Secured with 256-bit AES and SSL/TLS encryption.

Password protection while sharing.

Single, multi-user, and group control.

Email alert for every transaction.

Intelligent reminder feature to align users.

eSign functionalities.

Saves historical logs of all users.

Custom domain and branding.
All these features fabricate one needed solution viewed as a technology system, having a price quotation associated with it.
How much does it cost to build a Cloud-Based Document Management System?
The journey of building a cloud-based Document Management System has many stages and each stage requires different expertise. And for the custom development of a Document Management System, there shall be no fixed answer to this question.
Even though it is quite explicit that the cost of any product depends on the features and facilities it covers. So yes! The best way to speculate the potential cost of building a Document Management System for your enterprise is to understand the factors that affect its valuation.
Take a look at the significant subjects that are a matter of consideration in determining the cost to build a Document Management System:
Storage Capacity:

It is entirely up to your business to determine the storage capacity of your Cloud-Based Document Management System. It is important to consider the size of the documents, as well as the type of data and the number of documents that are being stored. Additionally, file management, security requirements, and version control (Multiple versions of a document to be stored) will increase the storage requirements.

Software with Service

: This turns up to be the most tendentious matter when considering the cost of your customized Document Management System. Many enterprises oversee the requirement of services for the customized developed Document Management System product and suffer the painful realization of the need to train employees, hosting requirements, upgradation necessities, and the add-on facilities amount that costs much more than the original price of the product. 

Developers' Workforce

: The workforce involved at various stages of product development and maintenance determines its cost which is again based on the time spent to get the output. Moreover, these costs are different for different service providers. However, the average cost of development provided by outsourcing companies like Ace Infoway ranges from

20-25 USD per hour.

If you intend to hire a product development team, you also need to consider the working experience that can reinforce the additional engineering required for your customized Document Management System.

Practical Cue:

By and large, a typical dedicated team to build your customized Document Management System, involves a project manager, technical head, site developers, database developers, business analysts, and quality assurance engineer. 
Conclusion
A real cloud-based Document Management System is very different from a cloud-based storage solution (Google Drive, Dropbox, etc.). It is imperative to understand the needs of your organization when evaluating the benefits of cloud-based Document Management Systems and to consider the options for workflow management, security, compliance, remote working, document access and collaboration, as well as business continuity.
Consult the support team of the software development service provider you are considering after conducting your own research. Depending on your business's needs, they can determine which features would be suitable for the custom Document Management System you need.
Ace Infoway can assist you in implementing a secure, robust, and cloud-based Document Management Solution to meet today's demands and prepare for tomorrow's. Contact us for a free estimate and detailed analysis of your custom Document Management System.