According to PwC, AI could contribute $15.7 trillion to the global economy by 2030. AI technology has the potential to sweep across the globe and dramatically change the needs and requirements of businesses and employees.
The emergence of artificial intelligence (AI) and machine learning (ML) after long periods of failure has been fascinating. Cloud computing and big data are enabling AI & ML to create a revolution faster than we ever imagined. Today, we see it everywhere — from Google Photos to Amazon's Alexa to Tesla's self-driving capabilities. However, how will AI & ML impact the software development that underpins many of these new services? 
Our purpose in this post is to educate you about the advantages and use cases of incorporating AI and ML into software development products, web applications, and mobile apps to prepare you for digital transformation.
Benefits of AI and ML in Software Development 
Recently, AI technology has advanced significantly, and it is currently utilized in a wide range of applications, including chatbots and self-driving cars. The use of AI in your Software Development has several advantages. To begin with, AI can assist you with automating processes that would otherwise be completed manually, giving your team more time to concentrate on other things. Second, by giving users more precise and pertinent results, AI can raise the caliber of your offering. Finally, by enabling you to analyze more data quickly, AI can help you scale your firm.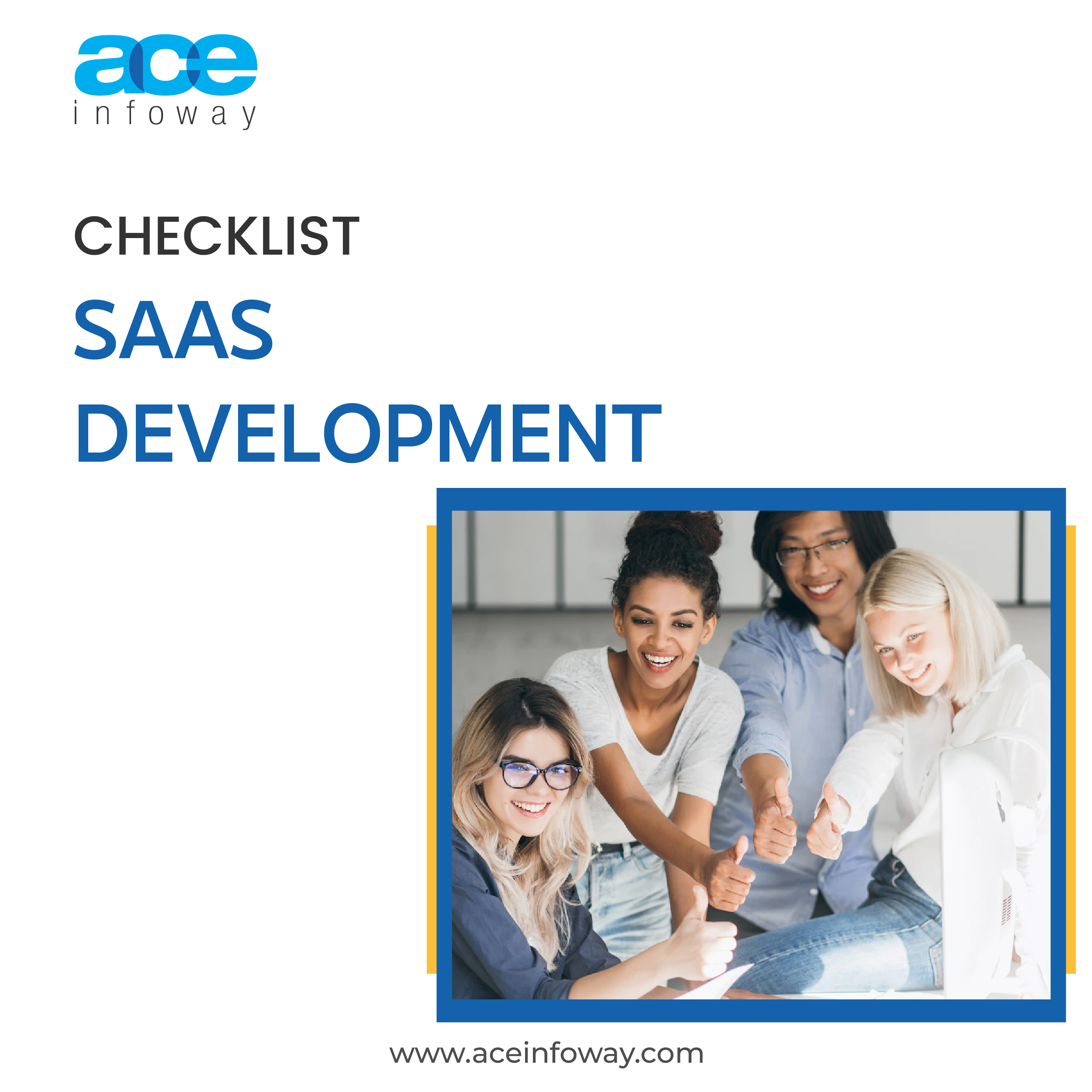 The Ultimate Checklist for Building An Incredible SaaS Product
Get this checklist in a portable document format & access it offline.
AI is unquestionably something to take into consideration if you're searching for ways to enhance your SaaS offering. Finding the right SaaS Development company for your unique needs requires investigation because there are so many diverse applications of AI technology. AI software development has the potential to advance your company to new heights with the correct application.
How Will AI and ML Technology Change Leadership In 2023 & Beyond?
Boost Customer Service and Experience
There are numerous ways to get in touch with your clients, including the phone, Facebook, chatbots, and email. Personalized communication is difficult but AI can help.
At every stage of the customer journey, Natural Language Processing (NLP) and machine learning could give highly tailored communication that provides prompt responses to your customers' questions. Understanding, interpreting, and manipulating human language are the core principles of NLP. The purpose of machine learning is to discover useful patterns through learning processes, and it works well with NLP.
AI, Prediction Models, and Intelligent Analysis in Applications
The intelligence that AI gives can evaluate vast amounts of real-time data to exhibit live insights and help professionals in decision-making, rather than looking backward into your business data and previous history. Prediction should be considered as a method of completing the gaps in knowledge. For your software product, advanced analytics foster the greatest data utilization.
Make Your Product Delightful
The end goal is to integrate yourself into the toolkit that your target user will utilize daily. The best method to meet users' requirements both now and in the future is to have a thorough grasp of them—who they are and how they behave.
AI and ML have shifted the focus from mass advertising to a more micro-targeted approach. As customer expectations continue to rise, marketers have the opportunity to enhance personalization and contextual understanding at scale. This can be possible through tailor-made campaigns that focus on customer intent in real-time. AI and ML help in increasing the relevance of campaigns and marketers can achieve outstanding results by implementing algorithms in their marketing processes.
7 Use Cases of AI and ML in Software Development
1) AI and ML in Marketing and Sales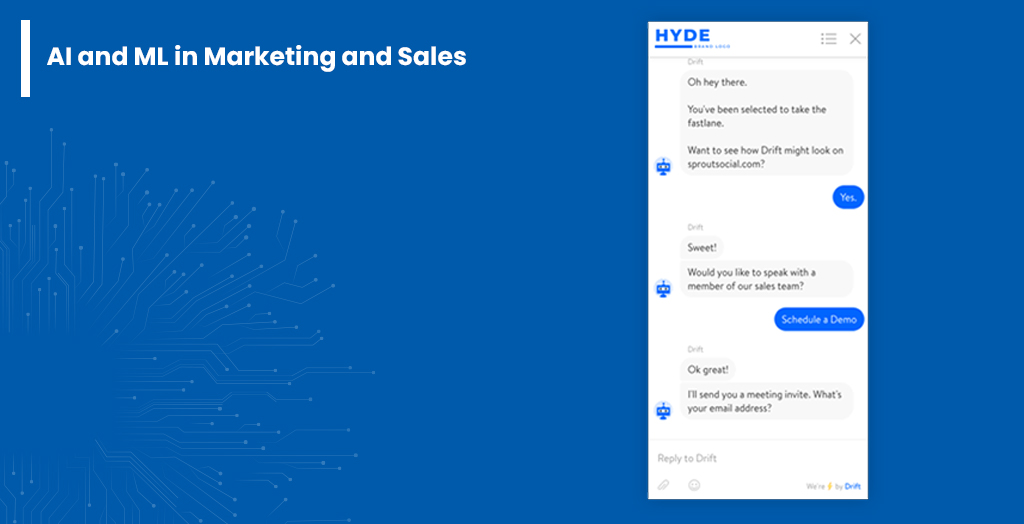 Consumers now demand speed and hyper-personalization across the board, so marketers must come up with creative solutions to fulfill demand and make the most of their resources. Marketers are using machine learning and artificial intelligence to accomplish this. In fact, "AI Marketing" is a brand-new term coined specifically for this.
Never before have customers had higher expectations. The benchmark for what consumers have come to anticipate from technology and marketing has been set by Amazon, Netflix, and Google. Amazon accepts your order with a single click and ships it the next day. Netflix quickly recommends the next shows you'll want to binge-watch after wading through years of your entertainment preferences. Google fixes your grammar, tells Alexa when your Amazon order will arrive and gives you immediate answers to even the most puzzling questions.
As demonstrated in these cases, AI marketing makes use of technology to gather data, create customer insights, foresee the best course of action, and make automated decisions about marketing initiatives. AI Marketing can help you achieve all of your marketing objectives, including increasing revenue, reducing expenses through efficiency, and increasing customer engagement and happiness.
2) AI and ML in Customer Service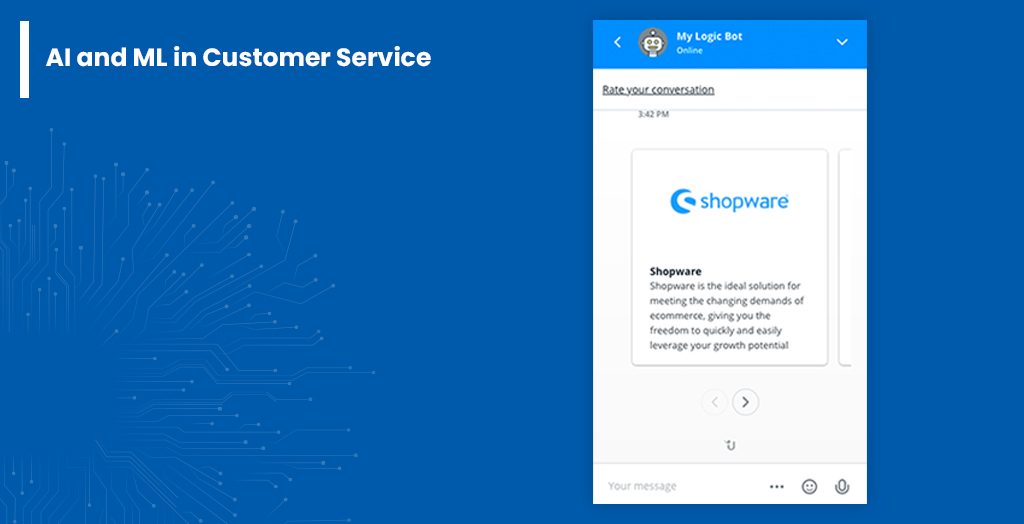 To collect and analyze social, historical, and behavioral data, marketers are now using artificial intelligence and machine learning, which gives them a much better insight into their customers.
Because AI constantly learns from the data it examines and develops, it can predict customer behavior. As a result, chatbots powered by AI and ML may offer customers a more personalized, informed interaction that can readily answer their queries and, if necessary, direct them to a live customer support agent.
To provide real-time decisions, predictive analysis, and conversational assistants that help organizations better understand and engage their consumers, CRM platforms like C2CRM, Salesforce and Zoho have integrated AI into their software.
To unify customer data and offer real-time functionality and decision-making, CDPs like BlueConic, Adobe's Real-Time CDP, and ActionIQ have also incorporated AI with more conventional features. With the aid of this technology, organizations can know more about the desires, attitudes, and potential next steps of their customers.
3) AI and ML in Publishing Industry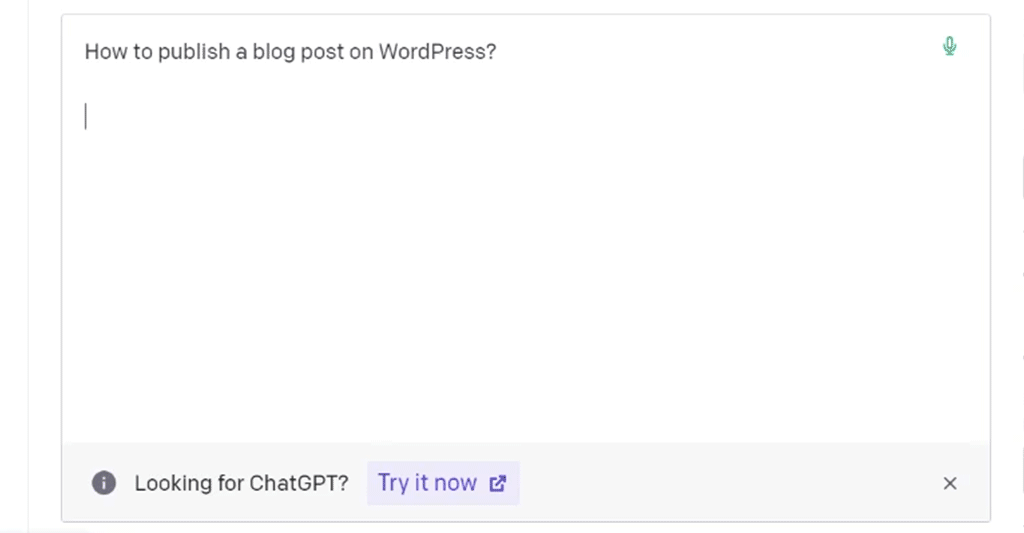 When people hear about artificial intelligence in the publishing industry, they frequently think of machines writing publications. Of course, initiatives like these have been attempted, but the outcomes were not ideal. AI won't take the position of a writer, but it can help this industry on many different fronts.
What role will AI play in the publishing industry?
Automated text analysis

Content translations 

Content personalization

Automated formatting 

Text auto-tagging
Forbes has launched Bertie, an AI-driven content management system. It is a publishing platform with artificial intelligence that was created especially for the internal newsroom of journalists, expert contributor networks, and partners. It offers all of these folks real-time trending subjects to cover, tips on how to write catchy headlines, and suggestions for relevant images. 
Secondly, Bloomberg also uses Cyborg, which helps with the management and development of content. After each quarter, it can produce hundreds of pieces regarding company earnings reports. Cyborg is programmed to immediately recognize and extract all of its vital numbers.
4) AI and ML in Education Sector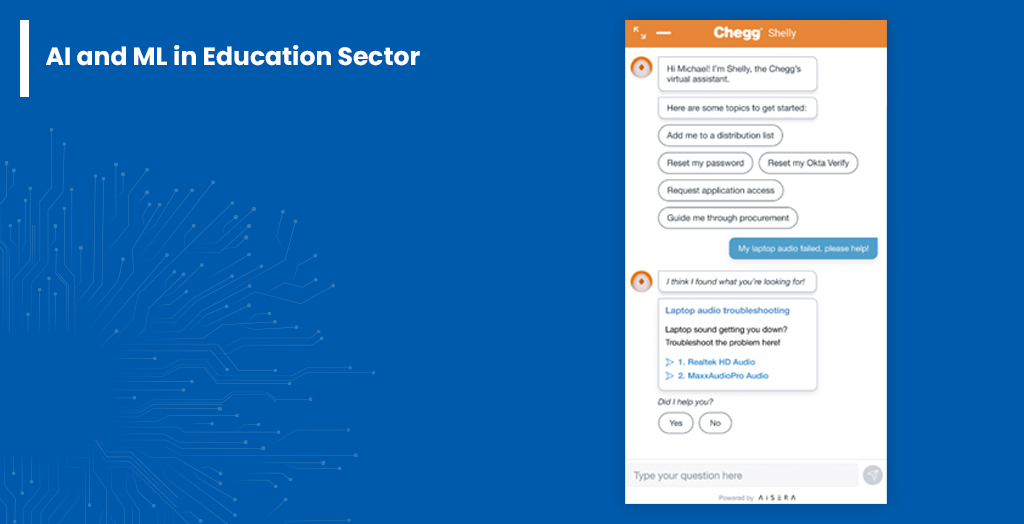 To ensure a personalized educational experience, artificial intelligence and machine learning in education offer personalized learning. When considering how to increase efficiency, educational administrators may discover that artificial intelligence (AI) can offer a personalized approach, happier students, and better results.
Deeper engagement is made possible through personalized learning that is designed for the interests, aptitudes, levels of knowledge, and capabilities of particular students. As a result, students' voices and decisions are empowered, they remain motivated and they achieve more achievement. Because of this, one of the major trends in education today is personalized learning.
According to Economic Times, the ed-tech industry has expanded rapidly in recent years. Through employee empowerment, the adoption of various technologies, and improving the customer experience, Byju's, a top educational technology startup, has outperformed its expectations.
This is in line with their objective to use cutting-edge technology like Augmented Reality (AR), Artificial Intelligence (AI), gamification, and more to keep students at the core of innovation and create impactful learning experiences.
For instance, Byju uses AI to offer personalized and adaptive learning. The team is working to enhance AI's capacity to deliver various learning modalities following student preferences. Byju's AI will modify how the content is presented and change the questions to help the student learning of a particular subject if students are having trouble with a certain number of modules or particular lessons.
5) AI and ML in Banking & Finance Sector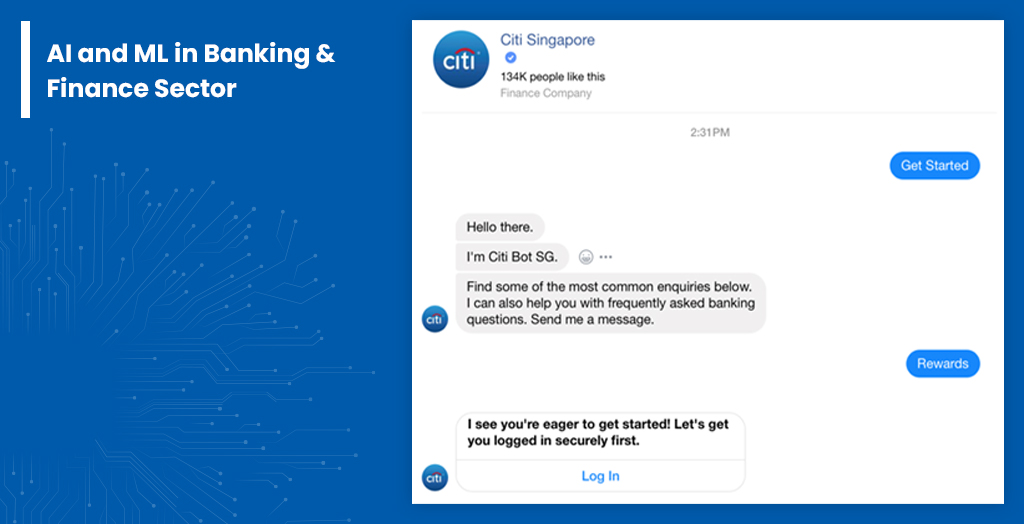 Banks and financial institutions now use artificial intelligence and machine learning daily. To provide their consumers with greater ease, they have begun incorporating AI technologies into their daily company processes.
Financial institutions must continually innovate to meet the rising demand from modern tech-savvy customers and financial authorities if they want to use AI and deep learning in investment banking. As a result, it may not be incorrect to predict that the adoption of AI in the banking industry will revolutionize money management in the years to come.
Did you know that Morgan Stanley, Bank of America, and JPMorgan have all made significant investments in machine learning to create automated financial advisors?
In the banking industry, artificial intelligence and machine learning are widely utilized for financial monitoring, risk management, marketing, customer retention, data management, process automation, algorithmic trading, and other uses.
According to a recent survey of 34 major banks from the US, EU, Singapore, Africa, Australia, and India, 27 of the 34 banks have deployed artificial intelligence in front-office tasks, such as chatbots and virtual assistants. Bank of America, OCBC, ABN Amro, YES BANK, and others are some of the most well-known banks in this area throughout the region.
All of the country's leading banks are experimenting with AI to enhance their operations in at least four areas: to streamline client contacts; lower fraud and theft; improve tax reporting and automate regulatory reporting for legal compliance.
6) AI and ML in Healthcare Industry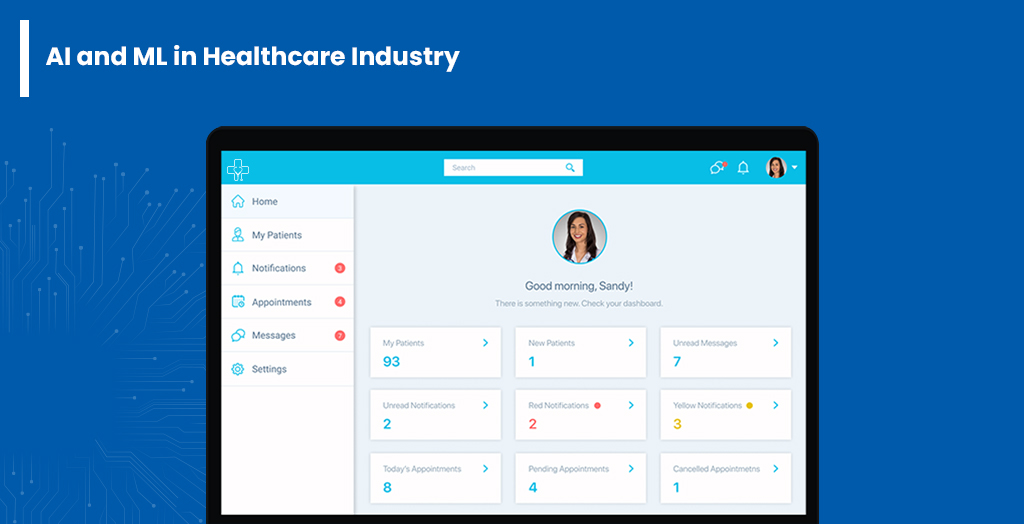 The use of artificial intelligence in the medical field is becoming a reality. Medical professionals are increasingly using artificial intelligence (AI) as their primary assistant.
Hospital administrators can manage processes with the help of machine learning algorithms and doctors can make better medical decisions. AI generally improves and streamlines medical services. One of the most important advancements in modern healthcare is the adoption of AI-based technologies.
What Role will AI and ML Play in the Healthcare Industry?
Clinical decision support system

Machine learning in medical imaging

Personalized medicine

A predictive approach to treatment

Drug discovery and production

Clinical research

Infectious disease outbreak prediction
One of the leading pharmaceutical companies in the world, Pfizer, uses IBM's Watson AI technology to support its immuno-oncology research, which examines how the immune system might combat cancer. Through this collaboration, Pfizer can quickly gain insights about how to create more effective immuno-oncological medicines for patients by analyzing vast amounts of patient data.
Another excellent example is Subtle Medical, which uses AI, machine learning, and deep understanding to make medical images that are more clear for radiologists. The company's product SubtleMR enables users to eliminate image noise and concentrate on specific body parts, including the head, neck, belly, and breasts. Radiologists may complete exams faster with higher-quality images, which shortens the time it takes for patients to obtain treatment and diagnosis.
7) AI and ML in Retail Industry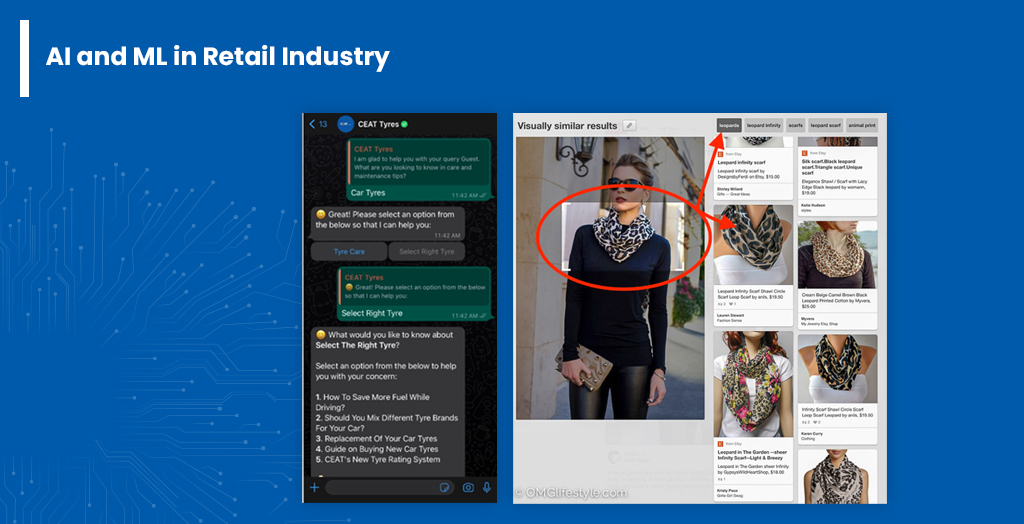 Artificial intelligence is becoming more and more popular among retailers who want to stay competitive.
Traditional retail activities are automated by artificial intelligence, which also enhances their value. The significance of AI in the retail business is astounding, ranging from in-store assistance, price projections, and product categorization to inventory tracking, supply chain management, and logistics.
Retailers can communicate with their customers more effectively by using AI and ML. By 2023, 83% of retailers are expected to use AI and those who don't run the risk of losing irreparable market share to their rivals. 
Taking the example of Sephora which helps customers to find the perfect makeup products for their skin without applying them to the face. For foundation and concealer recommendations, Color IQ scans a customer's complexion, while Lip IQ does the same to assist in selecting the ideal lipstick color. Customers who understand the difficulty of selecting the ideal hue through trial and error benefit from it.
Another excellent example of H&M using AI to keep popular items stocked. To succeed, popular apparel retailer H&M relies on the top of trends to be successful.  To evaluate purchases made at each location, the retailer uses AI to examine store receipts and returns. The algorithm enables the store to decide which products to advertise and stock more of in specific areas. If the analytics reveal that flowery skirts are popular in urban retailers, the inventory may be adjusted to satisfy customer demands.
How to Prepare for the Digital Transformation Utilizing AI and ML
To stay up with the changing world, first, be sure to educate yourself on artificial intelligence. It is better to acquire more knowledge about AI and ML. 
Second, understand that the AI is now capable of doing tasks on its own, without the need for human intervention, so make sure you are as ready as you can be for this transition.
Third, be receptive to new concepts because AI and ML will penetrate your company's operations far sooner than you might think.
Last but not least, remember to be human. AI is designed to do whatever you tell it to, so make sure the tasks are completed both successfully and efficiently.
Give a human the task if it requires complex thought or analysis rather than leaving it in the hands of a computer. Wait until you can train the AI or until it can perform the task on its own.
The more work you put in, the more advanced and intelligent AI grows. After each work is finished, it becomes more accurate and efficient.
Steps for AI and ML Transformation
Outline the AI and ML strategy for your company.

Implement a pilot project to create momentum.

Create a team for internal AI and ML transformation.

Provide training in AI and ML

Foster internal and external communication

Update the company's AI and ML strategy and continue with AI and ML transformation
Conclusion
If you don't have the power of AI & ML, it will be too late to be brave. All industries are being disrupted by AI and ML and technology usage has grown progressively in recent years. Whether you are a SaaS provider or a business that uses your software solutions, it is helpful to keep an eye on the disruptions that AI and ML may bring. Software and AI can be a compelling mix. To ensure that your company remains competitive in AI and Machine Learning in the software development business environment, invest in cutting-edge technologies like AI and ML now before they become obsolete.
Get in touch with us now if you would like to implement AI and ML into your existing software or if you would like to develop new AI and ML-based software.