The future of software development is remote. Businesses worldwide have grabbed this opportunity to hire the best fits across the globe, for their envisioned software development projects.
The amount of time and money you spend on hiring and managing your team will decrease, but not the quality of your software. For that, you will have to embrace this reality and start building a remote team that can compete with the best teams in the world.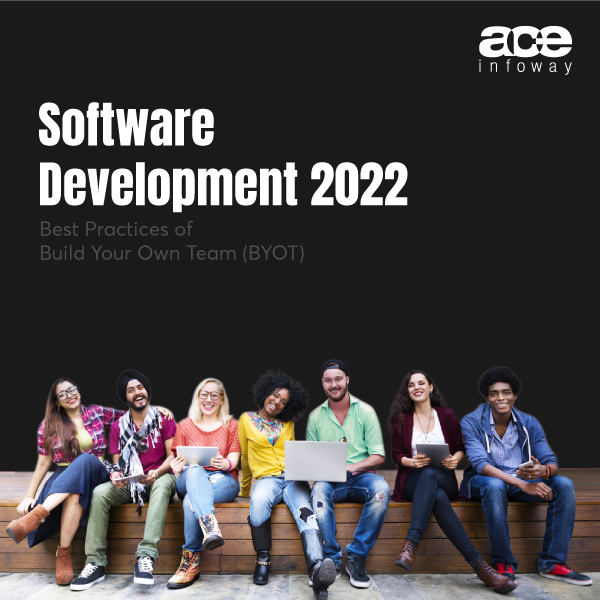 Software Development: Best Practices of Build Your Own Team (BYOT)
Get this eBook in a portable document format & access it offline.
It's not as simple as going to a job fair and asking around. And it's not just about finding talented people who want to work remotely — you also need to understand their requirements, hiring tools, management tools, online testing, and more.
7 Best Practices to Build Your Own Team (BYOT) Remotely
#1 Understand the project requirements
Software development projects are not built on hunches. It requires a pre-defined and well-understood strategy to bring out any software into the market. This is why it is important to know the essentials that you will require to formulate your SaaS development.
Technical Prerequisites: 
The technical prerequisites for any software product development can be classified into structural, functional, and repository requirements.
Structural Requirements:
The programming frameworks will constitute the structural part of the software development requirement. Software architecture is often intended as a synonym for functional decomposition. React JS, Angular JS, Vue JS, HTML 5, Laravel, CodeIgniter, Zend, and Drupal are some largely used frameworks for software development. Along with this, WordPress, WooCommerce, Shopify, and HubSpot are also utilized, depending on the type of software.
Functional Requirements:
Programming languages fulfill the functionality as it basically helps to communicate with computers which are a set of rules of an algorithm that converts program elements into machine code outputs. JavaScript, Python, Java, Kotlin, PHP, C#, and C++ are some of the most popular programming languages.
Repository Requirements:
It is also important to store and retrieve data without compromising security and integrity. For that, a database is like that locker room of your house, where you store all the important documents and elements of the house. Every software needs this storage to save and keep a track of all the proceedings of the software. Some of the top databases used widely include MS SQL, MySQL, NoSQL, Oracle, Amazon DynamoDB, and Mongo DB.
Define roles:
The structure of the current software development teams, varies from one project to another, depending on the need. However, you will require professionals with particular skillsets when you plan for software development. 
Different software professionals build up a team, that comprises a front-end developer, a back-end developer, UX designers, a business analyst, and a project manager.  As a service seeker, you normally interact with the manager that supervises the overall operations of the project.
A dedicated team allows you to have a clear and concise functionality gain for the project. Whereas, opting for freelancers can make it tedious to collaborate and create the desired software.
#2 Be smart to select the right fit
Once you define the roles for the project, you can now start your hunt for the right treasure. The question arises, where to start from? The answer is simple, let the world know about your requirement. 
You can post your requirements on various platforms like Crunchboard, Indeed, Upwork, Fiverr, Hirect, and many more. These places effectively showcase freelance talent. Along with these, LinkedIn has come up as a powerful employment-oriented professional site that functions for recruiting talent by direct communication.
Another form of search is for companies that can provide you with a dedicated team. There are platforms like Clutch,  DesignRush, GoodFirms, TopDevelopers, Expertise.com, Appfutura, Techreviewer, and many others that regularly evaluate development companies for their performances in all the sectors of web development. It becomes easier to select from the listed companies, that suit your project.